A respected Turkish photographer and social media phenomenon with 1.5 million followers on Instagram, artist Mustafa Seven, embarked on a journey to portray Istanbul, Tbilisi and Baku, major cities in Turkey, Georgia and Azerbaijan, respectively, investigating the parallels between their historical landmarks, environment and social life as well as their relationships in his latest exhibition, "City Stories."
Hosted by 42 Maslak Art!SPACE Gallery, the artist's exhibition is a result of a year-long endeavor during which the artist traveled and wandered around his native Istanbul and the capital cities of two neighboring countries, Azerbaijan and Georgia.
Although Seven was not familiar with neither Baku or Tbilisi, he knew that Turkey, Azerbaijan and Georgia belonged to the same geographic area and they developed a bond thanks to their cultural and social backgrounds.
Despite the political borders that separate the countries, it can be said that they are culturally very close to each other. Likewise, Seven initially wanted to present these cities' historical features, their people, and culture to art lovers in order to better present this relationship.
Commenting on his exhibition which will also be featured at venues in Baku and Tbilisi, Seven said, "To tell the truth, I was not familiar with the two other cities [Baku and Tbilisi] before my work. In fact, this is evidence that I was meant for this job. Before I traveled, I studied these cities and tried to find similarities between them. I wanted to build this exhibition upon this idea. Hence, not knowing these cities and not having any connections in these cities was in my advantage."
To create a vague line and portray these three cities as one, Seven took one week trips to each city. During these trips he calculated his feelings about these cities, met with locals and engaged in small talk with them without taking any photographs.
"During these trips, I realized that these cities share more similarities than I have ever known. For instance, Istanbul and Baku are quite similar not in terms of urban structure but culturally; we have the same cultural texture. On the other hand, Tbilisi is like a prototype of Istanbul as a city both architecturally and socially. As if when you look at Tbilisi, you see the Istanbul of 30 years ago which we miss and dream of dearly," Seven added.
According to the artist, his most surprising visit was to Baku. He did not expect a city which was designed as a Western capital despite its Caucasian surroundings.
In one of his interviews, Seven expressed his surprise saying, "I can say this about Baku, its architectural texture is very like a Central European city. That was a surprising thing for me. A lot of my friends have said the same thing, and you constantly ask yourself, 'Is this really Baku?' This shows that a lot of people don't know Baku, and this exhibition is going to present them what it really is."
Instead of looking and picturing these cities from the perspective of 19th and 20th century Orientalists, Seven portrayed them as sources of influence and the representatives of the region they were built in.
Seven's exhibition "City Stories" can be seen at 42 Maslak Art!SPACE Gallery until Jan. 31.
About Mustafa Seven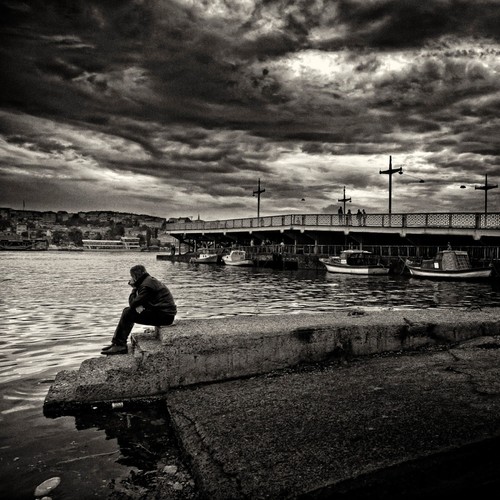 Born in Sivas in 1974, Seven started his photojournalism career with the Sabah Newspaper Magazine Group and continued with the newspapers Hürriyet, Gazette Pazar and Milliyet before becoming the photography editor of Akşam.
In 2006, he founded photography workshop GİF and he has been carrying out his photography and other artistic works under its roof ever since. He has been awarded in many national and international photography contests; he took part in numerous exhibitions and festivals, holding a personal exhibition called "Tek" in 2013. Seven, who has presented his work through various mediums throughout his career, has been using Instagram as an active channel in recent years. He sees this medium as a personal portfolio space and he is just one of the few Turkish photographers to reach the topmost number of followers.
Mustafa Seven also makes time for educational activities; he holds workshops on street photography and works on projects together with universities and other educational institutions.
He has two books published by İnkılap Bookstore; the first being "Instagram" which is a collection of Istanbul photographs shared on Instagram, while the second is "Street Photography" which he wrote as a guide for beginners in this specific field of photography. Mustafa Seven continues to work as a freelance photojournalist and works to produce documenting the streets and the era he lives in.