Rezan Has Museum in Istanbul's Fatih district is holding an exhibition titled "Gem and Craft: In Pursuit of the Artisans of the Grand Bazaar," featuring the deep-rooted jewelry tradition of the city's historic Grand Bazaar until April 30.
The exposition offers an inside look into one of Istanbul's most important financial hubs, the Grand Bazaar, and brings to life the works of master jewelers and goldsmiths who have kept the tradition alive for over five centuries.
It traces different social, economic and cultural statuses through the jewelry masters and offers art lovers an opportunity to witness how pure gems are turned into dazzling jewelry.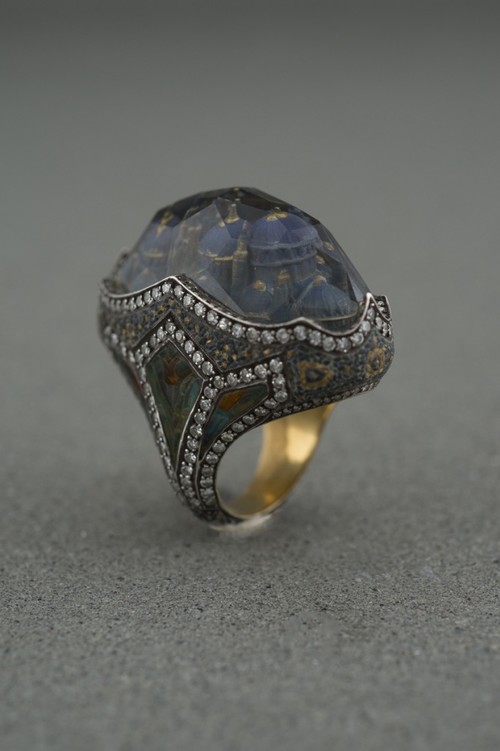 "Gem and Craft: In Pursuit of the Masters of the Grand Bazaar" is the product of a collaboration between Rezan Has Museum, Kadir Has University and the Scientific and Technological Research Council of Turkey, to bring into view the masters of living traditions at the Grand Bazaar, which is currently undergoing a major restoration.
The exhibition narrates how masters and their apprentices give life and identities to gems and how they have dedicated their lives to keeping the five-centuries-old tradition alive through the relationship between masters and their apprentices.
In the exhibition, viewers are presented with the opportunity to observe how Ottoman production traditions are reflected on the present-day jewelry production environment at the Grand Bazaar.
It has brought together some unique pieces of jewelry, crafted at the counters of the last living masters of the globally renowned Grand Bazaar jewelry, including Hraç Arslanyan, Hagop Erol Bahadıroğlu - Aret Çakıcı, Sevan Bıçakçı, Kürşat Bilmiş, Partam Derderyan, Manuk Durmazgüler, Berç Melikyan, Berç Kazancı, Haçik Kelleci, Avedis Kendir, Agop Kuyumcuoğlu, Arman Suciyan, Surmak Susmak, Rafi - LevonŞadiyan, Nerses Yağar, Kader Yıldız, Sebuh Yılmaz and Hrant - Şant Zorba.