A man was dozing off during a screening of "The Red Turtle" at Nişantaşı City's last Friday evening. The competition to find tickets for the film, shown as part of the 16th !f Istanbul Independent Film Festival, had been fierce, but the man in the business suit had apparently lost his war against sleep. Although I loved Michael Dudok's animation film about the friendship between a shipwrecked man and a giant red turtle, I could see how it could offer the setting of a perfect sleep for an overworked businessman: the feature-length film contains no dialogue and not much happens in it, but for a silent man's desperate attempts at traveling past a sea creature.
"!f Tomorrow: Virtual Reality & Interactive Stories Exhibition," an exhibition I visited the following day, was offering quite a different experience, one that seemed perfectly resistant to the attractive call of sleep. On that sunny afternoon, visitors had flocked inside Alt Art Space, the art gallery of Alt Bomonti, which somehow manages to host more than one great show at a time.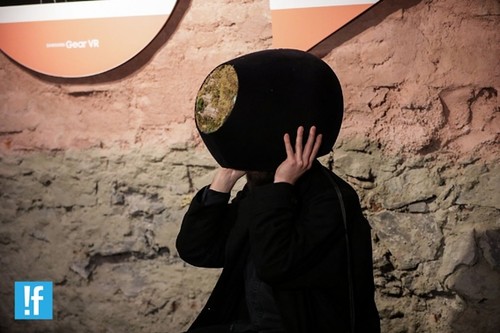 The gallery space was dark; online registration was required to even be allowed inside; one had to wear a Samsung Gear VR headset to view works. Hipsters didn't mind one bit. Many seemed sad when their one-hour visit to the exhibition came to an end and they had to walk back to the bright, sunny, eventless reality upstairs.
The show's curator Deniz Tortum was suffering from jet-lag when I met him at the entrance. After his flight from Boston, where he lives and works, Tortum had to do numerous interviews about the show and discuss both his curatorial choices and "September 1955," a VR project he has co-directed with Nil Tuzcu and Çağrı Hakan Zaman.
Tortum is no stranger to Istanbul's art scene. Last year his single channel video "Corridor of Memories Walkthrough" was shown at İMÇ Istanbul, as part Ulya Soley's exhibition "STEREO-REALITY." Moving Image Immersive Media's "New Realities" show at Alt Art Space in 2016 also featured a work by Tortum, "Hospital with One Entrance and Two Exits." A young artist producing a new form of art was on the rise, and Istanbul's art scene took notice.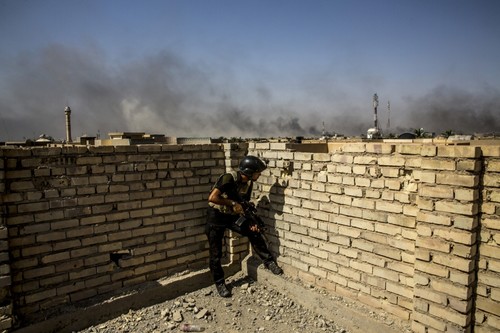 "The Fight for Falluja" takes the viewer to Falluja, Iraq to witness the war against Daesh. Ben Solomon, the work's director, also takes part in the work, combining journalism and documentation.
"I've met some of the VR artists in this exhibition during the Moving Images show," Tortum said. One of those artists is Ergin Şanal, whose work "Annica" is an adaptation of Ahmed Hilmi's novel "Amak-ı Hayal." The title of the work refers to the Buddhist doctrine of impermanence, Tortum explained. When I walked opposite a tent and put on the headset, a wise man called "Aynalı Baba" greeted me. Under his guidance, I was asked to meditate on existence and mortality. "In the Eyes of the Animal," by Marshmallow Laser Feast, was a similarly immersive experience, taking the viewer on a tour in a forest whose topography is rendered through the perspectives of four woodland species.
Other works dealt with more weighty themes. Oscar Raby's "Easter Rising: Voice of a Rebel" provides the viewer with a first person perspective of the armed insurrection in Ireland against British forces in 1916. Ben Solomon's "The Fight for Falluja," meanwhile, takes the viewer to Falluja, Iraq to witness the war against Daesh. Ben Solomon, the work's director, also takes part in the work, combining journalism and documentation.
But it was "September 1955," an eight-minute virtual reality documentary, that I found most moving and impressive. Here the viewer is taken into a photography studio on İstiklal Avenue; the date is Sept. 6, 1955, and the pogrom against the city's minorities is just about to begin. Inside the reconstructed photographic studio, you can experience, first hand, the terrifying signs of the impending doom: Smoke envelopes the street, silhouettes of angry men wander around to look for spaces most suitable for looting.
As we walked from one VR work to another, Tortum talked about the importance of movement in life; it is the common feature of all the works he had selected for the exhibition. In the exhibition catalogue, he tells the story of Werner Herzog, the film director, who believed that he could save a dear friend from death by walking on foot from Munich to Paris. "This was a belief that a simple action like walking could hold a healing power. These new digital media allow meaning to be communicated through action. When we look at the world with new tools, we can see it in new ways... The selected works here approach history, the present and tomorrow through new storytelling methods, while substantially contributing to public memory and visions of the future."