Last weekend, when spring arrived in Istanbul and the city's seashores were swiftly occupied by lovers of pleasure, I made my way to Borusan Contemporary to lock myself inside a dark room and watch a film about a steel pipe production factory. To reach that black space, I needed to travel amid colorful scenes. A bunch of hipsters were watching the Bosporus from numerous spots in Ortaköy, Arnavutköy and Bebek, the city's sunbaked seaside neighborhoods. Meanwhile joggers were struggling to make their way through massive crowds and lovers queued to get their hands on ice cream cones. Imagine my surprise when it turned out that "Overture," the latest exhibition at Borusan Contemporary, was offering a more colorful and even more eventful experience, despite its sunless surroundings.
Kathleen Forde, the institution's artistic director at large, was responsible for this small but immersive exhibition. The six-month-long event will feature seven works that had been recently added to Borusan Contemporary's versatile collection of digital and new media arts.
"The choice of works functions as a representative snapshot of the geographic, aesthetic and genre based initiatives of Borusan's recent collecting activities," Forde writes in the exhibition catalogue. "The works range from digitized landscapes and newly commissioned videos to virtual reality works and interactive portraits."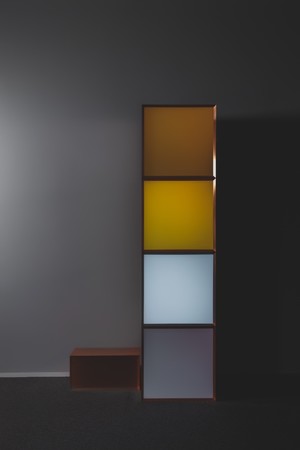 Angela Bulloch
"Copper Stack 4," 2012, 202 x 50.5 x 50.5 cm, 4 pixel boxes and DMX module in copper
The special exhibition galleries of Borusan Contemporary offer an ideal setting for this snapshot of that globalized and thoroughly digitized contemporary art scene. U-Ram Choe's "Una Lumino Portentum" is picked here to greet viewers to the galleries: A work of otherworldly charm, its mechanized sculptures seem like a mixture of sea creatures and flowers. As you watch them wake up and breathe, the room is illuminated and a secret form of communication - not visible to all eyes - seems to define the experience. U-Ram explores "the creation of mechanized sentient creatures that operate within communities," according to Forde.
These creatures, that appear so animate and full of life inside the museum, are easily disposable - they are possible candidates for what the American artist Katherine Behar has called "e-waste." Waste is also the focus of Chris Doyle's prescient video "Waste Generation," where the destruction of the landscape through waste is correlated with the creative potentials of digital culture. Based on Hudson River School painter Thomas Cole's "Course of Empire" paintings, the series showcases aesthetic forms of destruction and creation. "As we transit from industrial to digital culture, civilization continues to generate huge amounts of waste. At the same time, the creative and productive acts that generate the waste are dazzlingly and essentially human," the curator muses.
Christa Sommerer & Laurent Mignonneu
"Portrait on the Fly," 2015, Interactive computer installation with LCD screen, mini PC and camera
To some viewers, even those explorations of digital imagery may seem a tad old fashioned when compared to Rachel Rossin's "I Came and Went as a Ghost Hand," a virtual reality experience that brings us inside the artist's studio and her apartment. The 360-degree view, that defies gravity, offers snapshots of Rossin's paintings that had been blown apart using digital means. Data encoding systems, such as MP3 and JPEG involve a process called "lossy" that refers to the entropy in encoding and it is there that Rossin finds her inspiration. "Like lossy compression, this process includes entropy as an inherent given," she says, "in optimizing what already exists by omitting the excess in worlds with their own internal logic."
"Subterranean," another highlight of the exhibition, is Ali Kazma's most recent work. Filmed at Borusan Mannesmann's steel pipe production factory, the video offers abstract images of the very precise process of energy production. You may be excused for remembering the video game "Tetris" whilst watching the gigantic and colorful gas pipes appear and move inside the frame. "Presenting nearly abstract images in motion and flowing color patches, the production of gigantic gas pipes give the impression of a process without a beginning or an end, a process that lives almost beyond human control, moving very slowly, advancing like an infinite cylinder curling and cooling," Forde writes.
Finally, before leaving the special exhibition galleries, you should pay a visit to Kurt Hentschlager's massive video installation "Measure," which subtly blurs distinctions between natural and digital spheres. In that work, views from nature reveal themselves as digital copies, undermining the very notion of natural thanks to the invisible manipulations of new media techniques. Hentschlager's meditation was largely responsible for my subsequent failure to enjoy views of the Bosporus, the bridge and the distant mansions after I made my way to Borusan Contemporary's terrace. I was drinking a cup of coffee and reflecting on the works I have just seen. The views that now surrounded me seemed lifeless because they were so natural - I wished an artist was there to turn them into VR, or at least, digitize their surface.