The State Museum of Oriental Art, a pioneering museum in Moscow, will be hosting the Bilge Collection from Turkey until April 2. One of the most unique and comprehensive collections in Turkey, the Bilge Collection will be available for art lovers in Moscow for nearly a month, presenting a distinguished selection of Turkish art for Russians to see. Visitors can see the modern contemporary Turkish art collected by Muhsin Bilge (1944-2014), a real art lover and influencer of many Turkish artists, and his children Ali and Aslı Bilge. Sponsored by Turkish Airlines (THY) and curated by Irina Batkova, the exhibition will display 65 works by 28 artists, including masters such as Bedri Rahmi Eyüboglu, Celal Tutant, Ergin İnan, Fahrelnissa Zeid, Fikret Mualla, İbrahim Örs, Kemal Önsöy, Komet, Mehmet Güleryüz, Nejad Melih Devrim, Özdemir Altan, Sabri Berkel, Şükriye Dikmen, Zeki Faik İzer. There will also be a number of young talents, such as Arda Yalkın, Beyza Boynudelik, Füruzan Şimşek, Haluk Akakçe, Mustafa Özel, Serkan Yüksel, Volkan Kızıltunç and many more.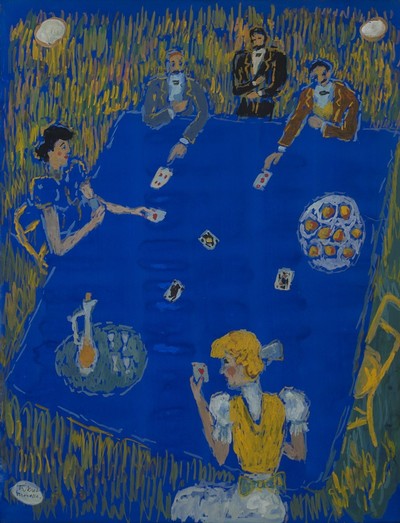 Fikret Mualla, "Card Players"
Attending the opening of the exhibition, Turkey's Moscow Ambassador Hüseyin Diriöz noted that the Zeyno-Muhsin Bilge Collection consists of artwork that was selected with the utmost care by the great art lover Bilge. After the passing of Bilge in 2014, his children took control of the collection. Diriöz said: "Muhsin's son Ali Bilge and the State Museum of Oriental Art made great effort to offer this collection to the Russian public in Moscow. I believe this collection will be a warm Turkish wind in Moscow, which is the capital of art and culture with many world-renowned artists."
After the ambassador, collector Ali Kerem Bilge took the stage and said: "On Dec. 31, 1935, the art of İbrahim Çallı, Salah Cimcoz and Bedri Rahmi was displayed, and now, we're delighted to share Turkish modern and contemporary art with art-loving Russian viewers again. Hopefully, we won't have to wait another 82 years to bring together the art of these two nations, which have had a relationship for centuries, to share a memory of passion and culture accumulation. In this respect, this year's Turkish-Russian culture year is extremely crucial." He also noted that that they have prepared the exhibition with enthusiasm and determination, with a moderate budget that is not just inspiring for Turkey but for the whole world, as he wants to share the story of his father. Bilge added that they are very pleased to offer these masterworks of experienced and young artists they value greatly with Russian friends, and are expecting their opinions and comments on them.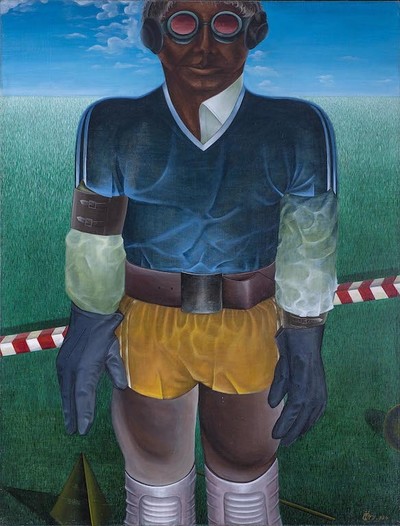 İbrahim Örs,"Sportsman"
Bilge the collector, who devoted his whole life to collecting various objects, started doing this in the beginning of the 1990s, and while he worked as a notary public, he always said his office was one of the most "visited art galleries in Turkey," as he filled it with drawings, paintings and sculptures. Even on his busiest days Muhsin Bilge always met with his artist friends, and he made a great effort to collect artworks from various eras and periods. He also collected sketches, books and letters that shone a light on the various periods of these artists, proof that he was not just interested in the works of artists that intrigued him but also in their characters and lives. After he died in 2014, his next generation representatives, Aslı and Ali Bilge, took over the collection and are displaying works of artists that they have followed throughout their careers and who continue to enrich the family collection by not only collecting Turkish artists'works but also that of internationally renowned artists, such as Italian Greta Faru and Russian photographer Vladimir Seleznev.
Exhibition curator Irina Batkova noted that the collection includes works that have shaped Turkish art from the core and refined contemporary Turkish art. She added that they have tried including various artists from different generations who shaped the Turkish art world. "The Bilge Collection needs to be thoroughly examined and understood. This special collection we're presenting is dedicated to Ali Kerem Bilge and Aslı Bilge, who are the successors of their father's passion for art collection and his character. Along with the works of the artists, there are drawings and other documents that depict the relationship between the artists and Muhsin Bilge." There is also a section that contains portraits of Muhsin Bilge done by different artists, and it shows that these artists did not just see Muhsin Bilge as their patron, but also accepted him as an inspiration in their attempts to understand the world and human relations.