A group of Iranian actors and actresses who came to Turkey to shoot scenes for Iranian director Khosro Masumi's film "Dirty Business," which takes place in Istanbul, Ankara, Van and Erzurum provinces, stated that they were captivated by Turkey, so much so that they said they want to live here and learn Turkish.
The leading actor of the movie, Pedam Sharifi stated that Turkey was a heaven-like country and he was very glad to get the chance to visit Turkey for "Dirty Business."
Sharifi expressed that both the plot of the movie and their travel to Turkey were interesting for them because it was the first time they continued shootings of a movie that started in Iran in another country.
"We had many questions and were anxious. We were worried about possible technical failures because this is the first time a shoot started in Iran and ended up in a different country. However, we didn't encounter any problems and to the contrary, everything is going much better than expected," Sharifi said.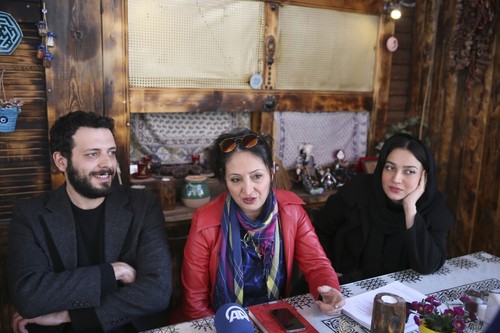 Pedram Sharifi (l) and Elham Nami (c) were in Turkey for the shooting of Masumi's last film "Dirty Business."
He stated that he has visited Istanbul, which he fell in love before and believes that Turkish citizens are extremely lucky to live in such beautiful country.
"Unfortunately, not everyone gets along here and all the events taking place have been heartbreaking. Just like the rest of the world, we were very much upset by what happened here. Turkey is going through things it doesn't deserve. President Recep Tayyip Erdoğan and everyone are doing their best for Turkey. We are deeply sorry about all the political turmoil and bombings," Sharifi said.
He also said that hopefully all these sad events come to an end and wished peace for both Turkey and the rest of the world. He wished for the wars to end and everyone to live in peace and harmony.
On another note, Sharifi also mentioned his love of Turkish cuisine and noted that while he is not a fan of red meat, he enjoyed İskender Kebab very much.
Meanwhile, the leading actress of the movie, Elham Nami also underlined that this was a unique experience for her among many other first-time experiences including her first time abroad, first time playing a mother and first time she's collaborating with such an esteemed director.
Nami noted that while she always wanted to visit Turkey, she was glad that her first-time visit was through such a big project.
"Turkey is such a nice country, everywhere is pretty," Nami said. "Since I'm thinking about visiting Turkey more in the future, it looks like I need to learn Turkish."
Nami was introduced to Turkish doner kebab in Iran but couldn't believe how much better it was here. She also heard of baklava (a kind of traditional sweet pastry) a lot and it's on her list of things to try in Turkey.
"We took the first step by shooting a movie both in Iran and Turkey but hopefully, these two countries support each other future cinema projects," Nami stated.
The child star of the movie, 6-year-old Sam Valipour also stated his fondness of Turkey and that it was much prettier than what he expected. He declared himself as a Turkey-lover and noted that he was not picky about food and he loved everything he tried since arriving in Turkey.
"I want to grow up and improve myself. I want to be so successful that people will point at me on the streets. My previous movie gained an Oscar, which led me to aim higher. I'm very much pleased with my cast mates," Valipour said, adding that they've been through so many adventures and that he wants to stay and live in Turkey as well.