Beyaz Müzayede is organizing a new auction for 275 pieces made up of the works of 129 Turkish and foreign contemporary art masters, such as Fahrelnissa Zeid, Burhan Doğançay, Mübin Orhon and Cihat Burak. Doğançay's extraordinary masterpiece titled "From Walls No: 5," painted in 1970; Fahrelnissa Zeid's "Abstrait Jaune," which will be exhibited this summer in Britain's most prestigious contemporary and modern art museum the Tate Modern; "Abstrait Blanc et Rose" by Mübin Orhon, who has 63 pieces in the Tate Modern's founders Sir Robert and Lady Sainsbury's collection, are expected to be among the favorite pieces of the auction. The 39th Contemporary and Modern Art Auction will take place at the Maslak Orijin Art Center on April 9 at 1.30 p.m. under the management of Aziz Karadeniz.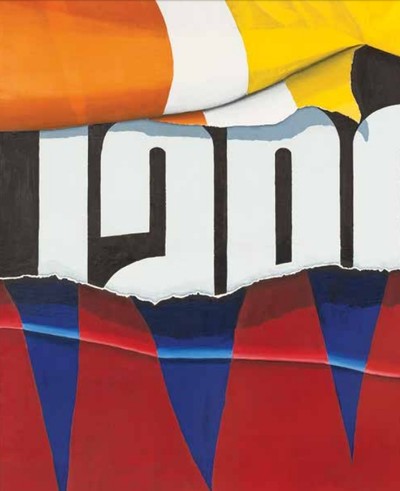 "From Walls No: 5," which is depicted as one of the most important cornerstones in the career of Doğançay, one of the most important masters of Turkish contemporary abstract art, is included in various exhibitions and books and is regarded as one of the first and most unique pieces among the countless works created by the artist that draws inspiration from the walls of New York, will excite both art lovers and collectors at the auction house, which hosts magnificent works by many talented artists. The work of art, which is also very valuable in terms of Turkish artistic history in addition to its collection value, is offered for sale with an estimated price range of TL 300,000 to TL 450,000 ($82,284 to $123,426). There are five more works at the auction by the artist from his "Cones" and "Ribbon" series.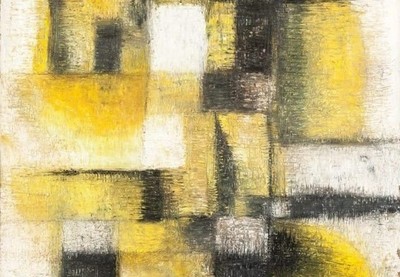 Another significant work will be up for auction, namely "Abstrait Jaune," a famous abstract piece painted in 1950 by Fahrelnisa ​​Zeid, the most valuable female painter in Turkish Contemporary Art. This is slated to be exhibited at Tate Modern on June 12, at an estimated price range of TL 275,000 to TL 425,000.
"Abstrait Blanc et Rose," a 130x195 cm piece painted in 1957 by Mubin Orhon, a "French School" artist who has many works in the collection of Sir and Lady Sainsbury, has an estimated price range of TL 275,000 - TL 425,000.
Also, famous artist Uğurtan Aksel and architect Ergün Aksel's collection including 16 pieces by Cihat Burak, two pieces by Yüksel Arslan and three pieces of Ömer Uluç will also be put on sale at the auction house. "Rueff Çıkmazı," a 65 by 81 cm canvas (1961) which was included as a sketch in the book "Cihat Burak" published by Istanbul Modern, is going on sale with an estimated price range of TL 60,000 to TL 100,000.
Masters' favorite works to find new owners
Significant Turkish artists ranging from masters in Turkish contemporary art to young talents, including Nejad Melih Devrim, Selim Turan, Abidin Dino, Hakkı Anlı, Abidin Elderoğlu, Zeki Faik İzer, Fikret Mualla, Nurullah Berk, Sabri Berkel, Adnan Çoker, Erol Akyavaş, Ömer Uluç, Ferruh Başağa, Bedri Rahmi Eyüboğlu, Eren Eyüboğlu, Orhan Peker, Nuri İyem, Avni Arbaş, Adnan Varınca, Turan Erol, Burhan Uygur, Cevat Dereli, Şükriye Dikmen, İhsan Cemal Karaburçak, Yüksel Arslan, Komet, Mehmet Güleryüz, Alaettin Aksoy, Ergin İnan, Devrim Erbil, Güngör Taner, Mustafa Ata, Koray Ariş, Osman Dinç, Ali Teoman Germaner, as well as Kemal Önsoy, Selma Gürbüz, Azade Köker, Ramazan Bayrakoğlu, İrfan Önürmen, Kezban Arca Batıbeki, Murat Pulat, Rüstem Kasapoğlu will be up for auction. From the middle-aged and younger generation of Turkish contemporary art, distinguished works by world contemporary masters such as Julian Opie, Sarah Morris, Peter Halley, Jiri Dokoupil, Mark Francis, Hermann Nitsch, Peter Zimmermann, Jens Jensen and Li Lihong, whose works are included in world-renowned museums, will also be a part of the auction.
Art lovers can visit the esteemed works at Beyaz Space, the art venue of Beyaz Müzayede in the Nişantaşı district of Istanbul, until April 8 every day between 10 a.m. and 8 p.m.