Four women, who attend mosaic courses in the Halfeti district of Şanlıurfa, created a mosaic painting of President Recep Tayyip Erdoğan by artfully combining 5,000 colorful and tiny marble stones together.

They now plan to gift the piece to the president himself.

Taking courses at the Halfeti Public Education Center for about six years, the four women spend most of their days creating mosaic paintings by combining colorful marble pieces together with nippers.

Usually selling the carefully made paintings in fairs abroad or to tourists visiting the city, the women are particularly proud of the piece they have created for the president.

Painstakingly made from 5,000 marble stones, they would like to gift the mosaic to President Erdoğan, who is expected to visit the city today.

Speaking to local reporters, the director of the Public Education Center Eşref Arıkan said they have the most advanced mosaic studio in Turkey and have been providing training for women for over six years.

Arıkan said they have created around 150 mosaic paintings so far.

"We did our first portrait work here. We will present it to him during his visit," he said.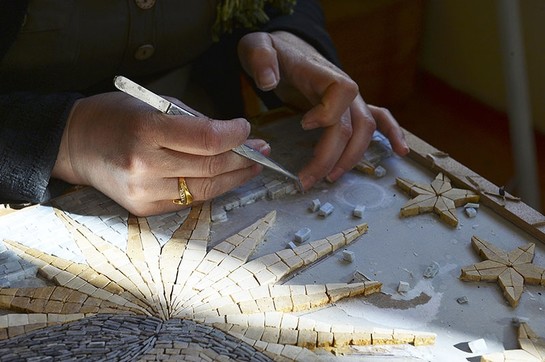 Arıkan also said the mosaic portrait will feature a frame with nacre inlaid, the first time they have ever used this combination. He also added that the women attending the courses are extremely accomplished.

"These successful women can now create mosaics from stone or through painting techniques. It is not easy to reach this level in such a short period of time. We will also present him a gourd lampshade, which features the presidential seal, and was also made by the women at our center.
We have also created special designs for President Erdoğan's wife Emine Erdoğan. Hopefully, we will be cooperating with her so our products can be distributed farther abroad," he said.

Habibe Babacan, a veteran tutor, said they decided to make this mosaic portrait with the course attendees after they learned that Erdoğan would be visiting the city. Babacan said they started it almost two months ago.

"Four people were working to make this portrait. We place the small stones in a way that they gave light and shade to the portrait. Sometimes it took up to 20 minutes to properly place a stone. We cut around 5,000 marble pieces, one by one, and placed them all. That's why it required such a huge effort and so much time," she said.

Sema Evren, one of the course attendees, said the most difficult part of mosaic portraits is shading. She said they sometimes place a stone and take it out dozens of times to create the right shape.

"We are now very happy with the mosaic. It is our masterpiece, and we would like to give this precious work to our distinguished president as a gift. We are planning to present it to our president today, a day that also marks the liberation of Şanlıurfa," Evren said.