The multidisciplinary exhibition "Everyday Poetry - Scenes from the Fullness of Life" brings together a meticulously curated selection of paintings, drawings and bronze and marble sculptures by world-renowned painter and sculptor Fernando Botero until June 25.
Anna Laudel Contemporary is displaying some of Botero's most critically acclaimed works which have never previously been placed on exhibit in Turkey. This carefully curated selection reflects Botero's artistic exploration of the human experience, blended with the artist's signature, sociopolitical interpretations and characteristically subtle ironic wit, inviting visitors to participate in a journey through the intriguing images of the artist's magical realist aesthetics.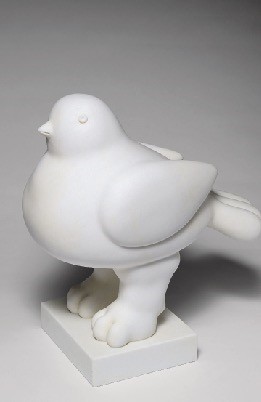 "Pigeon," 2014
White marble,
40x40x26 cm
Curated by Dr. Klaus Wolbert , the former director of the Mathildenhöhe Institute in Darmstadt, the exhibition offers Istanbul's art lovers an exclusive opportunity to discover the inspirational creations of one of Colombia's greatest artists in this debut exhibition.
Born in Medellin, Colombia in 1932, Botero is listed as one of the greatest artists of modern painting and sculpture for his unique pictorial identity and his widely loved and instantly recognizable, larger-than-life figures. The art of Botero contains many references to Colombian culture and contains a wealth of satirical, ironic, socio-critical, political and humanistic depictions through art. Botero's anonymous figures portray Botero's presentation of the stereotypical social elite and represents specific social castes in both the domestic and public sphere as well as everyday settings.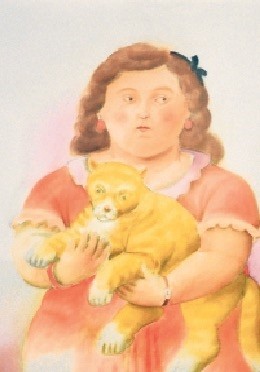 "Little Girl with Cat," 2009
Mixed media on paper,
105x65 cm
Curator Dr. Wolbert provided information about Botero's works during the opening of this unique show, saying: "The exhibition can rightly be regarded as a prominent event in the art scene of the metropolis of Istanbul, for it is a presentation of Botero's artistic creativity, the exceptionally high quality of his art work and the most common themes and subjects of his art, including his idiosyncratic tendency to portray corpulent bodies, introduced both in the framework of Botero's masterfully executed designs and his fascinatingly successful observations and descriptions of the normal, mundane human life," Wolbert said.
Botero's solo exhibition "Everyday Poetry - Scenes from the Fullness of Life" beckons visitors to participate in the colorful and inspirational world of the internationally renowned artist. The exhibition will be held across three floors of exhibition space in the Karaköy district of Istanbul and will be on display until June 25.