Calling us to transform a world that does not exit, cannot be seen but is approaching, Cappadox 2017 invites everyone to experience music, contemporary arts, gastronomy and outdoor activities organized in the layered region of Cappadocia and with extraordinary music from classic tourist routes until the end of this weekend. Featuring sunrise concerts, trekking, yoga and outdoor activities, Cappadox's program starts early in the day and continues all weekend with various activities.
Curated by Fulya Erdemci and Kevser Güler, artists in Cappadox's Contemporary Art exhibition offer various projects that suggest a form of escape from this world, compelling us to dream. In the inspiring and layered region of Cappadocia producing location-based and context-sensitive projects, the Cappadox's Contemporary Art exhibition can be seen at Uçhisar, Keyişdere Valley (Göreme), Avanos and İbrahimpaşa until June 11.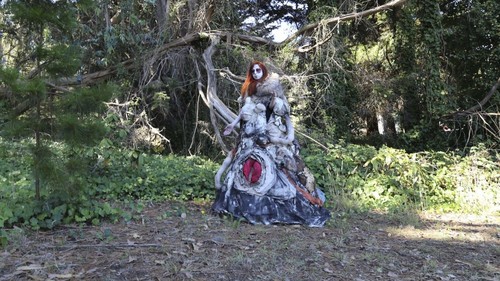 ​İris Ergül, "Old She-Hyena," 2015 Wearable sculpture Fabric, natural dyes, ink 206x129x130 cm
Swedish artist Annika Eriksson is known for works that question the perception of time, the structure of strength and social opinions that are widely accepted in society. The artist plays with repetitions and cycles over and over again, revealing the effects of repetition on political change. Eriksson searches for types of companionship of humans and animals, traditions and current habits that enable all to live together. Cappadox reveals the artist's work "Reign of Goose" (depicting Avonos' brave and tired goose), which includes her observations of a goose living on an artificial island ın Kızılırmak, which runs through Avanos. Here, she shares her personal insights in a poetic manner. This video installation that includes individual portraits of the goose will be exhibited at Hacı Nuri Bey Mansion in Avanos and near the monument dedicated to this work, near the artificial island on Kızılırmak.
The Chapuisat brothers reverse internal and external limits and locations with a subjective perception of reality. Their projects, which put visitors in the position of a "discoverer," usually require effective participation. The "Tatil Köyü" (Holiday Village) project, which they have created especially for Cappadocia, is inspired by traditional bee hives inside the chimney rocks in Cappadocia and calls on bees to "join" this time with their "summer houses" that remind us of the esthetic and architectural promises of mega holiday complexes built in the 1970s.
In works usually based on relations between humans and other species, İris Ergül's props, materials and even costumes featured in the artist's installations and performances can be deemed as sculptures in their own right and carry characteristics that resemble sculptures. Ergül joins the Cappadox 2017 Contemporary Art exhibition with a sculpture installation she created that is inspired by "the experience of living together with animals and being a community" in Cappadocia's history. The installation is inside a chimney rock, which is also used as a dovecote at Keyişdere and which has created hybrid layers by differentiating between thousands of years both architecturally and functionally. Just like many other locations in Cappadocia, this unites different beliefs from Christianity to Shamanism as well as various types of companionship.
Having primarily used photos, maps and walking activities in his works, Serkan Taycan focuses on the transformation of urban and rural areas, the effects of and future projections of this transformation and humane situations as part of these courses. In his "Hidro Lab Kapadokya" (Hydro Lab Cappadocia) project intended for Cappadox 2017, the artist reviews the relationship between Cappadocia and water, which is a factor that binds the past with the future. Regarding the state and use of Kızılırmak passing through Avanos in the past and today, the artist aims to establish a discussion platform examining the effects of universal water policies on our living areas.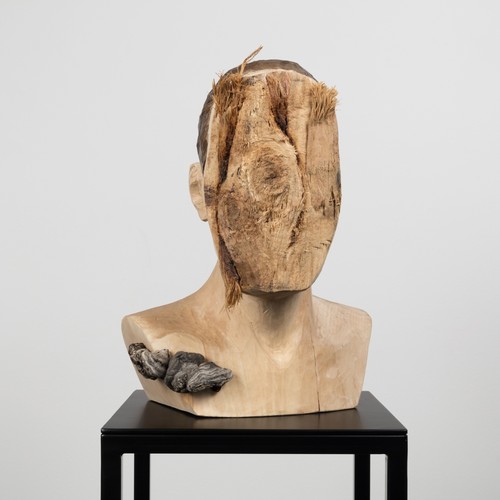 Yaşam Şaşmazer, "Untitled," 2016 31cm. x 38 cm. x 26 cm. Technique: Wood, Fungus
Hector Zamora, who generally exhibits a vast majority of his projects in public spaces, will create a labyrinth structure at Cappadox 2017, referring to a drawing of a labyrinth on a rock in Knidos. This early instance of Eastern labyrinths offers a route that allows one to walk into the center and return without taking any shortcuts. The artist utilizes hollow roof tiles that are locally manufactured for his statue placement "Hakikat Üzeri Örtülü Olarak Ortaya Çıkar" (Reality is Revealed Implicitly), suggesting "a different insight between the explicit and implicit, a physical metaphor associated with the times through which Turkey and the world pass." The placement is located in Avanos Park.
Karin Sander's works invite the viewer to re-experience environments that they're familiar with and may be seen as a reducing or fractioning course that enhances the senses. The artist's project at Cappadox relates to the concert experience. The artist, combining music and visual arts, plays with the perception of concert, unity and festival viewers. Sander's performances "En Yüksek Notalara Çıkmak" (Climbing Up to the Highest Notes) and "Yıldırım Konseri" (The Lightning Concert) will be performed in cooperation with Nevşehir Hacı Bektaş Veli University's Department of Fine Arts, the Department of Music and the Department of Painting.
Yaşam Şaşmazer focuses on the specific relationship between human beings and nature and the disputes and problems this relationship causes related to the themes of invasion, deterioration and destruction. With a statue that she made in a secluded cave in the Keyişdere Valley for Cappadox, the artist, inverting the invasion of man in nature, focuses on the invasion of nature on man and tests the effects of nature on a wooden statue created by the artist. Şaşmazer was influenced by organic life styles that are articulated by nature in Cappadocia and ponders whether it is possible to transform ourselves for a better future.
Nermin Er, with her sculpture installation "Dinle Serisi" (Listen Series), which she developed based on knowledge that no sound is lost in the universe, invites participants to listen to the voices of rocks, bushes, water, land and sky that have been echoing in the valleys of Cappadocia for centuries. Her poetic installation, "which will move bare ears or garner a perception that can be gained at a certain concentration level" will be exhibited in Keyişdere Valley. In addition, she will interfere with the concepts of underground cities, make schematic scenarios transparent and carry their projections to the surface on to paper based on the idea of how people who lived in underground cities in a dovecote in this valley, wanted to find ways out.
Trip to the roots of taste
Participants in Cappadox 2017 will get to have authentic, naturally sincere gastronomical experiences with activities such as Doğada Açık Ateşte Pişirme (Barbeque in Nature), Gurme Tadım (Gourmet Tasting) and the Cappadox Piknik (Cappadox Picnic).
Led by Mustafa Otar, the Barbeque in Nature event will bring gourmet lovers together around the fire to try a rich menu of meats, vegetables and herbs with the special smoky taste the fire adds to the food. The Cappadox Picnic will offer wedding dishes of Anatolia to participants, which have been themes of many stories. The Gourmet Tasting will include characteristic grapes of Cappadocia and special Turkish cheeses that go along with it, narrated by food culture researcher Levon Bağış and author Nilhan Aras.
Outdoor activities
The outdoor program this year has silent walks, valley walks, running, bike tours and yoga activities. Participants will witness the rugged conditions of the area and the enchanting atmosphere of various locations including Güvercinlik Valley, Yalınız Söğüt, Göreme & Soğanlı, Meskendir Valley, Gomeda Valley, Avanos Valley, Göreme Valley, Zemi Valley, Bozdağ and Kızılvadi at various times of the day.