There is something playful, and chilling in Neslihan Koyuncu's "Dote Upon," an installation that welcomes visitors to "Utilitarian efforts, non-utilitarian works," a new exhibition at Tophane's Mars Gallery.
Koyuncu, a photographer, has travelled to central Anatolia and was impressed by the subdued colors of its landscape. She also found herself reflecting on ancient Anatolian rituals. Her installation, featuring stones and tree branches, seems to be produced for such a ritual, although visitors were viewing the work from a safe distance when I visited on a recent weekday. To my eyes the installation seemed sadly deserted; a remnant of a bygone era. The color blue dominates it and that color's intensity leaves a strong impression on the viewer. Since it does not exist in the nature, blue serves here, and in the exhibition in general, as a sign of artificiality.
"It is not a performative piece but I interpret it as a stage for performance," Merve Ünsal, who co-curated the show with Naz Kocadere, said last week. "It is a very subtle work that makes you walk around it. There is this co-existence of the artificial and the natural. And this is very purposeful. I like this tension between them. There also seems to be something underneath the work, but then again, not really. Some people wait around it to see something move. It is a kind of static tension."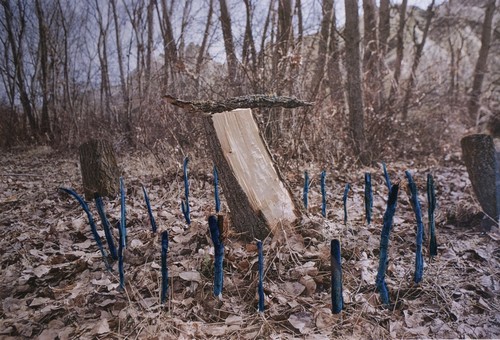 In the adjacent room, Melisa King's acrylic watercolor and ink on paper works create a scrapbook situation. This thoughtful work quotes the famous short story by Chuang Tzu, the Chinese philosopher: "Once upon a time, I, Chuang Tzu, dreamt I was a butterfly, fluttering hither and thither, to all intents and purposes a butterfly. Soon I awaked and there I was, veritably myself again. Now I do not know whether I was then a man dreaming I was a butterfly, or whether I am now a butterfly, dreaming I am a man."
King's "Glass Butterfly" is directly linked to the exhibition's central theme, the appropriate relationship between the artist, who conceals herself behind her artwork, and the viewer. This relationship, according to curators, resembles the interactions between a butterfly and a hunter. In order to survive, it is vital for the butterfly to conceal: "As artists, when we try to blend into our surroundings or when we try to camouflage ourselves, does that mean that we are concealing the things we have been exposed to?"
The idea of using the butterfly as a metaphor for this relation first came to Ünsal last year during a residency, while reading Vladimir Nabokov. The butterfly uses camouflage as a strategy for survival, Nabokov wrote, but conceals herself more than she needs to; this extra effort put into camouflage also defines the work of Nabokov as a literary stylist. There is something luxurious in that act of concealment and that, according to curators, is what really matters in art.
"When the butterfly camouflages itself to hide from a predator, it mimics its environment to the utmost detail, including the traces of larva on a leaf. The butterfly thus goes beyond what is absolutely necessary to protect itself, blending into the surroundings to a point that the predator can't appreciate. The 'perfection' of the butterfly's camouflage becomes luxuriously beautiful, which could be related to the aesthetics of violence, surveillance, and inactivity. The exhibition proposes that pleasures of looking, seeing, viewing and the abstraction of art, beautifying of the horrendous might have an intricate relationship."
Borga Kantürk's "An abstract day, 9AM to 5PM," explores the violence of working an office environment all day. "He took a photograph from his office, at every hour during a work day and painted them blue," Ünsal said. Kantürk, a photographer and painter who works as an academic in Dokuz Eyül University, feels it is a very violent thing to be in an office for that many hours.
Ünsal and Kocadere have worked on the show since February and most of the artists exhibited here are their close friends. "It took us three or four weeks to bring all the works together," Ünsal said.
Ünsal's own works in the exhibition, "Call for Anatolian Tiger" and "Ice Melting," embody the combination of the beautiful and the horrendous: in the former, we hear the call for an Anatolian tiger, which went extinct in 2013 when the last remaining Anatolian tiger was killed. The sound represents how Anatolian tigers call each other, and creates the expectation that the tiger might return.
This is touching and moving, and links to the other work, a photogram, exhibited downstairs. A photogram is basically a photograph produced without a camera: Ünsal has produced it by exposing light on photosensitive paper. We see one, three, seven cubes of ice melting here: an unforgettable record of loss and transformation that echoes the central idea behind this tastefully curated exhibition.