Regarded as "the oldest temple center in the world" by the Turkish Ministry of Culture and Tourism and many international institutions and organizations, and listed on the UNESCO's (United Nations Educational, Scientific and Cultural Organization) World Heritage Tentative List five years ago, Göbeklitepe is now expected to be put on the main list at the beginning of next year.
Approximately 4,000 square meters of steel roof work is being constructed in order to provide the historical site with better protection from the environmental elements and will soon be completed in the area in the final stages of the process towards UNESCO candidacy.
Speaking to Anadolu Agency (AA), Director of Şanlıurfa Culture and Tourism Aydın Aslan said excavation works continue and are increasing every year in the area. He added that Göbeklitepe is a huge excavation area which is having a profound impact on the world of archaeology on a global scale.
"As of July 15, 2017, the upper roof projects will be completed and the area will be open to visitors. All ongoing works are being implemented in the context of protecting and utilizing Göbeklitepe. Preserving the integrity of this site is our priority. We are doing everything that we can to protect Göbeklitepe in the most effective manner. This upper protection project has a price tag of around 600,000 euros. This project is funded by our state and funding from the EU. We believe that this will be a beneficial project for Göbeklitepe with maximum benefits and minimal damage to the site in the future," he said.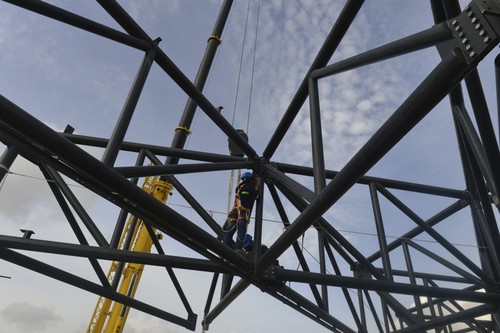 Director of the Göbeklitepe Excavation Site Celal Uludağ also stated that there will be delay in excavation works because of the roof project in the area. "Protecting historical monuments is as important as protecting the area itself, where historical monuments exist," he added, saying that officials plan to conduct more excavation works in the area in the coming years.
"After the roof project is completed, we will start excavation efforts. We foresee that we can do this for a long time. Until now, seven temples have been unearthed in the area and there are many others to be revealed. The important element in excavation is to display and protect what is being revealed. Thus, right now we are prioritizing the protection of these ancient ruins," he said.