The first personal exhibition by Serra Behar, "To Remember," is at Adahan Istanbul. In the exhibition, Behar focuses on concepts of memory and traces of subjects, objects and situations with her artwork.
Stating that life is a theatrical journey in a fictional and illusive stage, the artist said: "I think that everything I produce is what falls to my share in this illusive play. Neither more, nor less. Every one of my works is the symbol of simultaneous death and birth. They prove that my internal feud is a kind of non-stop dialogue with the universe. This is a story of how I remember the journey of an ego-centered subject to "becoming us." Maybe all this is a whisper to the ones whom I could touch in the deeps."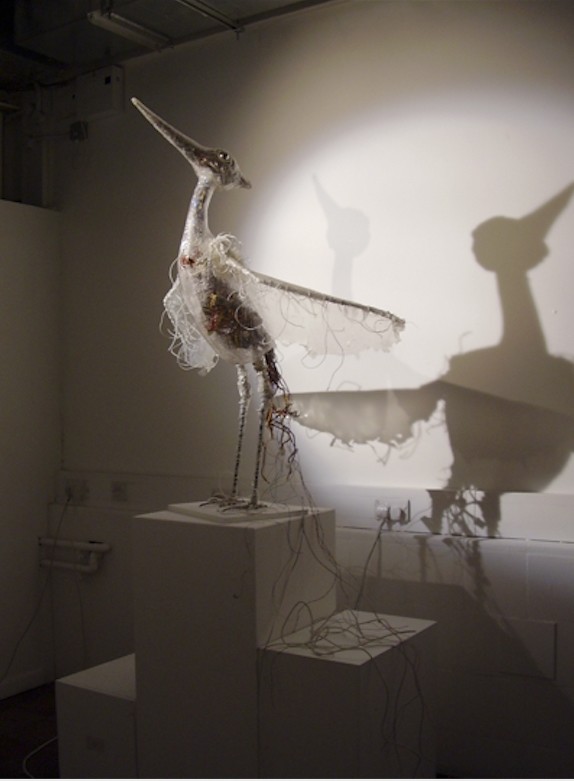 "To Remember" queries the effects of all the forgotten ones between birth and the beginning of perception on ongoing life; it reminds us that humans must face the world they live in starting with themselves and with forgotten faces, identities and subjects. Behar emphasizes the situation of being on the road in the existential process.
Every one of Behar's works can be evaluated as a concrete reflection of the situations corresponding to a specific period of her life. In her work, the artist reflects a conscious surrender to the action and non-stop transformation of life, using concepts of motion and change of expression. She conveys the completed process of life and its ongoing fluency with figurative expression by combining materials like leather, x-ray films, genuine bones, polyester, cables, computer tools and antique wooden pieces with animatronic and various animation techniques.
The artist reinterpreted pieces she gathered from various carpenter shops, junk dealers and ateliers in the Galata district of Istanbul and Bodrum district of Muğla.
Displaying her work simultaneously at ArtSümer and Contemporary Istanbul since 2012, Behar will continue to query the meaning, arts and action in the reflections of traces.
The exhibition is open at Adahan Istanbul until June 20.
ABOUT THE ARTIST
Serra graduated from Mimar Sinan Fine Arts University's Department of Stage and Costume Design and completed her MA in sculpture at the same university. She studied experimental design and conceptual art at Nottingham Trent University and conducted her first projects on experimental design, puppet and animation workshops in the U.K. She has prepared special designs for prominent brands and corporations in Turkey and around the world. She displayed her work in various galleries in the U.K. and Turkey between 2010 and 2015.