It is always great to be in Istanbul during the springtime, seeing and smelling the various different flowers blossoming alongside the Bosporus. Istanbul is hosting "BAHAR" (SPRING) as the second of four off-site projects of Sharjah Biennial 13: Tamawuj, centered on the themes of water, crops, earth, and culinary arts. According to the biennial catalogue, Sharjah Biennial curator Christine Tohme has invited curator Zeynep Öz "to be the interlocutor who researches and conducts dialogue under the 'crop' theme. "The off-site projects of Sharjah Biennial 13 will continue in the cities of Ramallah and Beirut in the coming months.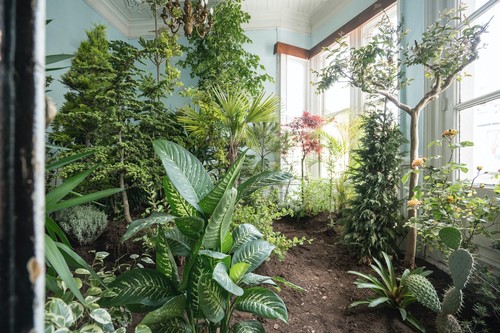 "BAHAR" is presenting various artist and collectives such as, Pinar Öğrenci, Ali Taptık, Deniz Tortum, Ülgen Semerci, Alev Ersan, Joao Mode, Olivia Plender, Joana Hadji Thomas, Khalil Joreige, Bengi Güldoğan, Aslıhan Demirtaş, Onur Karaoğlu, Torna and Das Art Project. Ayça İnce and Begüm Atakan's project titled, "Ek Biç Ye İç" is being held in the ancient, 150-year-old Ahud Efendi Mansion located just 100 meters away from Hagia Sophia. "BAHAR" will feature exhibitions, performances, talks and film screenings until June 10.
"Essence / Seeds from Brazil" (2017) and "Land" (2014-2017) are the works that welcome you when you enter the historic Abud Efendi Mansion. Artist Joao Mode's site-specific installation contains a room full of soil, seeds sprinkled throughout the room and various plants such as cactus, palm tree and leguminous. The installation breaks down the powerful effects and perceptions of the space and forms an entirely new space where you can experience a multicultural "micro-forest."
Pınar Öğrenci's new work titled, "Only Dead Fish Go with the Flow" (2017) is a multi-channel video installation that depicts the special journey of a pearl mullet from the eastern Turkish province of Van. Well known for their journey which starts around mid-April when the waters get warm and ending in late June, pearl mullets embark on a journey that takes them upstream. These creatures have a unique method of jumping (like flying) over small waterfalls, which is fascinating and captured well in the installation. The way that pearl mullets overcome obstacles on this journey is at the core of Öğrenci's installation, which focuses on the current mass migration of the creatures that is currently underway. Her way of approaching the subject is quite unique and metaphoric, as she avoids showing direct images of the subject unlike other artists.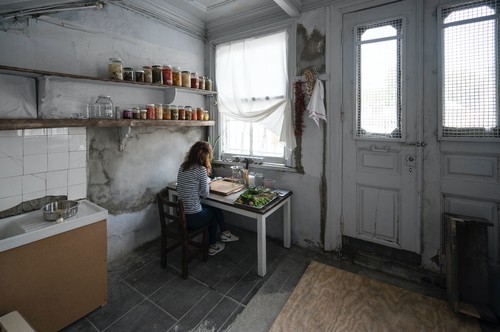 On the other hand, the culinary concept of "pickling" is an important component of Anatolian cuisine that can also be seen in this art exhibition. Ayça İnce and Begüm Atakan from the "Ek Biç Ye İç" initiative aim to form spaces where one can cultivate and distribute healthy food in a highly urban environment. "Ek Biç Ye İç" occupies the kitchen of the mansion to make pickles with seasonal fruits and vegetables. The duo utilizes the poetic ambiance of the mansion kitchen to embark on this modern task which contrasts nicely with the rustic, dilapidated conditions inside the kitchen. As you might know, pickling is a way to preserve vegetables and fruits that has been done for thousands of years in different countries worldwide. The practice is well within the context of this exhibition as different artists from different countries come here to practice the culinary art of pickling in the Abud Efendi Mansion kitchen that was once left to rot.
"Kalhana" (2017) is an installation that questions the history of a specific place, family heritage and its agricultural background including spiral machines, harvesters and batches of crops that date back thousands of years. The installation by Bengi Güldoğan features a small-scale dummy of a puddled-clay house and real wheat that is spread out across the room as well as 3D printed agriculture machine which has legs that resemble the praying mantis. Güldoğan's installation suggests a vague relation with non-human beings; where the relation between human and non-human intertwine with each other.
Grolux florescent light tubes (known as "Grow Lights") are an artificial, electric light source designed to stimulate plant growth by emitting an electromagnetic spectrum appropriate for photosynthesis. "Grow lights" are becoming common in agriculture to simulate the same environment for vegetation allowing production to continue all year-round. Aslıhan Demirtaş's site-specific light installation titled, "It is Always Spring" (2017) is placed on the second floor of the historic mansion, inside of a hearth. Next to the purple "grow light," there is also a sound installation called, "Agrosomniac Dreams" that was composed for the artist by Tolga Tüzün. The greenhouse environment that the artist forms in the installation offers a process of healing and producing sustainability for the abandoned mansion.
Ali Taptık's "Archive SET 14.0" (2017) consists of short science fiction stories. Taptık presents them in two versions; one in a darkened space where tablets are placed like a dashboard and the second on a website where you can download an e-book version of the stories. His sci-fi presentation predicts what kind of discussions will be held in the near future based on "enabling and controlling access to information, academic and non-academic databases as well as de-privatized social media content and data storage."
"BAHAR" aims to respond to the word "crop" in a successful manner. The Abud Efendi Mansion is a great place to discuss this subject. While the mansion was not in use for a long time, it is located in the centrum of Istanbul. Now it is time to harvest all of the crops from the field. Zeynep Öz's selection and her curatorial achievements add tremendous value to the exhibitions. Rather than making a show that is irrelevant to time and our surroundings, "BAHAR" establishes deep relations with its environment by opening a discussion in both the art and political realms.