A massive, 91.44-meter-long folded fabric was hanging inside SALT Galata when I visited on a recent afternoon. The museum's usual crowd was there: Students read books behind desks, Instagrammers took pictures of the most beautiful corners of the building, and a number of contemporary Turkish artists could be seen doing research for new projects. Were they aware of the existence of the huge shroud that now seemed to so strongly define the space? What did they make of it? I wanted to talk to them, but then chose to sit down and appreciate the artwork that reminded me of death and freedom at the same instance, a strange mixture of melancholy and joy.
Abbas Akhavan, the Toronto based visual artist, created this site-specific intervention to reflect on a monument in Bahrain that was torn down by the government in 2011. "Similar to a shroud or a white cover for an anticipated reveal, the folded fabric also complements the local reference to destruction of "they hit a tree with an axe" curators say in the exhibition text. This second work, on SALT Galata's roof terrace, is intended as an SOS signal for airplanes: "They hit a tree with an axe, and the tree said the axe's body comes from his own," Akhavan's enigmatic text reads.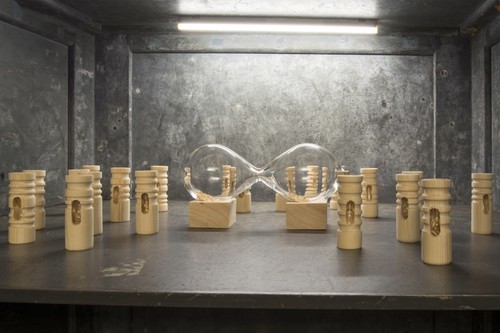 Akhavan's poetic interventions on the terrace and the atrium are part of an exhibition that will be the final installment of the "The Uses of Art" series. The L'Internationale confederation, consisting of six European museums, has created a program that features numerous processes of artistic production that reflect on the uses of art. The "How did we get here," "The 1980s" and "One and the Many" exhibitions have all been part of the project. For this final exhibition, SALT has for the first time commissioned all the projects to be displayed on its premises. Spending many more hours than I was expecting at SALT that day, I realized how meticulously the selections had been made.
It takes a heart of stone not to be moved by Laure Prouvost's "softer and rounder so as to shine through your smooth marble," a work so sensuous that I felt a bit shy viewing it with other people in a public space. Consisting of a number of sculptures placed in different parts of the SALT building, Prouvost's work expects us to imagine screens as heads, faces or minds. On their surfaces, we are offered the most intimate thoughts of the sculptures; the music of their sentences move and enchant the viewer, reminding us of our own obsessions and passions.
The French artist won the Turner Prize in 2013 with her work "Wantee." A graduate of Central Saint Martins, Prouvost explored in that work the ways in which we relate to the past in the age of Instagram. Here, her sculptures -- so full of desire for their environment -- subtly unsettle the building to whose history and fictions they respond through texts and sounds. These are "mop women," the curators say, who "remind us of ongoing behind-the-scenes work such as cleaning and maintenance, yet here they provocatively greet those entering the building with surreal humor and wordplay."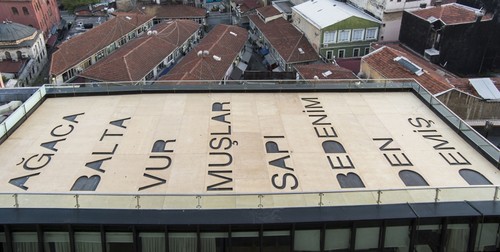 One sculpture, placed next to a plant, is passionately in love with her partner. "If I could, I will carry you next to a beautiful beach," she thinks. "And jump with you in the water. My monitor might stop working but I will be with you. It would be paradise."
Not far away, another sculpture sits on a bench with a letter in her hand. She seems sad, on the edge of an emotional breakdown. The screen, filled with tears, whispers: "I promise you I was crying." Just adjacent to that work is a set of mirrors that offer the viewer a glimpse into a hidden text. "What is underneath the ledge?" the text asks. As I got to my knees, the word "escape" appeared on the mirror's surface.
There are other works hidden inside SALT Galata's new exhibition, and one feels a pang of joy upon finding them. "Seed Journey" by the artistic crew Futurefarmers, is located inside the SALT Library, accessible through a massive vault door. The mythical work asks us to imagine a voyage from Norway to Istanbul. In a sailing boat, a handful of rye and wheat seeds, found in a St. Petersburg museum, have sailed to Istanbul, the story goes. We get to see the ship in miniature, as well as seeds from the imaginary "Flatbread Society," on display here as part of a mini museum. In the adjacent library, there are books on ecology, agriculture and eco-villages, waiting to be read by visitors.
The aim of these four projects, SALT curators say, was to bring to the foreground "suggestions of different potential functions or possibilities that temporarily reframe the institution." These works will be removed soon, but I shall always remember the shroud that once reminded me of death and Prouvost's crying screen, those future memories of our present sadness.