Through some close-up portraits of writers from Istanbul's underground literature scene, French photographer Philippe Dupuich, in his latest exhibit, tells the story of the city's civic chaos and its vitality as a globalized megalopolis.
With writer, translator, and Turkish literature expert Timour Muhidine as its advisor, the exhibit takes visitors on a journey into the realm of Istanbul's underground literature through portraits of writers including but not limited to Küçük İskender, Hakan Günday and Metin Kaçan.
The exhibit at the French Cultural Center will remain open until July 13.
Though it is difficult to put the marginal writers into any specific classification, in the 2000's Turkey, they were the proof to another possible literature and an alternative art production scene.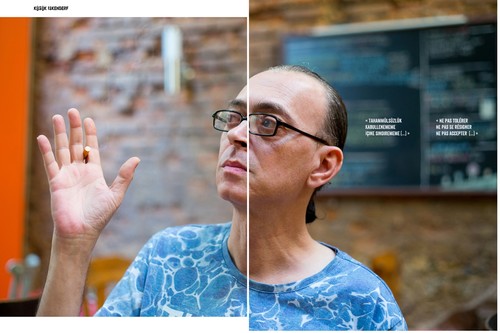 The texts by these writers occupied a distinct space as the anonymity of big cities come to light in magazines, blogs, sometimes in a poem, or in a story like in Metin Kaçan's "Ağır Roman," which was later adapted for cinema with great success.
The quicksilver and harsh underground culture have mainly spread in Istanbul's Beyoğlu and Kadıköy quarters. Küçük İskender, Hakan Günday, Altay Öktem, Metin Kaçan, Sibel Torunoğlu, Batuhan Dedde, Niyazi Zorlu, or Hüseyin Avni Dede... all these names and imagery have a point in common, scanning and revealing the Turkish spirit and neurosis.
They represent a kind of coincident opposition community, comprising of funny jokes, radical pessimists and young and less young writers scream out the difference and resistance against literary and art life stereotypes.
Similar to those writers representing the Beat generation in the U.S. and punk movements in the U.K. and France, the revolutionary rebels of Turkish literature show up today as the players of a cultural renaissance.
Underground movement works, facing doubt and sometimes underestimation, are considered as benchmarks for contemporary literature. These works revive and maintain the romantic and Bohemia mythos of Turkish modernists from the '60s.
The portraits of these invisible faces of literature world between 2013 and 2016 shot by Philippe Dupuich tells about the civic chaos and the vitality of a globalized megalopolis. His photos, with a striking Istanbul landscape on the background, meet visitors at the French Cultural Center.
Philippe Dupuich, an independent photographer, has worked on many projects related to literature. He has contributed to different collections with portraits of various literary figures in France and other countries.
Meanwhile, Timour Muhidine, who teaches at Inalco in Paris, France besides his literary endeavors, will be responsible for the "Lettres turques" collection of Actes Sud publications.