Samsun's Atakum Municipality has initiated a workshop at Özgecan Women's Coordination Center to preserve the art of tile making, which was included on UNESCO's list of intangible cultural heritage. The workshop is attracting a lot of interest, especially from women over 50.
Some of them leave their grandchildren (who have been left in their care) with their husbands in order to attend the workshop, while others insist on going and learning despite having impaired sight. The art works created really attract attention.
Fatma Taşçı, the director of the center, spoke to Anadolu Agency (AA) and explained that they are attempting to revive Turkish handicrafts and stop them from sinking into oblivion with a project entitled, "Maintaining the Turkish Art of Tile Making."
Remarking that the craftsmanship of tile making is also one of the traditional arts (a kind of traditional illumination art) that is being lost, Taşçı said: "We initiated the project with the aim of updating and promoting such handicrafts in Samsun. We also thought that the ladies can acquire it as a profession. I think our project could serve as a model for other regions of Turkey. Thus, the art of tile making will be revived in Turkey, I think."
Stressing that the project is also supported by the EU, Taşçı added: "The aim of our project is to conserve the tradition of the Ottomans and Anatolian Seljuks. However, we also want to offer a new profession to the women. They earn eight euros at the workshop daily. We help women to stand on their own two feet by supporting their employment. The age of the women attending the workshop varies, from 24 to 64. Most of them are over 50."
Women to open a tile atelier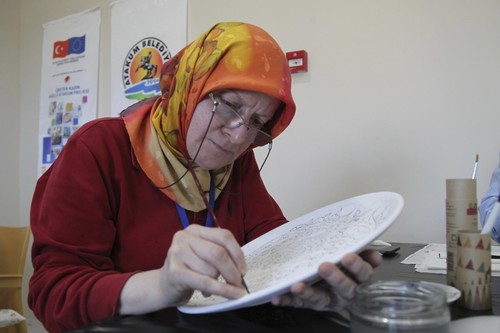 One of the trainees, Hülya Er, said that she was attending the workshop as she has nothing to do at home and she really loves the art of tile making.
"We practice our traditional handicraft here. We learned how this art descended from the Ottomans and Anatolian Seljuks. We want to maintain this heritage as much as possible," Er said.
Another trainee, Necla Lokumcu, stated that she raised her children and that her husband is also retired, and added: "There is nothing left that I have to do at home. At first, I used to come here to let off steam. Then, I experienced how joyful it is to be busy with tile making and decided to continue to attend the workshop both to maintain the art and to provide for my family. After we complete the workshop, we will open an atelier with the women here and sell our work."
Another trainee who also aims to open an atelier with her friends, Semra Mızıkacı, actually has to take care of her grandchildren at home. However, she leaves the children with her husband just to be able to attend the workshop.