UNIQ Gallery will host the "Future Now" exhibition from today until Aug. 13 giving art lovers the chance to enjoy the oil paintings and geometric patterns of artists Imam Habbab and Tan Cemal Genç, art that is undoubtedly inspired by urban landscapes and the memories carried into the present from the past, allowing visitors to explore the role that our memories play in the present and how tomorrow is shaped by our interpretations of the present-day.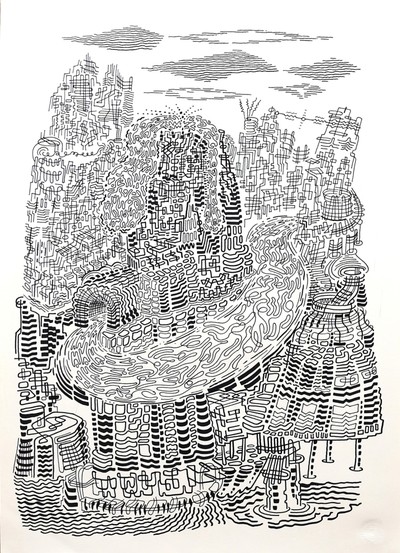 Born in 1989 in Damascus, Imam Habbab graduated from the Faculty of Fine Arts at the University of Damascus in 2011 and lived for a while in Beirut before moving to Istanbul in 2015 where he has since taken a closer look at the relationship between personal recollections, memories formed by societal influences and the role of both in history. His works have been featured in exhibitions of Turkish and foreign collections and Habbab continues his artistic endeavors in Istanbul.
Tan Cemal Genç was born in 1964 in the Turkish province of İzmir and began his art career by drawing comics. He studied in the Department of Graphic Art
s at Mimar Sinan University where he honed his love for art. He drew caricatures and comics for Limon, Deli, RH+, Öküz and Penguen magazines until 2005 and, since 2000, he has been featured in numerous exhibitions displaying his rhythmic drawings, animations and videos. He shot experimental stop motion animations along with Nalan Yırtmaç by using toys and waste materials. Genç also collaborated with the art group Hafriyat between 2000 and 2009. In 2006, the group's work titled, "İstanbul Defterdarları" ("Istanbul's Treasurers"), featuring the works of 69 artists, was published by the Hafriyat Publishing House. Genç's personal exhibition was featured in Barcelona, where it was curated by Mery Cuesta. The artist's rhythmic and single-lined drawings, newspaper comics, Tortor animations and animated music videos were displayed at the exhibition in Spain. His latest exhibition was featured at the Karşı Art Gallery in March 2017 with Linda Herzog, titled, "Dört Göz/Fotoğraflı Çizgili Geziler" ("Four Eyes/Drawing Journeys with Photographs"). Genç continues his work in Istanbul.