Akillas Millas, known for his extensive research projects, books and the huge "Princes' Islands - Istanbul" archive in addition to his master drawings, has been drawing for 35 years. The seagoing vessels in Istanbul and the Marmara Sea have an important place in his drawings. Collected in a book by the Museum of the Princes' Islands, these drawings will be presented to visitors today at the Hagia Nikola yard with an exhibition under the title "From Bazaar Caiques to City Lines, Maritime Transportation in Istanbul."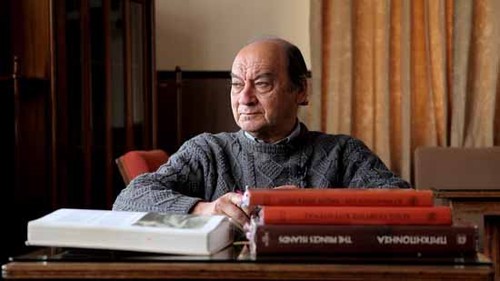 Among the themes in the drawings by Millas are fishing boats at the Princes' Islands and the Marmara Sea, cargo sailboats, bazaar caiques used in passenger transportation along with steamboats and diesel ships. Millas collected these drawings and they were published in Athens in 2017, and now they have been collated in a book and displayed at an exhibition organized by the Princes' Islands Museum. The exhibition, titled "From Bazaar Caiques to City Lines, Maritime Transportation in Istanbul" consisting of Millas' drawings, brings to light the 500-year-old maritime transportation history between the Marmara Sea, Istanbul and the Princes' Islands. The exhibition, which will open for visitors today at the yard of the main lounge of the Princes' Island Museum, will be accompanied by another exhibition. The second exhibition, by Gül Bolulu titled "Exile Caiques," and that of Millas will be open to visit until Sept. 30. Both exhibitions are free of charge. The book consisting of the drawings will be presented for sale at the museum's sale point and bookstores on the island. The museum can be visited between 9 a.m. and 5 p.m., except for Mondays.
About Akillas Millas
Born in Istanbul on May 16, 1934, Akillas Millas grew up in the district of Beyoğlu. His first visit to Büyükada (the largest of the Princes' Islands) was when he was a 3-month-old baby. From that day on, he spent his childhood and youth on Büyükada at number 16, Yeni Yol Street. After completing middle school and high school at Zoğrafyon High School in Beyoğlu, Millas graduated from the Faculty of Medicine at Istanbul University. He then focused on pediatric surgery and orthopedics at Vakıf Gureba Hospital in the neighborhood of Çapa. He got married to Niki in 1963. They spent their honeymoon in room 59 at the Splendid Hotel on Büyükada and from then onwards, whenever he visits the island, he stays in the same room. In 1964, Niki gave birth to a girl. Millas completed his military service as a reserve officer at Ankara's Dışkapı Mevkii Hospital with 1,000 beds as an orthopedics and traumatology expert.
Finding sports medicine more intriguing as "an old sportsman" during his military service, in the following years Millas was transferred to football clubs as a meniscus expert. During his youth, Millas was ranked in Turkey as an athlete and climber. He sustained himself as an orthopedist. A chronic collector since his childhood, Millas has extensive archives about Istanbul, Anatolia and especially the Princes' Island, which he adores. Interested in archaeology and numismatics, Millas sketched diagrams of houses and districts that are sinking into oblivion on the Princes' Islands. He found the lost ones by searching photographs, postcards, souvenirs and rumors.