Enameling, which goes back to the 13th century B.C., turns granulated glass into artwork that can last hundreds of years.
The Bukhara Uzbek Lodge, which is a dervish lodge built in 1692 located right across from the Sokullu Mehmet Paşa Complex in the Fatih district of Istanbul, is home to the Istanbul Design Center. The building that was constructed by Defterdar İsmail (İsmail the Treasurer) has outstanding architecture harkening back to urban times past.
Various classes such as illuminating manuscripts, calligraphy and geometrical and three dimensional design are held at the center, which the Istanbul Metropolitan Municipality restored in 2007-08.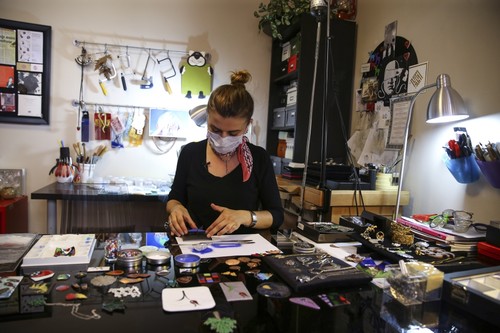 The enameling class is taught by Fatma Nur Bayraktar, who has studied and produced original jewelry.
The enameling class, which is one of the most preferred and valuable techniques to color metals, is taught by Fatma Nur Bayraktar, who has studied and produced original jewelry.
Bayraktar, who teaches students the specifics of using their imagination to design jewelry, told Anadolu Agency (AA) the story of turning granulated glass into art. She said that the first examples of enameling were seen in Egypt in the 13th century B.C. and the technique of enameling was brought to the Ottoman Empire in the 14th century. "Colorful gems were used in jewelry in the Ottoman Empire. Lapidaries who had previously used diamonds, emeralds, rubies and sapphires started to use enamel to color jewelry apart from using gems," Bayraktar said.
Emphasizing that the patterns peculiar to the Ottoman Empire were not different from those found in other arts, Bayraktar said: "They commonly used the tulip and clove patterns. Additionally, there were herbal and Rumi designs."
She stressed that the technique of enameling was known very well by previous generations: "Our mothers know the art of enameling. They know it is used in jewelry. When
we say enamel, they do not respond like what is that. However, the new generation is unaware of enamel, unfortunately. I learned this art from an American specialist who came to Turkey to teach it. Of course we have masters who keep practicing this art, but there is no one teaching it. We wish the number of teachers would increase so that this technique does not die."
Bayraktar explained that granulated glass gets its colors from different metal oxides and that a few types of metal oxides are used together for accent colors, Bayraktar said: "For example, copper turns green over time when it contacts skin and air. Thus, green enamel gets its green color from copper oxide."
She said that the class that was started at the Istanbul Design Center would end on Aug. 26 and those who are interested in enameling can join the next class, which will start in September.
Nilgün Kadıoğlu, who joined the jewelry and accessories workshop to take lessons from Bayraktar on enameling techniques, said that she had been trained in jewelry design except for the hot enameling technique. "It is a very pleasant technique. I love being interested in art. I believe it is an easy technique. We will learn the key parts of it from Bayraktar," Kadıoğlu added.