On the hottest days of the summer, the heat in Istanbul is brutal, intensified by the magnified glare of storefronts exposed to the sun. Shining in the sunlight throughout the summer, two display windows beside the entrance to Kelimat Gallery offer amazing exhibits of contemporary art, impressing even the most jaded urbanites.
During every season for the past year, the Kelimat Gallery has presented visionary worlds that seek to deepen the emotional range of human expression well beyond the institutional formulas of recognition. Its art is curated to represent the unschooled movement of Brut Art, first a French idea, whose patron saint is iconoclastic outsider artist Jean Dubuffet.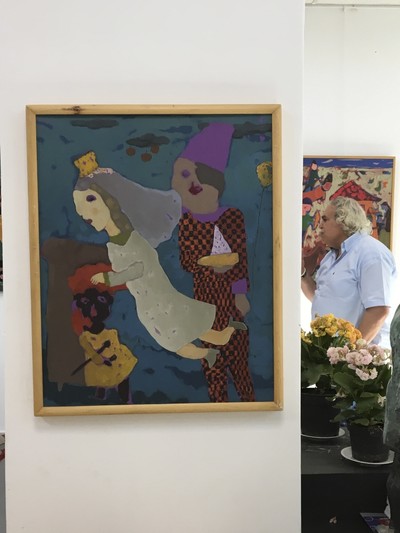 Around the corner from İcadiye Avenue in Kuzguncuk, the least-kept but best secret among all Bosporus neighborhoods in the largely conservative Anatolian district of Üsküdar, is the owner and curator of Kelimat Gallery. A sturdy, middle-aged Syrian man named Adnan Alahmad wears a hard grin with an approachable candor as he sways about his gallery in the manner of quiet intellectual satisfaction, calmly harboring his love for art acquisition while savoring every display of originality from the specially gifted, featuring often unfairly obscure Turkish, Syrian and Iraqi artists in his collection.
Situated on Bostan Street, his gallery is a feast for the senses on Wednesdays, as its open-air market becomes crowded with farm-fresh goods for wholesalers, restaurants and foodies alike. The air evokes the romance of village life, reinforcing the quintessential Kuzguncuk ambiance that makes it a diamond in the rough of Istanbul.
In a breath, Alahmad invokes the name, Jean Dubuffet. To his artistic lineage, among them prisoners, psychotics, children, primitives and graffitists, Alahmad adds the traumatized. He curates a rare and challenging breed of artists, many of whose paintings have been visibly influenced by Dubuffet, with his naive, post-impressionist studies of archaic, elementary and abandoned forms that blur the line between consciousness and the subliminal.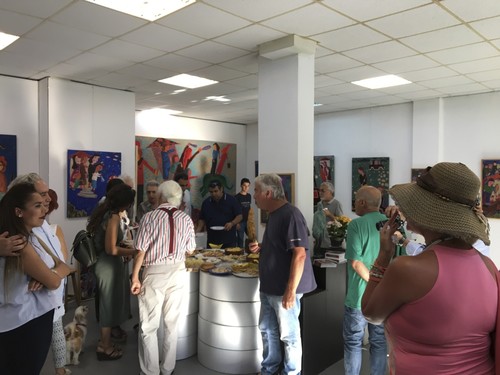 Ibrahim al-Hassoun, one of three house artists at Kelimat Gallery, took immediately to the technical sophistication and philosophical resonance of Dubuffet. His exhibition in February drew audiences close to the tangled, spindly edges of his signature style. He paints bodies of landscapes that evade quick perception and animates the feeling of disbelief with a limited palette, as his forms emerge like mutants out of baths of eerie mists showering blood, fire and rust.
Hassoun spent two years in the dark, secluded from the art world. When he finally stepped into the light, his first show was at Kelimat, where his most recent work is on display.
Rather than ruminating on the tragedy of war in his homeland that was derailing enough to compel him to temporarily stop painting, his art celebrates life by taking a traumatic experience and reshaping it in color and in the memory of a new creative act.
"In his canvases, the diverse forms of the human body form the setting of the artwork," wrote Dr. Nizar Saboor, a professor of fine arts at Damascus University, echoing the visual impressions created by Hassoun in black-and-white ink on paper. "Ibrahim al-Hassoun is separated from his homeland but his works are still faithful in capturing Syrian art, and its 'Levantine realism.' "
At any time of the day, Alahmad is bright and conversational. If he is absent, his right-hand man, Hüseyin Emiroğlu, presents himself, as inviting as a local friend from the neighborhood. They run an open house, offering guests a generous opportunity to explore many house publications that fill in the details about the lives and works of the artists of the exhibit, sometimes even offering visitors a chance to meet them.
The work of Trabzon-born artist Salih Turan, who stamped his illustrious early career with the mark of Art Brut when he resigned from his academic post in 1986 to create art free from the trappings of nepotistic institutionalization and insider drama, was first to go on exhibit at Kelimat. His art evokes the emotional strength of a beggar standing at the exit in the prison of civilization. He is a fugitive from history, escaping formalism one brushstroke at a time.
Among the canvases of mostly Arab artists stacked and shelved in the back hall collections of the modest, spare gallery space at Kelimat, lie the works by Syrian poet Adonis. Alahmad has two of Adonis's manuscript-based collages on paper, which frame his Arabic script to a mixed media play on the literary forms he has used to make a name for himself.
Meriting a special solo exhibition publication at Kelimat is the work of Sema Maşkılı. Originally from Edirne and university-trained, her artwork has a quality that only an outsider could evoke. Nilgün Yüksel, a young art historian from Istanbul, wrote the foreword in the Maşkılı book published by Kelimat. She compares the themes in Maşkılı's paintings to the Biblical story of the flood, the passion of Noah and "The Garden of Earthly Delights" by medieval Dutch painter Hieronymus Bosch.
Maşkılı is truly an heir to the pantheon of greats who continually guide the spiritual direction of contemporary art. In her primary medium, oil on canvas, she brings out the paint to reflect an abstract realism that is uncanny in its simplicity while dogged in its symbolism of the evolution and devolution of humanity. She grapples with the physical qualms of age and sex with literal cannibalistic intensity as she wrestles with the psychological complexities of humility and courage in portraits that transform imperfection into inspired, textural coloring.
Soon after the untimely death of Fatih Urunç in 2012, friends remembered him as a man who lived for art until his final days, as his prolific work shows incomparable genius. In response, the Kelimat Gallery collaborated with Mona Art, another fine art curator and collector in Kuzguncuk, to hold a group exhibition of his paintings. Arguably, he left behind a legacy for Turkish art as important as Jean-Michel Basquiat in America. He is a spirit brother to Sun Ra from the silent world of color.
As in his painting, he had childlike fixations, including an affinity for the planet Mars, couched in his satirical, completely Art Brut worldview. One of his best oil on canvas paintings conveys a rough-and-tumble pastel and crayon, like a kindergarten workshop gone awry, with a druggy-eyed, orange, anthropomorphic alien-animal inside a space craft in the shape of a drinking glass.
Currently showing at Kelimat is the hallucinogenic, recurring dreamscapes of Özkan Gencer, who paints in a mystic image-language of plaid elephants and airborne romances, unopened letters and rectangular abstraction. His art has an effervescent, floating beauty with a voice as gentle as his own; Gencer is a kind, and easygoing social artist. He attends his openings and explains his work patiently. His solo exhibition at Kelimat ends in one week as the gallery prepares to curate from its house collection of mostly unknown, yet profoundly talented Arab artists.
About once every month, Alahmad and his son Karam entertain guests in fluent Turkish, Arabic and English as they host new exhibitions with a taste for Art Brut. Further, the entire Alahmad family is known to pair openings with a traditional Syrian feast. Alahmad himself proudly hands out his homemade falafel, as he invites everyone from the street to come together over whipped hummus, oregano-caked pita and sugary sweet cookies.