Turning Istanbul into one of the international arts centers every year, contemporary arts fair CI reveals the list of participants for its 12th edition, which will be supported by Akbank. For 11 years, CI has brought prominent galleries, artists, foundations, collectors and art lovers together in Istanbul. Combining Turkish arts with contemporary art from around the world, CI will simultaneously open its new term along with the 15th Istanbul Biennial and various arts foundation galleries, between Sept. 14 and Sept. 17. The fair, which will be held at Istanbul Congress Center and Istanbul Lütfi Kırdar Palace of International Congress and Exhibitions under the joint sponsorship of Akbank and Ferko, is ready to greet local and foreign art lovers with so many innovations.
A prominent figure playing an important role in the improvement of the contemporary art environment in Turkey, CI is now a gem that belongs to Istanbul rather than an international arts platform. Connecting Istanbul and Turkish art with the world, CI will host various prominent galleries in the region along with many representative countries on its new term. CI differentiates itself from other fairs with the art content, aesthetical approach, VIP program and top level service for visitors it will offer on its 12th edition.
Selection Committee Members
The members for CI's 2017 Selection Committee consist of various local foreign figures from the art world, including Kamiar Maleki (CI Fir director), Marc Oliver Wahler (director of Eli Edythe Broad Arts Museum at Michigan State University), Nathalie Mamane Cohen (collector), Haldun Dostoğlu (Founder Chariman of Galeri Nev Istanbul), Yeşim Turanlı (founder of Pi Artworks Istanbul London), Alexer Heller (co-founder of Leila Heller Gallery New York Dubai) Kemal Has Cıngıllıoğlu (collector) along with Simon de Pury (collector, curator).
Participant Galleries
The list of participant galleries for CI's 12th edition is 55Bellechasse, Paris & Miami/ Ab Anbar, Tehran/ Ab Gallery, Seoul/ Acaf, Shangai/ Alan Istanbul, Istanbul/ akulova, Dubai/ Anna Laudel Gallery, Istanbul/ Archeus Post-modern, London/ Aria Art Gallery, Florance/ Art On Istanbul, Istanbul/ Aureus Contemporary, Wakefield/ Bozlu Art Project, Istanbul/ C.A.M, Istanbul/ C24, New York/ Cep Gallery, Istanbul/ Dastan's Basement, Tehran/ Dix 9, Paris/ Dirimart, Istanbul/ Eastwards Prospectus, Bucharest/ Flowers Gallery, London/ Gaia Gallery, Istanbul/ Galeri Miz, Istanbul/ Galeri Nev, Istanbul/ Galeria Continua, San Gimignano Beijing/ Galerist, Istanbul/ Galeri 77, Istanbul/ Galeri Baraz, Istanbul/ Galeri Binyil, Istanbul/ Galeri Siyah Beyaz, Ankara/ Gallery 1957, Ghana/ Gama Gallery, Istanbul/ Gazelli Art House, London Baku / Heavenlymade, İzmir/ Inda Gallery, Budapest/ Isabel Bernheimer, Berlin/ Isabel Croxatto, Santiago/ Joan Gaspar, Barcelona/ Karavil Contemporary, London/ Krank Art Gallery, Istanbul/ Kristen Hjellegjerde, London/ Leila Heller, New York & Dubai/ Licht Feld, Basel/ Liquid Art, Capri/ Magic Beans, Berlin/ Mark Hachem, Paris Beirut/ Marlborough, New York/ Maximilian William, London/ Merkur, Istanbul/ Mixer Gallery, Istanbul/ N2 Gallery, Barcelona/ Nicodim Gallery, Bucharest Los Angeles/ Olcay Art, Istanbul/ Öktem & Aykut, Istanbul/ Parasite Gallery, Tel Aviv/ Pg Art Gallery, Istanbul/ Pi Artworks, Istanbul & London/ Pilevneli Gallery, Istanbul/ Piramid Sanat, Istanbul/ Plan B, Cluj, Berlin/ Project Artbeat, Tbilisi/ Red Art Galeri, Istanbul/ Sanatorium, Istanbul/ Shirin Gallery, Tehran New York/ Smac Gallery, Cape Town/ Sophia Contemporary, London/ Triangle Gallery, Tel Aviv/ Victor Lope, Barcelona/ Victoria Miro, London/ Vigo Gallery, London/ Villa Del Arte, Barcelona/ X-ist, Istanbul/ Zilberman Gallery, Istanbul Berlin.
12th edition content and projects
CI Dialogues
Held for 10 years, CI Dialogues main theme for the 12th edition is "MOVEMENT." Evaluating movement from an artistic approach, CI Dialogues will focus on issues like technology, architecture, venue and design. Thanks to the panels going under the subject titles of "Movement in Space", "The Interconnected Art of Taste" and "Human Aesthetics in Future Technologies," the program will bring together prominent architects, designers, academics, theoreticians, art professionals, artists and collectors.
Collectors' Stories:
Celebrating its 11th year with the exciting "Collector's Stories Project" in 2016, CI's new celebration theme will be the first book published by CI Publishing and titled "Collectors' Stories." Hosting 120 works from Turkey's 60 prominent art collections for the first time, Collectors' Stories Project last year featured works selected by Turkey's prominent collectors on a fair area stretching 1,500 square meters and attracted great attention. The pre-launch of the book titled "Collectors' Stories," which will be published with the support of Barbaros Reserve Bodrum Project, will be celebrated with a summer event held at Barbaros Reserve Bodrum. The launching of the book, on the other hand, will be organized simultaneously with the fair in September.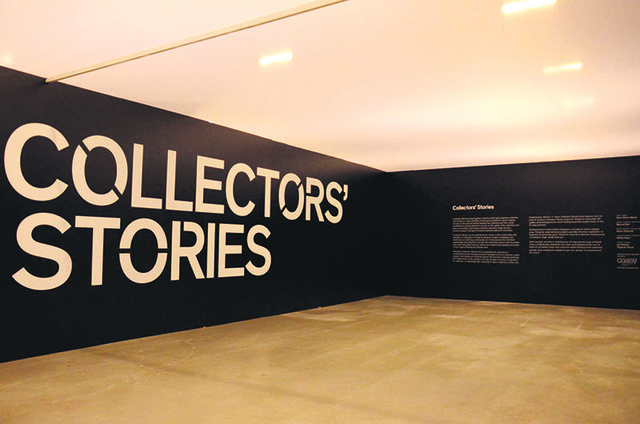 Plugin New Media
Designed for featuring contemporary art works standing at the crossroad of science and technology, Plugin will host the eye-catching works of new media art on its fifth year. Curated for the third time by Ceren and Irmak Arkman, Plugin functions as an extension of CI that welcomes the future within the sponsorship of Siemens Household Appliances.
Conceptual Architecture:
The architectural concept design of the fair is the work of award-winning architecture company, Tabanoğlu Architecture, which completed various successful projects worldwide. The interior design of CI is conducted with a unique understanding and with special details inspired by public spaces (especially outdoor ones). CI's Architectural Concept Sponsor, Tabanoğlu Architecture aims to turn the fair area into a "designed topography" with an emphasis on local sources and needs. The artificially organized interior will also be the extension of Sanatçılar Parkı (Artists' Park), which will be home to sculpture exhibitions during the events, and be bounded to Maçka Park, a unique and precious spot in Istanbul.
The Fifth Element Exhibition
"The Fifth Element," which will be held at Sanatçılar Parkı inspired by the architectural concept designed by Tabanoğlu Architecture for CI 2017, "is a confrontation with the ongoing trajectory of descended soil, air, water, fire and the human, which leaves matter and time behind: A payoff! And beyond all: it is matter and fantasy!" says curator Prof. Hasan Bülent Kahraman.
On the list of participants of the exhibition, which will be organized for the first time at a park with the support of Istanbul's Şişli Municipality, is Erdağ Aksel, Fabian Marcaccio, Genco Gülan, Günnür Özsoy, Jan Fabre, Jannis Kounellis, Johan Tahon, Magdelena Abakanowicz, Osman Dinç , Tony Cragg, Wim Delovoie and Yaşam Şaşmazer.
Food and beverages
With its unique position in the catering sector both on the local and international level, "d.ream" is ready to offer joyful moments to visitors throughout the fair. You can have an unforgettable fair experience dropping by d.ream at the VIP lounge and food courts and have a try of Istanbul's gastronomic tastes.