Known for once defining cinematography as "live photographs," great Russian author Maksim Gorki once said, "Your nerves are tense and your imagination is taking you to an unusual, monotonous, colorless, silent and different world. Seeing black-white and silent shadows is influential. Or is there a reference to our future in these images?" It has been 122 years since the Lumiere brothers developed the "cinematograph" machine and made the first screening. Likewise, Edison got the patent for the camera used for his dynamic shot 126 years ago. Highlighting these milestones and many more, the long history of cinema is on display in the "Cinema Section" of Rahmi M. Koç Museum.
Evolving into an industry about life, society and today's individual, cinema is one of the most important instruments of modern expression, moving it far beyond the realm of simple fun and entertainment. In fact, cinema has become an extension of life with its own reality and inspires passion in many people today. The history of cinema, which started with Edison's ambition to move beyond the kinetoscope to displaying realistic moving pictures on a big screen, is being highlighted at the "Cinema Section" of the Mustafa V. Koç/Lengerhane building at the Rahmi M. Koç Museum.
Directed by the late Ersin Pertan and produced by Annie Geelmuyden Pertan, "Kuşatma Altında Aşk" ("Love under Siege") is featured in this section that has primarily focused on Turkish cinema. An example of the wedding scene from this 1996 film, including the costumes, set, an old Arriflex camera and the film set's lighting equipment, are on display. Here are other objects you can see in the exhibition:
Zoetrope
​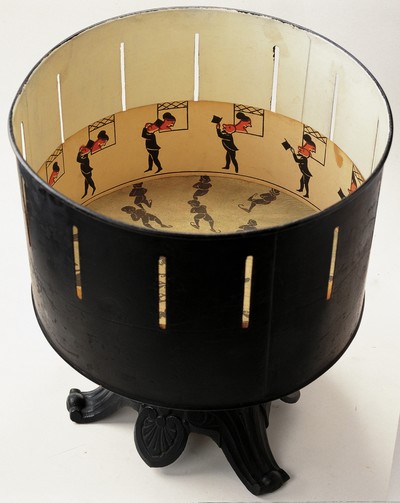 The zoetrope, a machine made up of drawings placed on a revolving cylinder, is considered to be the pioneer of modern cinematography. Invented by William Horner in 1834, the tool projects the images on its revolving cylinder, creating the impression of movement when watched from a distance.
Bauer Selection II Machine

This 16 mm cinema machine was designed for small-scale projections in places like studios and publicity companies. The machine, featuring Xenon lamps, and 25 and 27 mm lenses, can hold up to two hours' worth of film for viewing.
Arri 35 II A Camera
Produced in the 1950s by Arnold & Richter A.G in Munich, the camera is on display with its 35 mm and 55 mm standard lenses, its three original wooden stands, battery and cassette.
Cinema Equipment
Cinema equipment donated by Acar Film Company is also on display in the collection. Established in 1946, the company introduced many artists, such as Gülşen Bubikoğlu, Hülya Koçyiğit, Tarık Akan and Ediz Hun, to Turkish cinema, along with many precious directors and scriptwriters. It is also possible to see original film posters, including those from "Çiçek Abbas," "Salak Milyoner" and "Arım Balım Peteğim."