Koç University's Research Center for Anatolian Civilizations (ANAMED) is currently hosting the exhibition "The Curious Case of Çatalhöyük," which was developed to celebrate the 25th excavation season of the Çatalhöyük Research Project. Located in the Konya plain, Neolithic settlement Çatalhöyük has been excavated under the directorship of Ian Hodder since 1993. As a result of these excavations, the exhibition "The Curious Case of Çatalhöyük," which was curated by Duygu Tarkan, was actually designed to narrate the reflexive methods of the excavations in the area rather than showing only the artifacts.
Parallel to the exhibition, a performance by Nazlı Gürlek, titled "ONE," will be held on Saturday, Sept. 23, between 5p.m. and 8 p.m. Inspired by a wall painting dating back to around 6,500 B.C. and discovered in the Building 80 at the Çatalhöyük excavation area, art lovers will get to see the performance soon. Curated by Simge Burhanoğlu, the performance will be presented in collaboration with ANAMED and Performistanbul.
We had an interview with independent curator, artist and writer Nazlı Gürlek, who was feeling excited about her very first art performance "ONE." Daily Sabah conducted an interview on her story of becoming an artist and her upcoming performance.
DAILY SABAH: How did your journey of art start and proceed?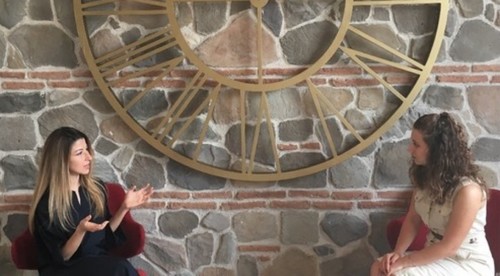 Nazlı Gürlek (L) with İrem Yaşar
NAZLI GÜRLEK: I have been painting since my childhood. I didn't have a choice but to become an artist. I had my bachelor of arts in painting at the Academy of Fine Arts of Florence, and I received my master's degree in curating from Goldsmiths College in London. I started to work as an independent curator during my masters and have been collaborating with institutions in Istanbul and abroad for more than 10 years now.
D.S: How did the idea of working together with this exhibition, which is held for the 25th anniversary of Çatalhöyük Research Project, occur to you?
GÜRLEK: I wanted to go to Çatalhöyük after the things that I had read and heard about it. I got in contact with the archaeologists there, and when I first visited Çatalhöyük excavation site a bit more than a year ago I was very much impressed. I was influenced by not only the society of Çatalhöyük but also by the archaeological techniques of working here. Besides, Çatalhöyük is apparently a peaceful, equalitarian, self-administered and artistic society. Art has an organizer role on the social life of this society. I just wanted to think deeply about it and also encourage people to think more about it like me.
I have learned from archaeological evidence that all the buildings there were used for residential purposes and that the society was organized by routine rituals including a rich production of wall paintings that were also conducted in these buildings. I find it interesting to think that art may have played an important role in building communities and keeping people together. I can say everything started with this idea. I started to observe the paintings of the society, and I made close dialogues about the paintings together with the archaeologists. I have talked a lot with the archaeologists, including Duygu Tarkan, the curator of ANAMED's Curious Case of Çatalhöyük exhibition, to learn from their researches and have expressed my own artistic reflections on the material. Through the dialogue with her, the idea of the performance to take place in the context of the exhibit occurred. Various projects were born from this point. The performance titled "ONE" is one of them.
D.S: What is the message that you want to give spectators with your performance where you will deal with an archaeological finding by a different perspective of an artist?



A wall painting dating back to around 6,500 B.C., discovered in Building 80 at the Çatalhöyük excavation area.
I am creating a ritual to investigate the meaning of a particular wall painting found inside Building 80 at Çatalhöyük. This painting struck me the moment I saw it at the site. It was very unique in aesthetic qualities and the feeling it communicated. I wanted to explore and work on it to see what it could tell us today. It is thought to have been created as part of a ritual so I created a new ritual to explore its meaning. My ritual is composed of two 9-meter-rolls (29-feet-rolls) of paper with drawings that I have made in response to the Çatalhöyük wall painting, which is visual documentation of the excavation process showing the unveiling of the painting by photographer Jason Quinlan and a live performance based on bodily movements of performer Aslı Bostancı. Aslı is a professional dancer who knows her body very well and is able to perfectly express the feeling that I am willing to explore in this project through her body.
What I am inviting spectators is to think of art as a constitutive part of social life. We are far away from this idea nowadays. Art occupies a different place in our world now than it used to back at Çatalhöyük. It is bought, sold and exhibited but it has no vital role in social or personal life. In ancient societies, however, art was a ritual, constitutive and even had a vital role. Art helps us understand ourselves, others and the world like nothing else can. It binds people together and it is not reserved to anyone in particular.
D.S: You not only presented a performance but also combined archaeology, a science field, together with art. Why did you choose that?
I pay attention to interdisciplinary work. Knowledge is produced through a variety of disciplines and I think it is time for the disciplines to put together the knowledge they produce separately. This is how we can overcome many of the problems we are facing on earth today. I find the meeting of science and art is a particularly exciting one.
D.S: Why did you choose performance art as one of the expression means of your project?
Everything today is a performance. Life itself is a performance. Performance art is different from dance. Dance is a discipline that is largely based on technique. Performance art, which is still new in Turkey, is taking the time to look closely at a particular fraction of life, through the body. There is nothing in life that is outside the body. If we take a closer look at the body, we see all truth there. Performance art helps us scrutinize this. With Simge Burhanoğlu, the founder of Performistanbul, I am collaborating with on this project, and I think a lot together about what performance can do for people today. I think that the magic of complete strangers coming together to watch a live event and share emotions reflects the spirit of our times.