On a recent weekday I paid a visit to Istanbul's Leica Gallery, located at the entrance of bomontiada, one of the most popular meeting points of the city's hipsters and wealthy middle class. Inside the gallery the exhibition team was putting the finishing touches on "The Myth of Men" exhibition, which took a very long time and much effort to produce.
The show is the brainchild of the photographer and film maker Ahmet Polat, theater maker and television presenter Lucas de Man and writer and sound artist Rashif El Kaoul. These three men had set out to explore, dismantle and perhaps unsettle the myth of masculinity in the Netherlands and Turkey, and were preparing to exhibit the results with Istanbul's photography community during the exhibition's opening reception on Friday.
"Men are in crisis," Polat believes. "They don't fit that well in the changing social, political and economic landscape. For the first time in history, being a man seems to have a negative connotation."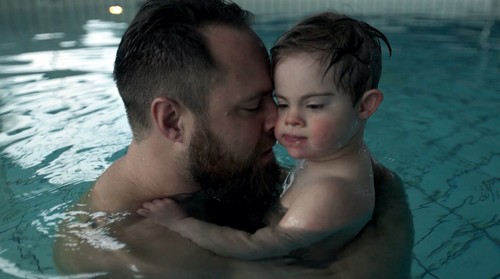 Dad and Son in Pool, Bussum, 2017
To illustrate this point, they have placed a number of statistics at the entrance of the gallery. Among 25 to 29 year olds, the 2001 rate for bachelor's degree completion for men was 27.9 percent compared to 30.1 percent for females. In 1991, females surpassed males. According to the U.S. Census Bureau, fewer children are being raised in families with a father present since the early 1950s.
"Decline has been from about 93 percent in early 1950s to 78 percent by 2000. Proportion of children in families with biological father present is about two-thirds," he said.
Another striking statistic, taken from the U.S. National Center for Health Statistics, concerns suicide rates: Male suicide rates increased by 29 percent between 1970 and 2000; in the same period, female suicide rates decreased by 29 percent.
"Using scientific data, research and interviews, they found out that men are slowly losing dominance within all layers of society. All the quotes, stories and factual information from interviews and research are integrated within the exhibition, the play and the podcasts. This way an informative story is created and some the issues surrounding the myth of manhood are contextualized," Polat added.
Video installations in the exhibition display a number of scenes showing intriguing moments of male crisis. Shot with a high-speed camera, these wonderfully slowed down scenes featuring a man cutting a cake in Zunderdorp ("The Ice Lamb"), a mother and son watching a boxing match in Antwerp ("The Mother"), Turkish oil wrestlers enjoying a moment of peace by eating food in Düzce ("Feeding Friends"), a serious looking man having his hair cut at a barbershop in the Hague ("At the Barber") and a man breaking the window of an old, unused car in Amsterdam ("Just a Game").
Another video installation shows the moment of an accident, a man on his bike falling to the ground on a roadside, pages from his notebook scattered around the scene, passersby on their bikes watching the scene in shock ("Coming from School").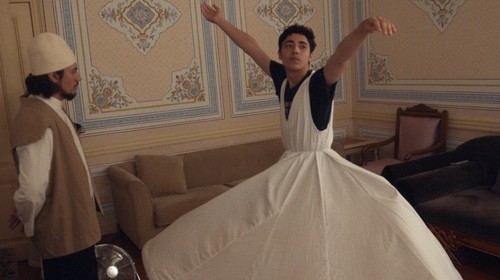 Teacher and Son, Istanbul, 2017
"In order to create his work and make it fitting for both a theater and an exhibition context, Ahmet Polat adopted a new technique that combines his style of photography and translates it to moving image," according to the exhibition text. "A high-speed camera that shoots 750-1000 frames per second with 2080 pixels is combined with the amazing cinematic lenses of Leica. One second gives you a one minute of film. The highly detailed super flow motion puts more emphasis on gestures and movement and gives a deeper meaning and emotional connection."
Polat describes himself as a multicultural person and says he wants to help define what it is to be a man.
"I create frames in which I shed light on a certain subject, I look and explore and I am curious about the unpredictable," he said.
In another gallery, visitors are invited to put on headphones and listen to a set of interviews made by women on the subject of Turkish men. Some women complain of the jealousy; others find Turkish men too limiting; one woman defines her ideal boyfriend as 15 centimeters taller than her. These sections, recorded and conceived by the sound artist Rashif El Kaoul, emanate warmth and familiarity. One can instantly picture the man the women are describing: arrogant, self-important and selfish.
"The Myth of Men" is part of a bigger project according to Polat, one that "questions and redefines what means to be a man in the 21st century through visual art, theater and interviews." It will no doubt extend beyond the confines of Leica Gallery.
Ironically, perhaps, Polat quotes Rudyard Kipling's masculinity-inducing poem "If" in the exhibition catalogue.
"If you can keep your head when all about you, / are losing theirs and blaming it on you; / If you can trust yourself when all men doubt you, / but make allowance for their doubting too; / ... you'll be a man, my son!"
Today, this vision of masculinity, terrifying with all the responsibilities it places on their shoulders, unnerves men for whom dismantling and overcoming "the myth of men" has become a massive challenge.