"Pagan Sounds," a collection of sculptures by Tardu Kuman, who created them with metal and wooden materials, has been opened to visitors as a neighboring event of the 15th Istanbul Biennial.
Having been organized under the guidance of Faika Ergüder Kuman, the wife of the artist, with the support of Murat Özyeğin, the exhibition can be visited until Nov. 22, at the Eski Anadolu Diş Depo in Sütlüce district.
While the place of the exhibition of Kuman's work that he collected for years was chosen by architect Nevzat Sayın, the booklet for the exhibition and all its visuals were designed by Hakkı Mısırlıoğlu.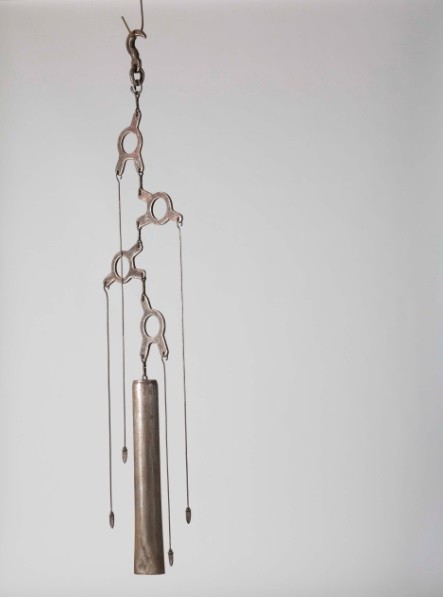 Many culture and arts people, including director Reha Erdem, psychoanalyst-author Nilüfer Güngörmüş Erdem and poet Ahmet Güntan, have also supported the exhibition's preparation process.
Having produced his work with iron, traverses and wooden pieces found in old, unused railways, Kuman evaluated the interactions of his work with wind, water and heat as a part of the sculpture, and he based his "Pagan Sounds" on this ground.
The artist aimed to show both the new meaning in the artistic objects and also the artistic history inscribed in material's structure and form to art lovers with the belief that his sculptures vocally should coexist with the wind.
The works in "Pagan Sounds," which are created by the sounds of Aeolian chimes, has been prepared with the formation of heavy metal pieces which are industrial residuals collected by Kuman from junk dealers.
The Aeolian chimes, which are mobile sculptures and make different sounds with every touch, were made to catch lost sounds for a moment. They represent the medium reaching today from primitive times.
Producing his work with metal or wooden pieces, Kuman has given new meanings to these sculptures that resonate with any time.
"In philosophy, the same concepts have been commented again and again since the ancient times. Wood and metal have been in our lives since those times. The material is always the same, yet you can always express a new thing with it," Tardu Kuman once said.
About Tardu Kuman
Born on Feb. 7, 1958, in Bursa, Kuman graduated from Istanbul University's Department of History and Philosophy in 1985. He then went to Paris and exhibited the jewelry he designed between 1985 and 1987 at Galerie Epona.
Moving to Athens in 1989, he started to produce art objects from old pieces of iron, traverses and wood, along with his jewelry designs. The objects and goods that he produced from raw materials have been exhibited at Athens Gallery Tria and Gallery Miraraki.
He started sculpting in 1995, after he returned to Istanbul. Stoa Design Studio, which he established after a little while, provided him the opportunity to live and work as an independent artist. He continued his life when he produced his unique design pieces of furniture in that studio simultaneously with his sculptures for 20 years.
His house and studio that he constructed in Ayvacık district of Çanakkale province was a special place that inspired him along with his studio in Istanbul.
His works can be categorized as "Pagan Sounds," "Lamponeia Warriors," and "Nameless."
Before he fell sick in December 2015, he was planning "Pagan Sounds." He was forced to take a break in order to deal with is deteriorating health. The artist passed away on May 19, 2016, without having a chance to realize his dream exhibition.