Not long ago I received a press release for an exhibition by Adnan Çoker, and I was happy to learn the great master of Turkish painting was alive and well. Istanbul's art scene is ruthless; painters of a more classical artistic bent are too often overlooked by critics and newspaper editors. In the past decade, the city became synonymous with contemporary art, and artists working with traditional forms have, at times, been ignored. Çoker, a leading figure of Turkish abstract expressionism, turned 90 this year, and Turkey's arts scene should celebrate his body of work.
"As Worlds Colliding," at Nişantaşı's Dirimart gallery, offers some consolation to connoisseurs of painting. The exhibition features works by three artists, Jessie Edelman, Raha Raissnia and Summer Wheat. Their compositions, whether placed on canvas, wood, paper or aluminum, please the eye.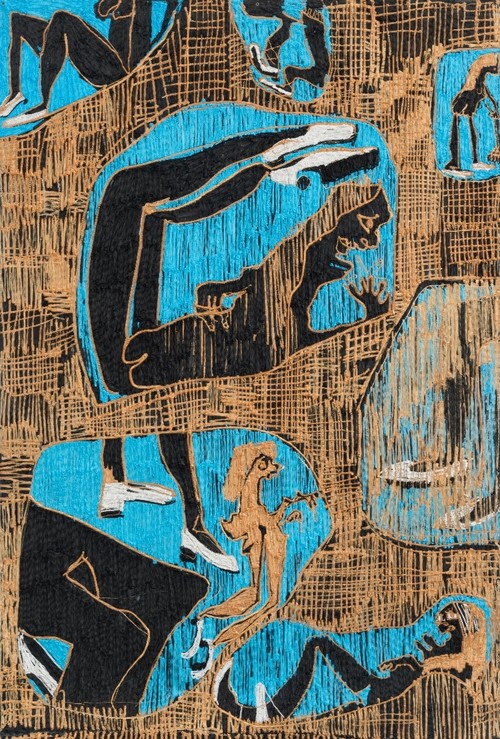 In Summer Wheat's depictions of mundane unsettled gender roles, she superimposes figures of women on hegemonic figures.
"Each artist presents a window-space, conceptually, and figuratively, through which the nature of making art is studied and analyzed by looking at traditional forms, media and technique," Ceren Erdem, the show's curator explains in the exhibition program.
Edelman's work captivated me. Born in 1986 in Milwaukee, the artist studied at Yale and showed her work at Chicago and New York galleries. "Room," "Green Field," "Red Field" and "Green and Lavender," works produced in the last two years, are evocative and eloquent. Her explorations of nature and the mundane are impressionistic. I spent almost an hour in their presence.
The images ask us to slow down and take our time as we view them. Edelman's works put viewers into a contemplative and reflective mood.
"She turns the viewer's orientation to the mise-en-scene, such as a rocky ocean outcrop or a meadow and explores the position of the figure within it," according to Erdem. "The work spans a high-low range of image viewing, from film stills to travel photos to Impressionist paintings. The images she creates in her paintings emerge amid textured and gestural brushstrokes combined with highly developed and rich color palettes."
Raissnia's works often lack color, but they are as evocative as Edelman's paintings. "Nadir," "Untitled," "Breach" and "Concord" seem to come out of Chris Marker films: dystopian, self-reflexive and unsettling; those black and white paintings are taken from films made by the artist.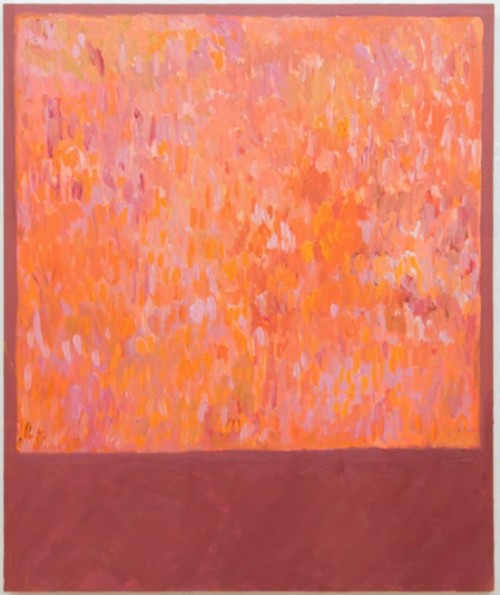 Edelman's explorations of nature and the mundane are impressionistic. Her pieces put viewers into a contemplative and reflective mood.
"The artist learned to paint from filmmakers and musicians rather than painters. Her films, drawings, and paintings are closely imbricated: paintings are contrapuntal compositions catalyzed by film stills, transferred faintly onto the surface of the panel and elaborated upon with oil and gesso," Erdem explains.
"Her films echo this archaeological process, constructed from fragments of earlier work and structured as overlapping pairs of 35mm slide and 16mm film projections."
It is difficult to locate the settings of these collages and drawings, and they depict unsettling architectural styles. "My paintings brought abstraction to the vision I captured from the world on film and now the films are bringing elements of reality into my paintings," the artist says.
Raissnia is Iranian. Born in Tehran in 1968, she holds an MFA from Pratt Institute. Last year, she had a solo presentation at The Museum of Modern Art in New York; Raissnia's works were exhibited at Venice Biennale in 2015. Okwui Enwezor picked her films for All the World's Future, the international exhibition of the Biennale.
In her acrylic works, Wheat explores Egyptian pictography. Her works constitute the most curious part of the exhibition. A man pours water, another travels in a cart, and a third one cuts fish. Those depictions of the mundane unsettle gender roles, for Wheat superimposes figures of women on these hegemonic figures. "Inside the Beehive," and her "Aplary" series challenge us. The painting techniques themselves complicate our relationship with the works.
Born in Oklahoma City in 1977, Wheat holds an MFA from Savannah College of Art. She showed her work at the ICA Collection, Boston's Institute of Contemporary Art and Torrance Art Museum.
"Summer Wheat's paintings are characterized by expressive structure and color that challenge the limits of material and process," Erdem explains. "She centers her subject matter upon the figure and narrative, and utilizes her painting technique, pushing acrylic paint through wire mesh, to create rich, fiber-like surfaces... The large-scale tapestries in the exhibition are windows zooming in a beehive where masculine roles are taken over by women."
"As Worlds Colliding" continues until Oct. 28, and a visit to Dirimart followed by Olcayart gallery in Caddebostan, would make an excellent weekend plan.