Anna Laudel Contemporary brings three solo shows together in one exhibition titled "Storyteller" between Nov. 9 and Dec. 27, showcasing a selection of works by three artists of various artistic backgrounds, presenting common themes in their own individual narrative forms.
The exhibition features works by artists under different subtitles including Ruth Biller's "Vis a Vis," Jan Kuck's "History is Now" and Serkan Küçüközcü's "Daydreaming." The exhibition tells stories about relocation and encounters, social references and irony, inner world and personal histories, showing how each artist builds a unique visual space while narrating common subject points. Inspired by different techniques, the artists invite visitors to explore their narratives and become part of their stories.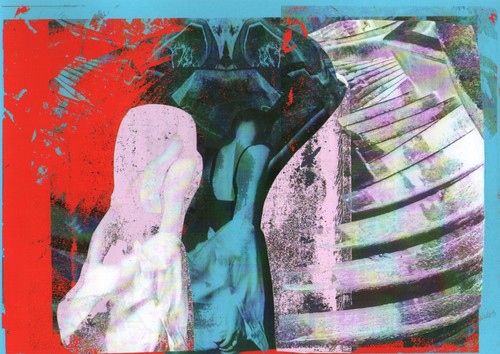 Ruth Biller, "Camondotreppe," 2017.
Ruth Biller from Germany focuses on the theme "Vis a Vis" and asks the question, "Why am I here?" She points to the fast-paced digitalized world that has become a stage for constant migration and movement from one place to another. The artist uses the expression "Vis a Vis" to address how our lives have been affected by the encounters in this rapidly changing world. The themes of nature could be seen in the paintings as symbols of escape points. Ironically, the artist touches on the contemporary issue of needing a visa to travel and how this procedure creates dialogue between countries. Working on the themes of visa, nature and changing places, she underlines the spatial neighborhoods referencing the theme of the ongoing 15th Istanbul Biennial, "A Good Neighbor."
German artist Jan Kuck produces aesthetically appealing and flawless works using different materials such as cement, mirrors, neon lights, wood and glass. Under the title "History is Now," the artist aims to create philosophical meanings through aesthetic works, using historical and contemporary references of cultural and social situations to convey his message and pointing to the wit and tragedy that surround the issues of our time. Sometimes we see a loaf of bread covered with crystals and being cut with a golden knife, and sometimes figures with neon lights which refer to old masters paintings.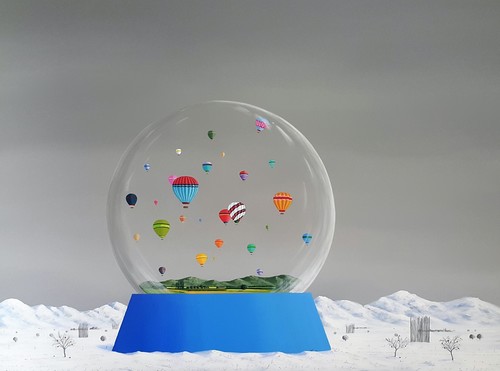 Serkan Küçüközcü, "Summer Globe," 90x120 cm.
The artist's work is dominated by irony that is usually reflected through contrast. Kuck takes a traditional carpet and nods it with modern lights in order to focus on the inequalities, labor exploitation and heavy working conditions that women have faced throughout the history of textile work. At the same time, he underlines the high speed of production and information transfer through the speed of light. The artist ties the rapidly changing themes of the contemporary world to daily life and also narrates the past over today and now.
Turkish artist Serkan Küçüközcü also participates in the exhibition with the theme, "Daydreaming." In his paintings, he presents familiar daily objects in large sizes and placed in unknown, irrelevant spaces, describing a world of vibrant colors. In these unknown places, there is no mankind and the atmosphere questions the sense of belonging by removing the human from these dreamscapes.
The childhood of a person is stolen, the toys of a child are stolen, a candied apple, a lollipop and a carousel in a park are also stolen by the artist and delivered into the unknown nature. The artist's works toy with our perception of space and objects, creating a feeling of displacement and homelessness while also forming a dream space where we can constantly reproduce and perpetuate our dreams.