I had great expectations for Serkan Özkaya's new exhibition, "We Will Wait," but I found it a bit disappointing. The New York-based artist's exhibition re-examines "Etant Donnes," a mixed-media work by one of the most exuberant of modernist artists, Marcel Duchamp. When news of the artist's project reached Istanbul a few weeks ago, art lovers were excited. Özkaya's project first went on display in New York last October, and Istanbul's Galerist opened the exhibition on Nov. 3. Last week, I visited the exhibition in Tepebaşı, and I found it to be witty, intriguing, and largely self-indulgent.
From 1946 to 1966, French artist Duchamp secretly and obsessively labored over a piece that would only be placed on exhibit posthumously. His most mysterious creation, "Etant Donnes," is a diorama and is only viewable through the peepholes of the studio's wooden door. The piece is placed in a dark room featuring a reclining nude in front of a pastoral background. The woman, whose name is Maria, holds a gas lamp in her hand and is lying on a bed of sticks. This diorama has been on display in the Philadelphia Museum of Art for the past five decades and is the inspiration behind Özkaya's exhibit, which displays the artist's modern recreation of "Etant Donnes."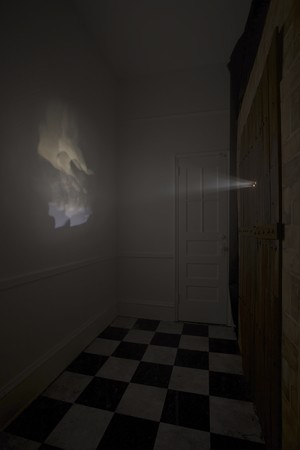 Özkaya recreated the sculpture of Maria using 3-D modeling. Once printed as a single, high resolution piece, the sculpture became, as Duchamp intended, an object of desire. Next, Özkaya approached Duchamp's diorama as a camera obscura. He went to the artist's studio in New York. Özkaya rented the place, and he darkened the studio. Using it as a dark room, he projected upside-down images from peepholes. Superimposed on the wall, this ultimately resulted in his recreation of "Etant Donnes."
In articles and reviews, critics and journalists have described Duchamp's "Etant Donnes" as a banal affair, a vulgar parody and an amateurish work of art. Similarly, the walls of the Galerist are adorned with quotes from articles, one of which reads: "An innately intriguing experience - Brian Boucher, artnet." Another quote says: "In the post-Duchamp, post-truth age, a great story may be the only aim to which art can aspire - Marc Mewshaw, The New York Times." Özkaya did something similar in his 2006 exhibition at PS1 Contemporary Art Center in New York, taking an article which had been written about him in the New York Times and he recreated the page. In what was perhaps his most famous work, the artist recreated Michelangelo's David. But in "We Will Wait," the homage paid to Duchamp and art history seems too self-conscious, and lacks subtlety.
One of the highlights of the exhibition is "Double," a seven-minute video, shot and edited by Deniz Tortum, one of the most talented Turkish video artists of our day. Tortum followed Özkaya to Duchamp's studio on the 11th Street, where he recorded the artist while constructing and re-installing "Etant Donnes." Tortum presents the film through a stereoscopic vision and his perspective vitalizes the exhibition.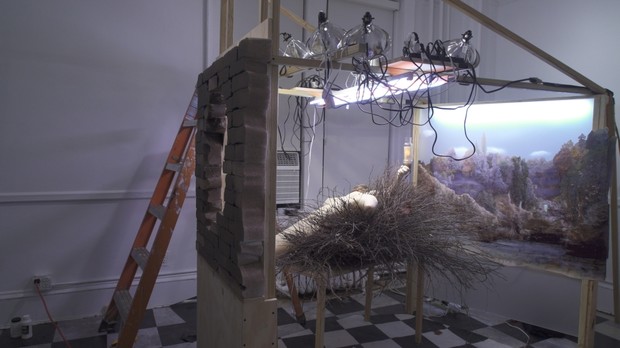 Another worthwhile work is "Le Forestay," a backdrop that Özkaya produced using photographs. According to the exhibition text: "While working on this project, Serkan Özkaya and his team made a consistent series of mistakes. The inaccuracy of the backdrop, which they spent six months on, was only made apparent upon its placement in the installation and being seen through the peepholes."
Upon recreating Duchamp's work, Özkaya wanted to see how good his replica was, so he used Google Image Search. Seeing that the photographs of his replica and those of Duchamp's original matched on Google, cheered him.
For "We Will Wait," the work that gives the exhibition its title, Özkaya "took a long-exposure photograph of the projection stemming through the peepholes of his replica. The image, which is visible to the naked eye after striving for several minutes, inevitably reminiscences Duchamp's alter-ego, 'Rrose Selavy.' Özkaya might have taken Selavy's last photograph."
The exhibition also features negatives of the photograph. Working with photogram artist Ella Fainaru, who was a tenant at Duchamp's studio at the time of Özkaya's visit, he used photosensitive paper which they exposed to the light coming from the peepholes.
"We Will Wait" is curated by Lal Bahçecioğlu, an Istanbul-born curator who works at Elmhurst Art Museum in Chicago. Bahçecioğlu's exhibition tells a story that features Özkaya as a character, and the focus seems to be on the artist's passion for Duchamp. The story told in "We Will Wait" is a good one, but at times the exhibition appears to illustrate an idea that is too abstract to enjoy viscerally.