After the third coup d'état in Turkish history officially overthrew civilian governance on Sept. 12, 1980, many internally displaced teachers were exiled to the city of Van in eastern Anatolia on the edge of an alpine mountain lake near the Iranian border. They were the leftist idealists who evaded hundreds of thousands of prison sentences across the country, taking refuge in the colder, far-flung provinces where the soil was rich with Armenian heritage. They were also multi-talented humanists who gave the local children special education, deeply informed by the harsh political reality that everyone confronted with a tragic optimism.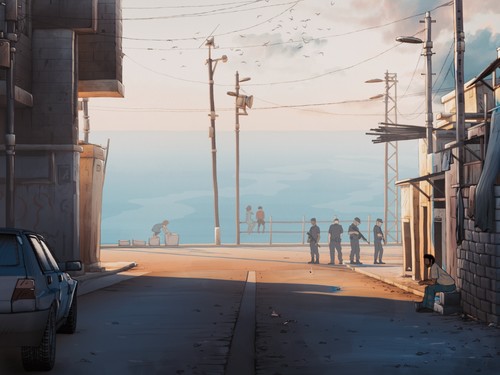 Image credit for Electrical Gaza: Rosalind Nashashibi, Electrical Gaza (film still), 2015. Courtesy of the artist and LUX, London. Animation by George Thompson and Lukas Schrank at Visitor Studio.
Before she was an artist, writer and curator, Öğrenci was among the students taught by the post-1980 coup political exiles into secondary school. After moving to Istanbul, she pursued architecture, which she approached with her distinct creative sensibility. In the global metropolis she became disillusioned with the social atmosphere, distant in more ways than one from her small town upbringing in Van, with its innate eastern communalism. Even as she gained success as a writer and architect, she still felt an emptiness, one that she has since occupied with her independent artist initiative, MARSistanbul.
Since transforming the architectural research office that she opened in 2000 into a socially-engaged exhibition space run by artists, she has dedicated her leadership to international social critique. Twenty-five shows have graced the floor at MARSistanbul with a radical penchant for risky subjects and sensitive regions. Öğrenci has curated at MARSistanbul since conceiving the Crystal City exhibit in 2011, a literary exploration by artists who traced the footsteps of the Italian novelist Italo Calvino to question city-dwelling. Her dense writings accompany exhibitions and they are exacting treatises on the social philosophies and historic momentums recurrent within contemporary art, musing on such themes as capitalism, ecology, migration and war. She publishes with alternative media like the Turkish-Armenian newspaper Agos before posting well-written English translations online at the MARSistanbul site.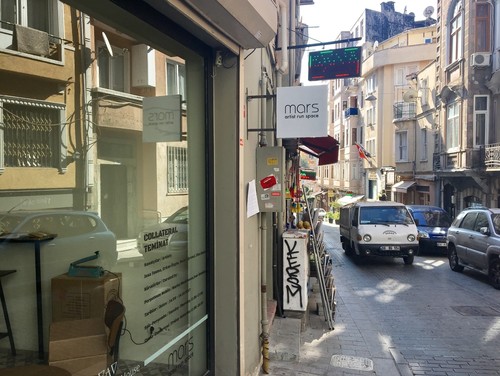 MARSistanbul grew out of the architectural research office of founder Pınar Öğrenci in 2010 and has become an independent, artist-run initiative.
"The space was empty. I was not working in the office and I invited Erim Bayrı for the Spring Exhibition. It was quite successful. People asked what's next," said Öğrenci, who named her initial office MARS after the Turkish acronym for "Architectural Research Studio" and later turned it into an artist's initiative space after she ceased her work as an architect. "I prefer Art Initiative more than Artist Run Space. There is no Turkish term for 'artist run space.' Some artist run spaces are commercial where artists show their own artworks. MARS is different. I've shown twice in seven years. I invite artists and curators. It's not my first goal to show my works."
After a two-year hiatus, MARSistanbul reopened in 2016 in the basement of its original two-floor storefront window space in Firuzağa on Bostanbaşı Avenue with a solo exhibition by Öğrenci titled "Awaiting the onset of the sense of life." One of her more recent works, "A Gentle Breeze Passed Over Us," filmed a strongly personal and stunningly artful account of an Iraqi musician migrating desperately through Turkey to reach Vienna. It appeared for Collateral, the last show also featuring "9 Days from My Window in Aleppo" by photographer Issa Touma, who received the 2016 European Short Film Award for bravely documenting the beginning of the Syrian Civil War.
"MARSistanbul is a free space. In the arts scene there are many institutions, galleries and museums, but they are all in the arts sector. You need free space. We are totally free. For five to six years I had no sponsor. I was the only sponsor. Just last year, SAHA [the contemporary art NGO in Turkey] decided to support MARSistanbul," Öğrenci continued. "My writings and all of my artworks are always related with daily life, our simple daily life, our streets, our meetings, coincidences, everything can be my subject. I don't plan a year in advance. I follow my daily life. If I meet an artist who fits with MARS, I invite them. It can be for a show or a performance."
Each new MARSistanbul exhibition takes around two months to prepare, and the space hosts four shows a year, typically in spring and autumn. Performance art, film screenings and various live events are now held in the floor below the Arabica Trading House coffee company, as Öğrenci plans for more daily pop-up events like screenings, performances and artist talks. Besides one assistant who works Thursdays, Fridays and Saturdays to open the gallery, Öğrenci works in true DIY fashion. Her collaborators are kindred spirits. The current exhibition, Willing the Possible, was curated by London-based artist and curator Minou Norouzi, who initiated Sheffield Fringe in 2011 as an artist-led curatorial project.
While working with the Artists at Risk (AR) program, Öğrenci met Norouzi in Athens last summer at documenta14, a historic exhibition series that began by restoring modern art appreciation in postwar Germany. They discussed the meaning of exile and classist privilege within the international art sphere. Willing the Possible is based doubly on an article Norouzi read by Judith Butler and from a poem by the Palestinian national icon Mahmoud Darwish. "I usually start with one film and pivot the selection around it. In this case it was Emma Leach's 'Conflicting Thoughts: Thoughts on Conflict' (2011)," Norouzi wrote to Daily Sabah, about her process curating Willing the Possible. "The intention was to acknowledge how ill-equipped we are in dealing mindfully with conflict, or with conflicting positions. The films included in Willing the Possible come into dialogue with each other."
From such chance meetings, most often in European capitals like Helsinki or Vienna, Öğrenci develops MARSistanbul from her intuitive taste one day at a time. She had no prior experience with contemporary art curation before founding MARSistanbul and as an artist herself she does not sell art or accept applications. Judging and marketing do not align to the authentic basis of her artist initiative. Like Norouzi, Öğrenci sees herself as an artist more than a curator. Architecture is her starting point. Whether it's a text or an exhibition, creating space is essential as she reflects on her perennial themes from Anatolia to migration.
Öğrenci remembers the Istanbul of the 1990s, when she first moved to the city. She went to the cinema for the first time at age 17, as there were none in her Anatolian hometown, not even a theater. She soon frequented SinePop in Beyoğlu, where she fell in love with a new film every week. At the end of her architectural degree, she attended art biennales. When she failed to understand certain pieces, she taught herself how to appreciate them with research. During that time, art books were gaining in popularity over architecture books. From there, she dove into the contemporary arts world with her strong feminist leanings and has not looked back.
MARSistanbul balances the famous and emerging, such with the Chicago-based performing artists Theaster Gates and Oliver Ressler, the progressive Austrian videographer. There is also equal representation for men and women, and for group and solo shows, while mainly in the form of short films, and with an annual feature on urban architecture. Until Dec. 2, the current exhibit Willing the Possible is showing four unique films. Among them are "Electrical Gaza," a piece by the Palestinian-English film artist Rosalind Nashashibi and "The Goodness Regime," a celluloid caricature on Norwegian involvement in Palestine by Jumana Manna and Sille Storihle, offering particularly insightful and inspiringly fresh contexts in which to compare hotly contested perspectives on global discourse. Since its underground resurrection in 2016, MARSistanbul has continued as a hidden gem of artistic and social freedom worldwide.