Rick Porras, one of the producers of the series, "The Lord of the Rings," attended the post-production works of the film "Batlır." Having worked for many different projects so far, Porras told an Anadolu Agency (AA) reporter that he is excited to be the principal producer of "Batlır," which is made as part of TRT TV Film Projects and directed by Stare Yıldırım.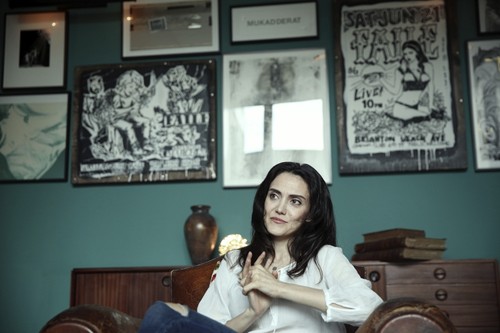 Explaining that Stare Yıldırım, who he has been friends with for nearly 10 years, does a great job as a writer and director, Porras said he is also happy to support one of the female directors whose number is low due to an inequality of opportunities. He said "Batlır" is a very special film and added, "'Batlır' made me feel the same way as 'Forrest Gump,' which we co-produced with Robert Zemeckis a long time ago. Yes, the stories of both films are different from each other but the feelings they create are very similar. The success of Stare in managing the actors has a very huge share in this. Actors, too, have put on a great performance. Witnessing this, no matter in what language you watch it, is always an amazing experience."
Porras stressed that the story of the film greatly affected him. "'Batlır' is a universal film which people of every language and every culture can establish a bond immediately. It tells us that we should own ourselves as how happy we are instead of behaving like someone that we are not or being someone that society imposes upon us. I am sure this is the same both in Turkey and in the US. People are struggling to learn how to be happy with themselves, to be satisfied with their bodies, to value their friends and families," emphasized Porras.
Explaining that he came to Turkey for the first time in 1986 and traveled the entire country until he came to the Doğubeyazıt district in the province of Ağrı, Porras said, "I was at university. I left university for nine months to travel. That break brought me to Istanbul. It was a very special trip. After that, I came to Istanbul a few times more. Istanbul is a very beautiful place where you feel that you will see a different thing each time you come here. It keeps growing and lets you live today while reminding you the past as well as being full of surprises. We cannot say this for every city."
Director and writer Stare Yıldırım said she gained her first experiences in the cinema sector in the U.S. and she also did her first directing job there. Emphasizing that "Batlır" is her first full-length film, Yıldırım said, "The first version of the scenario was written by Nuh Kerem Pilavcı and Gökçe Eyüboğlu, and it was evaluated as part of TRT Television Films Projects. I introduced myself to TRT and I told them I am ready for a good screenplay if they have any available in their hands. They gave me this screenplay. After I got involved in this project as a producer and director, I started to develop the screenplay upon setting up a team comprising of screenplay advisors and producers from home and abroad. It was almost a two-and-a-half-year process and when the screenplay was ready, even though we remained loyal to the idea of 'a youngster with a big head,' the story in our hands became more powerful and universal."



Tristan Versluis, who won an Emmy for the plastic makeup he did for "Game of Thrones," did the makeup for "Batlır."
In addition to mentioning that they told the story of a child whose head is larger than normal in the film, Yıldırım said, "This film is not a story about an ill or disabled person. It is a story about a young person who has a physical difference. Aesthetic perception and visual concern have become so wild that there are people who take risky cosmetic surgeries even if they know they might die. It is extremely tragic but instead of this tragedy, I tried to form the tone of the film using the genre of magical comedy and fantastic elements. For example, the mentor of our hero is a whale poster on the wall. 'Big-headed Batlır' communicates with '52 Hertz, which is called the loneliest whale in the world by scientists since its voice frequency cannot be understood by other whales."
Yıldırım, who received an education in cinema at the University of California after graduating from Hacettepe University, added that one of the most significant details in the film is the design of the main character Batlır's head and the plastic makeup used for this.
Yıldırım stressed that makeup like this has never been done before even though there are some similar ones. "I could not take a risk about this. It was Tristan Versluis who did the makeup. Tristan won an Emmy Award for the plastic makeup that he did for 'Game of Thrones.' He is one of the makeup artists of many films such as 'The Revenant,' 'The Dark Night,' the series of 'Harry Potter' and 'Ex Machina,'" said Yıldırım. Expressing that the makeup should be perfect before anything else so that the film could be realistic and convincing, the director said they spared no expense regarding the makeup even though it increased the budget of the film considerably.
Stare Yıldırım emphasized that Can Sipahi, who played "big-headed Batlır" in the film, made a strong impression not only with his acting skills but also with his patience for the makeup sessions, which takes nearly three hours to do every day.
Mentioning that Çınar Mikael Ancelo Manopulo, who played Batlır's childhood in the film, has no acting experience before, Yıldırım said the makeup used in the film was applied to a 6-year-old kid for the first time in the world.
The plot summary of the film is as follows: Batlır, who is born at 9 kilograms since his head is larger than normal, gains social phobias as he grows old. When Batlır enters his 20's, he wants to make his head smaller and participates on a TV quiz show to collect money for his surgery. Attending a live TV show turns into a big adventure for someone who cannot even go outside without a hat because of his phobias. Batlır's compassionate mother passes away and Batlır starts to live with his taxi driver father who loves him but cannot show his love explicitly.
Can Sipahi, Merve Dizdar, Yağızkan Dikmen, Selen Kurtaran, Sinan Çalışkanoğlu, Erkan Taşdöğen and Yılmaz Gruda star in the film, and the cinematographer is Barry Norwood.
For "Batlır," the screening date of which will be announced later, the theme music is produced by Hakan Özer and Ulaş Pekkan is the music supervisor.