Bringing together photography, calligraphy, ornamentation, painting and chinaware works, "Tasvir-i Mimari" ("Reflections of Painting on Architecture"), an exhibition from the collection of "Galeri Kalem Güzeli," which can be translated into English as "Beauty of the Art of Ink," opened over the weekend at Zeytinburnu Culture and Arts Center and can be visited until Jan. 5, 2018.
Selected from the collection of Galeri Kalem Güzeli, which was founded by Master Architect İbrahim Hakkı Yiğit and Master Architect Ahmet Yılmaz, "Tasvir-i Mimari" has been curated by Mehmet Lütfi Şen, who noted that the painting of a country cannot be completely comprehended without looking at the artist, the collector, the museum, the art gallery, the critique and the curator. Therefore, the exhibition considered all these elements and factors to fully grasp the art of Turkish painting. The exhibition brings together 18 artists, including Ahmet Yakupoğlu, Muhsin Kut, Kadir Ablak, Nusret Çolpan, Faik Kırımlı and Hakkı Anlı, with 45 works.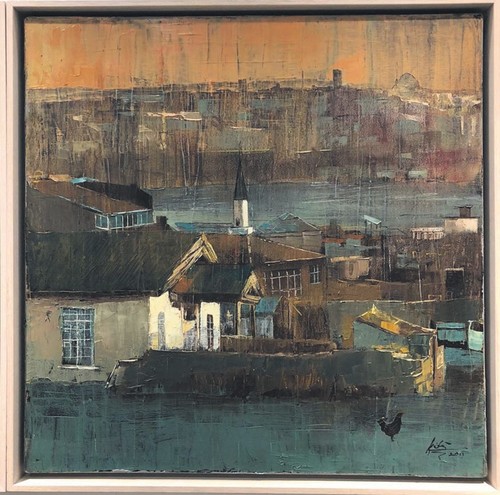 Touching on the history of painting in Turkey, Şen said Sultan Abdülaziz, who was also a painter himself, was the first sultan to pay attention to painting and made a breakthrough in his time as the first collections in painting and sculpture were established,
students were sent abroad to learn the art of painting, the first art workshop was founded and the first exhibition was opened during his reign. However, Turkish painting had to wait another century for private galleries and collections as the private collections were only created in the 1950s. Şen also mentioned "Modern Turk 2," an exhibition that shone a light on collections between the 1950s and 1970s, which unfortunately didn't continue. "When it comes to art, skill is subject to praise and it is evident that praise that comes from outside the state's domain is crucial for the sovereignty of the artist," added Şen.
Şen further highlighted that this is a unique exhibition focusing on a certain theme - the reflections of painting on architecture. "Galeri Kalem Güzeli is the fruit of 12 years of hard work by two architects, İbrahim Hakkı Yiğit and Ahmet Yılmaz, and it has now reached a competency, which allows us to focus on a theme and select respective works. I hope that this exhibition contributes to the ways we observe paintings," said Şen.
Galeri Kalem Güzeli was founded in 2005 in the Fatih district of Istanbul to support the production, exhibition, promotion and introduction of Turkish and Islamic Arts to wider audiences. While it mainly focuses on traditional arts, it also aims to maintain these forms of art for contemporary artists by preserving the basic principles of traditional arts and preserving the ethics of art. In this respect, it brings together the works of masters and new and contemporary artists in the fields of ebru (Turkish art of marbling), calligraphy, chinaware, miniature and art and has offered an extensive collection to audiences. It welcomed an ebru exhibition titled, "Mustafa Düzgünman in 15th Year of his Death Anniversary" at its opening and contributed to the art of calligraphy by joining the "Islamic Arts Festival" in the United Arab Emirates. The gallery still continues to organize and attend many cultural activities both in Turkey and abroad.