New artists from all over Turkey will be joining forces at an exhibition at Galata Greek School in Istanbul between Dec. 21 and 24. The exhibition, BASE, will welcome emerging artists and esteemed figures of the art world with panels and talks. Art professionals are ready for four days full of art, talks, panels, discussions, workshops and many more events, with 116 pieces by 108 artists from 31 universities and 20 cities as well as 75 speakers in 32 panels.
BASE is the first collective fine art graduate platform in Turkey. This year, the platform received almost 1,000 applications in various categories, including print, glasswork, installations, photography, visual communication design, graphic design, sculpture, painting, ceramics, Turkish handicrafts and video art, from 51 universities. Out of these applications, 116 works by 108 artists from 31 universities in Turkey were selected for the exhibition.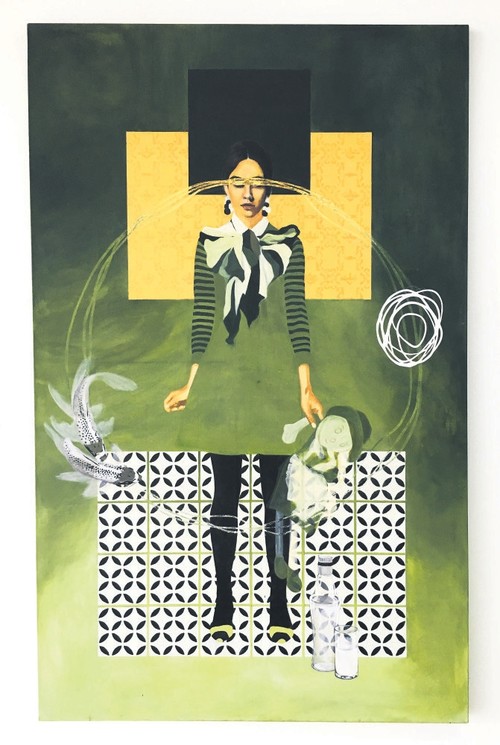 A work by Rabia Çelik.
The main aim of the platform is to gather the new graduates, selected by renowned international names each with unique expertise and perspectives, under the same roof and support their transition from students to professionals. BASE tries to help these young artists in the art world and in the meantime, ensures that this new talent is properly introduced to the art world to be discovered by galleries, collectors, art lovers and creative industries. This BASE exhibition is being curated by Derya Yücel. Parallel to the participants getting the chance to both display their creations and meet leading names of the art world, collectors and art enthusiasts will also get sneak peeks at the new talent and their art.
BASE is also offering panels and talk programs with "BASE Talks." During the informative sessions, 75 experts, including Alev Ebuzziya, Ali Kazma, Gülsün Karamustafa, Hale Tenger, Mehmet Güleryüz, Murat Germen, Refik Anadol and Taner Ceylan, will speak within the scope of the talks.
THREE CONCEPTS, THREE SECTIONS: INFORMATION, HUMANITY AND ENVIRONMENT
According to BASE curator Derya Yücel, what lies at the heart of art is reflection on world at the perceptional, formative and visual levels. All kinds of aspects, such as the social, technological, political, ecological and aesthetic, are interpreted for the viewers on personal levels through creative channels in art. Considering that art has infinite interpretations, the meaning and perspectives produced by the young participating candidates offer up fresh new variety.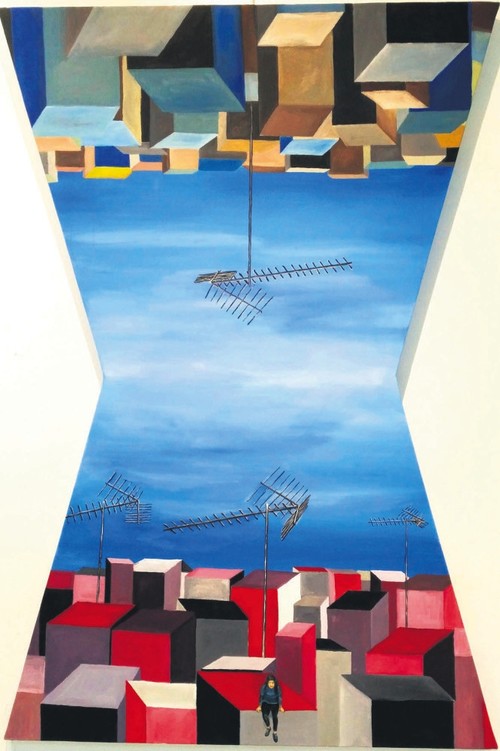 A work by Yunus Tilen.
With 116 works at BASE, the artwork has been produced through a variety of disciplines, methods, media and messages, resulting in an expressive and reflective visual experience. The artwork, produced through a wide variety of methods including conventional, digital, and traditional and new media, stands out as subjective expressions on modern interpretations of concepts such as thought, information, people, the body, the environment, nature, cities, and in short, partial views of the world. BASE, hosted by Galata Greek School, has been divided into three sections: Information, humanity and environment. According to Yücel, the exhibition aims to reveal the unique and fresh themes of these young artists and designers.
Çelenk Bafra, the director of Istanbul Modern's exhibitions and programs, said when she was first invited to be on BASE's jury, that she was very impressed by the platform's focus on new fine arts graduates, a first for Turkey. She also expressed her admiration for the opportunities offered by BASE, including introducing new artists to established international art professionals and exhibition support.
"The success of this project, which is carried out by an expert team and jury, is a result of the different expertise, knowledge, good cooperation and partnerships that allow it to reach out across Turkey. I was able to review applications from all around Turkey, and was especially pleased by the increase in installation, graphic and video productions," said Bafra. She also stated that she believes a serious organization like BASE has the potential to change a young artist's life, especially since it is tied to such a valuable organization like Galata Greek School and added that observing the works of their contemporaries is a rare chance for the participants. "As a member of the jury, I tried to select artists that would truly benefit from the opportunities BASE has to offer," said Bafra and added that she is excited to meet the selected young artists at the exhibition taking place between Dec. 21 and Dec. 24.