Dozens of ancient artifacts have been returned to Turkey this year after they were smuggled abroad, Culture and Tourism Minister Numan Kurtulmuş said Monday.
Modern day Turkey has been home to several ancient civilizations over the centuries and the rich distribution of relics has attracted smugglers who have plundered tombs and other archeological sites.
"It takes years to bring a piece of art [back to Turkey]," Kurtulmuş told official Anadolu Agency (AA).
"There are some cases that take five, seven,10 years and even more. First it has to be proved that [the item] belongs to Turkey" and other countries have to cooperate in returning the treasure.
The minister said a $335,000 gold crown dating to 350 B.C. would soon be brought back after a seven-year legal battle in Scotland.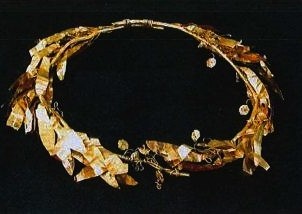 The gold wreath was stolen from a tomb in southern Turkey and earlier this month a court in Edinburgh ruled it belonged to Turkey.
"Now it's turn of the golden crown in Scotland's Edinburgh," Kurtulmuş said. "It is known that this piece belongs to the Carian period and it has been proved."
The Carians were an Iron Age civilization based in southwest Anatolia mentioned by Homer and in the Bible.
Kurtulmuş said 44 pieces had been returned to Turkey over the past year.
One of those was the Roman sarcophagus of Hercules, returned from Switzerland in September after 50 years abroad and put on display at Antalya Museum in southern Turkey.
The 2,200-year-old treasure was stolen during illegal excavations in the early 1960s in Aksu.
A rare 16th century copy of the Quran is another item that Turkey is seeking to have repatriated. It was put on sale in a London auction house in October but withdrawn after the Turkish government got in touch.