Anna Laudel Contemporary will host a solo exhibition by Gazi Sansoy titled "Epochs," which brings together a selection of his thought-provoking paintings produced between 2008 and 2018.
Sansoy comes from an established family known for their involvement in political satire in the late Ottoman Empire. Inspired by his satirist grandfathers, Sansoy created his unique critical painting approach and is considered one of the few sharp and witty satirists of his time with his multilayer works, criticizing late Ottoman cultural heritage as well as West European civilization and visual arts.
Opening Jan. 11, "Epochs" will feature Sansoy's works produced in the last decade with five subtitles.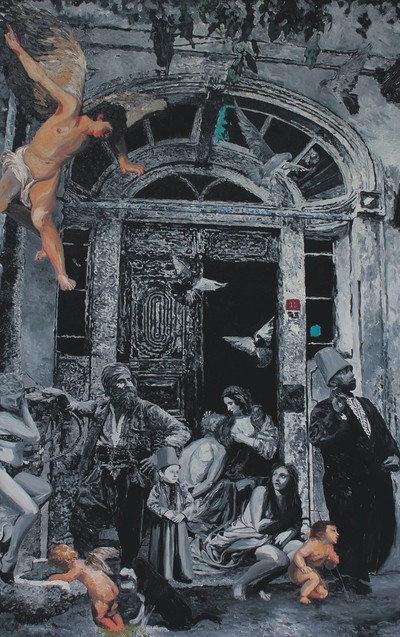 Gazi Sansoy reflects the old Istanbul in the series of "Yesterday, Today, Tomorrow, Istanbul, Dervishes" along with his family history.
"Nude and Covered Up Tales / Arabex" includes works by the artist produced between 2008 and 2010 that combine his photos or images he saw in various media channels with his own painting techniques. In "Who are we?" Sansoy blends contemporary human figures with Levni's miniatures, the famous painter of the Tulip Era in Ottoman history, and in "Faceless," inspired by post-Renaissance West European painting, the artist presents that tradition with a contemporary and fresh point of view. The artworks in these two sections were produced simultaneously between 2010 and 2015 and followed by the "Divine Milk" and the "Yesterday, Today, Tomorrow, Istanbul, Dervishes" series in which Sansoy makes references to his family history.
In addition to the political criticism embedded in his works, Sansoy remarkably stands out with his absurd interventions applied in traditional painting techniques, inviting the viewer to think and reconsider the classical history of art.
The exhibition will also feature a short video portrait of Gazi Sansoy, filmed by Balamir Nazlıca. Nazlıca is a photographer, video artist and composer, filming video portraits of contemporary artists in their studios under the name of "Unconcealment." Sansoy's portrait aims to see through the eyes of the artist and his mood in the moment of his artistic calling without any intervention. The "Unconcealment" films of Nazlıca present the poetic journey of artists, "unconcealing" their artistic spirit.
"Epochs" will be held across three floors of exhibition space at ANNA LAUDEL Contemporary in Istanbul until Feb. 16.
About Gazi Sansoy
Born in 1968 in Istanbul, Sansoy graduated from the Marmara University Fine Arts Faculty majoring in graphics in 1993. In 1996 he obtained his master's degree under the supervision of Mustafa Aslıer. He founded and managed Ütopya Platform Art Gallery between 2007 and 2015.
Most of his works reflect a unique language of painting where he applies absurd interventions to traditional works, searching for a compromise between contemporary and traditional. In his recent works, the influence of Levni, the famous artist of the Tulip Era, is widely seen. There are three main figure groups in these works of Sansoy: The images of Levni that construct the main body of his works, the figures of famous painters of the Western painting tradition and contemporary, erotic, female figures taken from the Internet.
He is known for his multilayered, big size paintings, produced with hundreds of small figures. In these thought-provoking paintings, he remarkably compares Levni's figures with the figures of artists like Rembrandt on the same scale and compares the two rival civilizations both in terms of art history and the sociocultural aspect. Works by the artist over the last three years refer to family history. Sansoy is the main source of inspiration in his recent studies of artists, and his works of Müderris Ziya Bey, who draw attention to political satire in the Ottoman period. Sansoy has participated in a large number of solo and group exhibitions both in Turkey and abroad and continues to work in his workshop in Kızıltoprak.