The exhibition of young painter Sundus Rajabi from Jerusalem, titled "My Cities," opened in collaboration with the Zeytinburnu Municipality in cooperation with the Yunus Emre Institute.
Speaking to Anadolu Agency (AA) about the exhibition, which is at Zeytinburnu's Cultural and Art Center, Yunus Emre Institute professor Şeref Ateş said that the institute builds bridges between countries through art.
Saying that the institute makes contact with people-oriented culture and art centers abroad, Ateş emphasized that the exhibition of the young artist is important in the sense that it increases relations with people from around the world.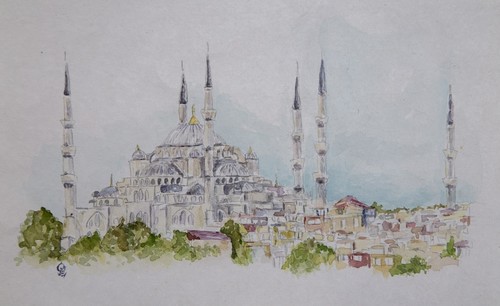 An Istanbul panorama by artist Sundus Rajabi.
Ateş said that the Yunus Emre Institute's center in Jerusalem opened two years ago.
"The condition of Al-Aqsa Mosque and the destruction of tiles there, especially made us upset. We developed a project while thinking how we could restore the tiles inherited from the Ottoman Empire. Then we brought artists from Jerusalem to Turkey to train and make them tile masters in cooperation with the İznik Foundation."
Noting artist Rajabi is also among these artists who came to Turkey to be trained, Ateş added: "The artist painted the two old cities, Jerusalem and Istanbul, with their linked pasts after our institute's cultural pieces and artwork. It is really important that an artist who we invited to Istanbul both loved our city and used it in her work. It also is important for us that countries get closer through art. Accordingly, as a result of our ongoing work, we will open our second center in Ramallah."
'Beauty of Jerusalem and Istanbul so great that it can't be reflected on canvases'
Rajabi told Anadolu AA that Istanbul is the most important city for her after Jerusalem, and that she likes Turkey, especially Istanbul, very much.
"I felt the love connection between Jerusalem and Istanbul and tried to paint it in my pieces. There are many similarities, including architecture, bazaars, roads, mosques, fountains and small details between the two cities. There are traces of the Ottoman Empire in Jerusalem, and Istanbul reminds us of them. Also, there are some great similarities between the traditions of Turks and Palestinians. I prepared 28 pieces that are on display here for six months. To be in Turkey with my paintings and to present them in Istanbul is a source of honor and happiness for me," she said.