The exquisitely dressed Turkish intellectual Hasan Bülent Kahraman strolled through the hotly-celebrated bounty of visual arts venues in the storied Chelsea District of Manhattan in the spring of 2016 and was expressly awestruck by an exhibition at the Danese/Corey gallery titled "Hinterland." Its solo artist, Susie MacMurray was then showing a series of mixed-media sculptures with a pair of ink drawings themed to a classic philosophical dualism, musing on the prehistoric and mythopoetic subconscious. Her works, including core pieces "Medusa" (2014-15) and "Pandora" (2016) were soon commissioned to appear in Istanbul.
Under one of his many hats as fine arts curator, Kahraman speaks and writes with the authority of the distinguished author and professor that he is, comfortably conversant as a master thinker whose piercingly original, analytical range covers some of the most challenging sociopolitical dialogues around the world today. And particularly when pontificating astutely to abandon about artworks by Susie MacMurray, his cognitive focus extends from time immemorial to ancient subjects befitting his scholarly prestige as an academic, journalist, Sabah Daily's columnist and department head of Communication Design at Kadir Has University.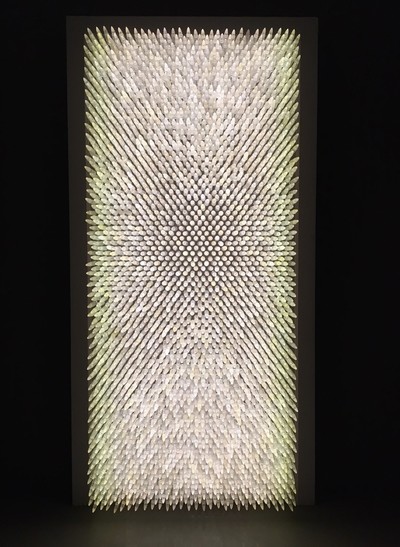 Pandora is a central piece for "Strange Fruit" as adapted by curator Hasan Bülent Kahraman from a previous exhibition at the Danese/Corey.
Inside the brilliantly spacious, and finely lit ground and second floors at the Akbank Sanat Gallery on İstiklal Avenue within the throbbing heart of downtown culture and commerce near the European shores of the Bosporus, he has carefully rearranged new and recent works from Susie MacMurray with the finesse of a composer reimagining new music. In his careful prose, he outlines his curatorial judgment through kindred thought processes instigated by the artist. Together, they deftly reconsider the predominant religious belief of the Logos, that being the emergence of language as the prime inspiration for universal creativity. With many pieces evoking more modernist aesthetic affinities, the 18 works for "Strange Fruit" assert that art precedes the word, capturing the essence of the archetypal imagination through a feminist interrogation with the greater narratives of human identity that all cultures hold as the sacred images of themselves.
"I saw her works and immediately fell in love. I was looking for something which was inherent in Susie's works. Contemporary art mostly concentrates on the theoretical and political which I value very much as a theoretician myself. I think about difficult problems and I find so many openings when the artists start to re-conceptualize or interpret that specific concept," said Kahraman, leading an exclusive press show on a lecture tour of "Strange Fruit" on the evening before its opening to the public. "When I saw the works I realized once again that they have a very deep, theoretical, psychoanalytical, feminist dimension. Nevertheless, these layers of the work would never go before aesthetic, lyrical, poetic side of the works. I think this exhibition combines both."
A curious contingent of art enthusiasts, young and old, joined Kahraman to peer more closely into such sculptures as the title piece, "Strange Fruit" (2017), made with reclaimed military barbed wire and silk velvet. Curated with an intensive, solitary focus within the stark emptiness and playful shadows of the expansive room inside Akbank Sanat, its textural juxtaposition contrasting rusted razors with the plush fabric epitomizes the underlying sentiments of the artist. In person, Susie MacMurray is delightfully approachable, as she beams with effervescent delight for the sheer amount of area that her works have to breathe inside one of Istanbul's flagship privatized arts institutions. To her, "Strange Fruit" speaks to the essential reality of the human condition. On the one hand, every individual is desperately vulnerable, seemingly from all directions, and especially from within. While at the same time, people survive to planetary predominance despite reckless infighting and harsh climates.
As a woman of extraordinarily sound mind, and exuding a palpable soul surrounded by the charged, fascinating complexity of her newly displayed art, MacMurray reflects on her last 20 years since she first saw Istanbul with a simple, honest brevity as she generously shares one conversation after the next with each new pair of passing eyes and open ears. Appearing as one who has lived again, resurrected from the depths of a tragic past, she is brightly open about the death of her husband John MacMurray, the late principal trumpeter for The Hallé orchestra who made music and a family with MacMurray before she became a globetrotting visual artist with multiple solo exhibitions behind her. As a proud interventionist, she has staged shows at the Pallant House in Chichester and the medieval York St. Mary's Church as part of her work to transform the high-society estates and religious foundations of the prevailing establishment into new mediums through which to express contemporary, living art.
A pensive walk through "Strange Fruit" has the effect of wandering into the original meaning of a museum as the house of the muses, only from an ancient future, one furnished with homages to the goddess cults of early antiquity. "Medusa" is a powerfully impressive restoration of the archaic revival as espoused by the seers of modernity who envisioned cultural advance into time as cyclical, encompassing preliterate humanity. Meticulously crafted with handmade copper chain mail over fiberglass and steel armature, MacMurray explains her source material in the famed, upturned medusa heads of Istanbul's enigmatic Basilica Cistern whose origins are unknown and that perpetually attract amateur photographs from across the planet to march underground into the Byzantine complex built during the sixth century. When she began to embark on a career as an artist after completing an MA in Fine Art in 2001, she initially tried her hand at drawing, and then soon found her calling in contemporary sculpture. As she reminisces with a candid ease, it was out of a need to work more viscerally, with objects and materials that she could hold, transform and construct.
Entering the ground floor at Akbank Sanat, two of her earlier works among the more recent pieces curated for "Strange Fruit" festoon the walls in tightly arrayed circular forms repurposed from plucked fowl. "After Flock" (2011) and "Decoy" (2012) are made with dyed turkey feathers and goldside pheasant feathers respectively, and both over convex polystyrene. Complementing the prehistoric cultural modality with "Medusa" they unearth the feather headdresses worn by the matriarchal goddess-worshipping civilizations that once roamed the European continent in the Paleolithic and Neolithic ages, from the Minoans of Crete to the Celts of Britain. It is uniquely convenient for contemporary feminists that there is a significant body of scientific research to prove that goddess cultures appeared before the expression of male deities in the prehistorical record. The literally groundbreaking 20th-century Lithuanian linguistic archaeologist Marija Gimbutas made it her life's work to strengthen and present her findings which supported this revisionist understanding. Although controversial, she was roundly esteemed by her peers in the U.S., notably among them was the prolific mythologist Joseph Campbell.
As a more intimate excavation of her personal history, MacMurray fashioned the symbol of the wing beyond the spectacularly nuanced flight of her feathered designs for "Requiem" (2015). It is the most immediate of two works on the second floor of Akbank Sanat that employ materials gleaned from a symphony orchestra. "Requiem" is made, as exactly described on its curated placard, with "used violin and cello strings threaded onto used piano strings donated by professional musicians." And with "Pandora" (2016) the recurrent metaphor is clear, fashioned with clear cast resin bullets on a lightbox, it is a figment of total human vulnerability sharply observed.