Turkish theater group, Sanat 3 performed "Hangimiz Sevmedik?" (Which one of us have not loved?), an adaptation of William Shakespeare's "Twelfth Night," at Atakent Culture and Arts Center Monday.
Director and actor Sami Gülbaba, who adapted the play into a more modern, Turkish context told Anadolu Agency that they wanted to accomplish something new and innovative with the Shakespeare classic.
Gülbaba said how they have incorporated the works of Necip Fazıl Kısakürek, Mevlana Jalaluddin Rumi and Yunus Emre in the play.
The group also added a surprise finale that describes love with dance, choreography and a musical performance.
"The rehearsals went well but it was difficult to perform a Shakespeare play; to repeat the tirades, lines, present the lyricism, the literary attitude and above all come up with something that does not bore the audience for one-and-a-half-hours.
"This was the first adaptation we performed but so far we have not received any negative criticism," said Gülbaba.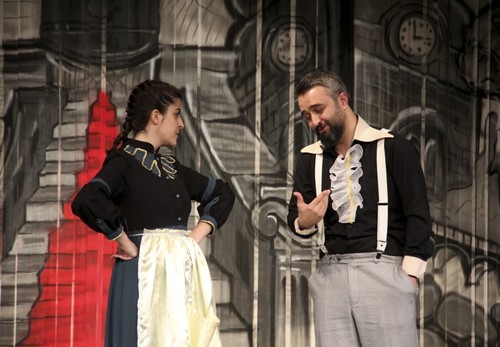 He noted that they wanted to present a good example of theater and paid as much attention to the costume, decor, and lighting as possible.
Gülbaba said the group has been working on the play for four months.
The play centers on the twins Viola and Sebastian, who are separated in a shipwreck. It tells how the siblings seek each other and eventually get involved in love triangles.
"The finale is about the twins uniting and finding their partners, but it is mainly about love," said Gülbab.
Seyfullah Kartal, one of the founders of Sanat 3, plays Duke Orsino. He said that they have incorporated modern jokes and terms to create something unique while remaining true to the original text.
Kartal said the play was a romantic comedy depicting love, whether it was painful or funny, and tried to show the audience what true love is.
"In the end, Sanat 3 is trying to show the kinds of love and how they all depend on eternal love," he said.
Actor Eşref Seyitoğlu said this was his first Shakespeare play and his character, "Sir Toby," the queen's uncle, was a bit of an arrogant man full of himself.
"It is, in reality, a love story but it is also funny and musical at the same time. We have stuck to our principals in this project and I believe we have done our best," he said.
"We have been working with the same team of actors for the past seven years. We have a good team and have performed in many plays together. A long experience of working together helps us create something better," Seyitoğlu said.
Alongside Gülbaba, Kartal, and Seyitoğlu, the play also casts Musa Çağırgan, Ahmet Kırmalı, Ceyhan Yağmurlar, Dilara Özdemir, Nida Hisoğlu, Gülşah Gülebenzer and Savaş Kesici.
The lighting design of the play was done by Fatih Mehmet Haroğlu while Adem Eroğlu oversaw the decor.