The 17th !f Istanbul Independent Film Festival kicked off Thursday, running until Feb. 25 in Istanbul and will move on to Ankara and İzmir from Mar. 1-4. The best examples of independent cinema as well as the most talked about and award-winning movies of the year will be screened for cinema buffs to enjoy. The festival attaches special importance to music and films about musical movements and music professionals. The festival's music-focused selection includes legendary figures like David Bowie and Iggy Pop, as well as the punk frenzy that has influenced the world.
From Bowie to Iggy Pop, movies of icon musicians
!f music is bringing together the best music movies of this year. Films about iconic musicians like David Bowie, Betty Davis, Iggy Pop and Josh Homme will be shown at !f music and the eyes of music fans will again be on !f Istanbul.
Last images from Bowie
The first one of the most exciting movies of !f music is Francis Whately's 2013 "David Bowie: Five Years," one of the best movies about the life of David Bowie. Completed after his death, the movie focuses on the final two albums he released, "The Next Day" and "Blackstar" and also "Lazarus," the Broadway Musical Bowie started working on when he was battling cancer. From archive images to chats with his friends, the movie shows the last times of the artist's life.
Iggy Pop and Josh Homme cooperation
The founder and vocalist of Queens of the Stone Age, Josh Homme directed "American Valhalla" with his photographer friend Andreas Neumann. The movie tells the extraordinary musical cooperation of two American rock musicians and on the other hand, is a magnificent music movie depicting the recording process of Iggy Pop in the California deserts for his latest album released in 2016 "Post Pop Depression." The movie also includes the legendary performance of Iggy Pop at London's Royal Albert Hall.
Roots of American Music
Awarded Best Documentary at the World Cinema section at Sundance Film Festival, winning two Audience Awards in two categories at Hot Docs, "Rumble: The Indians who Rocked the World," follows native American artists and shows their invisible impact, which is usually denied, on American music from blues to jazz and to today's hip hop. Co-directed by Catherine Bainbridge and Alfonso Maiorana and featuring many world-renowned names from Jimmy Hendrix and Quincy Jones, Martin Scorsese to Slash, the movie has been deemed as one of the best musical documentaries of the year.
What happened to the '70s icon Betty Davis?
Another anticipated movie of this section is "Betty: They Say I'm Different," which premiered at the International Documentary Film Festival Amsterdam, following the fame of Betty Davis in the 1970s with her magnificent voice and how she disappeared from the face of the earth for over 30 years. Combining Phil Cox's documentary and animation styles creatively, it focuses on Betty Davis' music and performance, which broke taboos in 1970s and which had a deep impact on the life and music of Miles Davis, even though their marriage only lasted a year. Davis, who was the symbol of freedom for American women regarding issues including racism and social construction of gender, has inspired many musicians such as Amy Winehouse, Macy Gray and Nikka Costa and how her style was also an inspiration for fashion designers from the U.S. to Japan.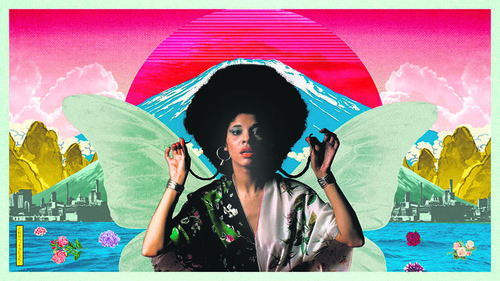 Punk spirit at !f Istanbul!
Another focus point of the !f Istanbul Independent Film Festival is punk culture and music. Starting as an anti-cultural movement in the U.K. and U.S. in the 1970s, punk turned into a completely different culture affecting everything from fashion to the arts and literature and reflected its own culture onto cinema and music. Moderated by music critique Murat Beşer, on Feb. 19 at 5:00 p.m. the "There is Life at Punk" conversation that is to take place at A Corner in the World X bomontiada ALT will welcome the leading names from local punk scene including Punk Aslı, Gökhan Tunçişler, Tolga Güldallı and Kerem Onan to discuss venues, concert, magazines and fanzines that have shaped the Istanbul punk scene since the 1990s.
Turkey's first punk film
The festival will also include "Queercore: How to Punk a Revolution," bringing together many iconic names including Bruce LaBruce, G.B. Jones, Genesis Breyer P-Orridge, John Waters, Peaches, and Pansy Division directed by German director Yony Leyser. American cinema's naughty boy John Cameron Mitchell's "How to Talk to Girls at Parties," adapted to the big screen from a short story by Neil Gaiman and Mu Tunç's story of two young people who are stuck in-between the city, the reality and their dreams, Turkey's first punk film, "Arada," is also included in !f Istanbul's selection.
"When God Sleeps," the story of Shahin Najafi, a rap-punk-rock musician from Iran, who had to go into hiding constantly to run away from threats, allows viewers to look closer into the lives of punk musicians.
'Most punk movie in cinema history'
Known for "Sebastiane," "The Tempest," "Caravaggio" and "Edward II," British director Derek Jarman's 1978 film "Jubliee" tells the story of Queen Elisabeth I traveling 400 years into the future to witness the appalling revelation of a dystopian London overrun by corruption and a vicious gang of punk guerilla girls led by the new Monarch of Punk. The soundtrack is by Brian Eno and the film has been deemed "the best punk movie in the history of cinema."