The İzmir Amateur Levantine Theater (İALT) was established by people from the French, Italian, Greek and Jewish communities in the multinational province of İzmir, and has been performing for 10 years. The group performed on Feb. 13, 15, 17 and 19 with 14 actors, presenting "Not Now, Darling," a story set in one of the most famous fur shops of London. The play was written by Ray Cooney and John Chapman.
Performing for six nights at the İzmir Art Stage, the revenue from the play was donated to the Moris Bencuya Autistic Children's Education Center, Ayşe Faruk Çelebi Education Foundation and Turkish Visually Impaired Library (TÜRGÖK).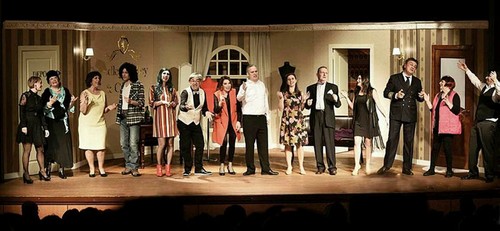 The theater group performed "Not Now, Darling," written by Ray Cooney and John Chapman.
Ugo Braggiottie, 64, one of the founders of İALT, said that they have always had a passion and love for theater and that they decided to establish the group with his sister, Linda Tito, after watching a play put on by the Jewish community in 2008. These communities had established a reading theater in İzmir in the 1800s where they selected plays, worked on their roles and performed classical plays. "During our childhood in 1960s and 1970s, amateurs used to gather at the hall of the current Alsancak St. John Anglican Church and performed plays in French. In other words, our forefathers carried the spirit of the stage. We staged our first play in Turkish in 2009 at Atatürk High School. We never aimed for profit and donated our earnings to different foundations and associations each year," Braggiottie said.
As the fourth generation of his family born in Turkey, Braggiotti also said that he also feels like an İzmir local. No matter what his origin, he feels like he belongs to the city. "When we were young, my parents always spoke in French and we learned Turkish at school," he said.
The modest income from the productions are donated to institutions such as the Alsancak Catholic Church, Alsancak Preservation and Gentrification Association, Anatolian Autism Foundation, Artigiana Almshouse, Bomonti French Elderly Care Home, Dokuz Eylül Peadiatric Oncology Institute Directorate, Hematology Hospital of Aegean University and French Lape Hospital, among others.
Gina Karla Ersan, 60, added that they have sold over 2,000 tickets, at TL 40 ($10.50) each, which is quite good in terms of private theaters. The group has no other expenses other than director fees, sets and theater costs and it even prepares its own costumes for the plays. They donate all their income. For example, they reached out to earthquake victims in Van in previous years. "The youngest one of our actors is 27, the oldest is 75. We are all Levantine Christians and represent Levantine Christians living in İzmir. Our audiences both laugh and are aware that they are helping someone. They are from all backgrounds, Jews, Muslims, Christians and others. We address an extensive crowd," she said.
Ersan added that people come to the Levantine Theater to laugh and that is why they focus on comedies. All actors have fun together and cooperate with each other in the plays. Ersan's father's ancestors migrated from Italy and at the end of 1800s, they married Turks. "My dad married a local from Istanbul and my mother was a British woman from Malta. We are all Turkish citizens as they have not registered us abroad. We are from different religious but we all feel very lucky to be living in İzmir as we do not face any discrimination here," she said.