"Suburb Train," a tin model of one of Istanbul's first suburb trains welcomes visitors at the entrance of Zilberman Gallery. It is a massive thing, an obstruction that stops the viewer from moving freely inside the gallery. The train appears to have stopped halfway through. The remnant of a bygone age, it both embodies modernity and exemplifies its demise.
"If the motivation ever existed to establish an Istanbul Ministry of Memory, as in Ahmet Hamdi Tanpınar's 'Time Regulation Institute,' Antonio Cosentino could have easily been the protagonist in such a story," writes Naz Cuguoğlu, one of the two curators of "Restless Monuments," the most impressive group exhibition of the year so far.
"I sometimes imagine Cosentino diligently pondering behind his glasses like a researcher, watching the ripples of the transformations taking place in Istanbul over the years and taking notes between stacked folders in a dusty room that doesn't get much sunlight."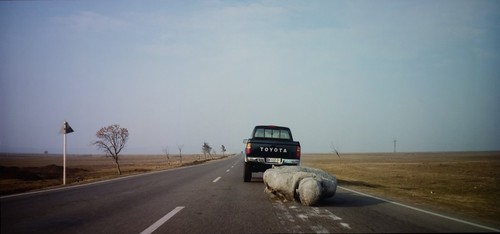 Vajiko Chachkhiani's "Winter which was not there" features a man riding through the Georgian landscape alongside his dog in a pickup truck that drags along a statute.
This image of the archivist, straight out of a Borges story, reveals the heart of the show: the fascination with memory, remembrance, and those city monuments that are meant to bring those to us but are themselves lately forgotten.
The Turkish State Railways suburban train car was made in France in 1955. One day, a coincidence led the Istanbul-based Cosentino to meet Mustafa Yıldız, who was head of the ELK Train Locomotive and Maintenance Shop for three decades. Yıldız gave Cosentino the steering wheel and the place that shows the original name of the train. Since then the artist had been intrigued by the idea of this ghost train.
"We have been working on this exhibition for almost a year. I work at Zilberman Gallery as projects manager, and I met Bettina Klein when she was a speaker for Ramesch Daha's book release at Zilberman Gallery-Berlin," Cuguoğlu said in an interview last week.
" 'Restless Monuments' is an exhibition in response to the rapid transformation of the city as a result of political ideologies," Klein and Cuguoğlu explain in the exhibition text. "Blunt, authoritarian, decision-making processes that exclude collective input lead to the disappearance of places, objects, habitudes, and eventually to a strong feeling of loss by those who are often most directly affected by them, which manifests itself as a high level of anxiety most of the time."
This sense of anxiety drives and animates the show. Lara Ögel's "Baba!" subverts a familiar public object that directs pedestrian movements on sidewalks. "Its column-like shape, name, and function indicate the deeply patriarchal underpinnings of the societies that produce them," the curators say.
In response to these patriarchal underpinnings, Ögel has flattened the object and transformed it into a horizontal pin. It is a beautiful object and Ögel has produced a handful of them for artist and curator friends.
Another intriguing work is "Monument to the Ordinaries II," Walid Siti's marble staircase that bears Arabic words inscribed on its surface. Born in Duhok, Siti is that rare beast - an artist whose use of material is evocative without being nostalgic.
"Here, Siti seeks to draw attention to the women whose contributions to their communities are overlooked in a land being destroyed by war," Cuguoğlu writes. "This architectural structure, detached from its context, also examines the concepts of 'hero' and 'victim', while creating an ironic and esoteric atmosphere that contradicts itself."
Vajiko Chachkhiani's "Winter which was not there" also features that composite of the ironic and the esoteric. The video documents a Georgian man watching a monumental statue as it is pulled from the water. We expect the sculpture to portray Lenin, Stalin, or other autocratic leaders of the 20th century, but in fact it has an uncanny resemblance to the protagonist. We watch him ride through the Georgian landscape alongside his dog in a pickup truck that drags along the statute. As the statue disintegrates, the contrast between its image as it is dragged along on bumpy roads and the expressionless faces of the man and his dog turns into a subtle comedy. Aki Kaurismaki would surely enjoy Chachkhiani's film.
"Some works in this exhibition were commissioned, some of them were already existing works," Cuguoğlu said. "This is a relevant situation for many cities around the world nowadays, so we wanted to reflect on this by including different geographic perspectives. We invited artists working on these themes in their works."
Cuguoğlu was born and raised in Istanbul and she says she has a general understanding of monuments that is at times hard to express. "Of course, monuments in public space have a long history in Turkey, both for the foundation of the Republic, but also for the civilizations that passed through this region. ... But what comes to mind most recently are not the things that authorities define as monuments, but things that become monuments for us as individuals, due to the quick and uncontrollable transformation of the city as a result of political ideologies," she said.
"These things become monuments for our memories, representing our feelings of loss. There is something so bitter about passing by a street, and not remembering what was there before, even two months ago. None of the works in the show represents a monument in the strict sense, instead they're dealing with public sculptures and their symbolic and economic value, with objects that trigger or represent personal memories, and with monuments that could have or should be built. Therefore, we can say that there is a continuous conversation between personal and public spheres in this show, as the line is getting blurry nowadays."
Mykola Ridnyi's "Dima" also blurs the line between the personal and the public. The piece consists of a video and a pair of granite boots. It tells the story of a former police officer in Ukraine who has left the police force to work as a stonemason. Ridnyi finds the former police officer and asks him to carve police boots in the aesthetic style of Soviet monuments. The granite boots produce feelings of anxiety and frustration.
"The transformation of cities is cruel everywhere, and most of the time, decisions surrounding those transformations do not involve the people who will experience them," Cuguoğlu said. "This creates a feeling of anxiety due to feelings of loss."