"By the waters of Babylon," reads the 137th Psalm, "there we sat down, and wept, when we remembered Jerusalem." It is one of the most universal and deeply cherished of biblical extracts, gaining literary and musical appreciation down the ages, from its Iron Age scribe, King David of Judah, to the Jamaican reggae artist Jimmy Cliff. In its language are insights into the concept of water memory, a proposal forwarded by researchers Masaru Emoto and Jacques Benveniste whose findings rocked the scientific community in the last decade of the 20th century, from United States Department of Defense funding to the editorial integrity of the leading popular science journal "Nature."
It also inspired waves of renewed environmental consciousness around the world. Simply, people looked at water differently. They no longer saw clear through the liquid essence of life to inspect it for contamination, or to gaze above its surface to see themselves reflected in glimpses of the passing moment. Instead, they went closer, and saw that the water itself had remembered, lived, even thought.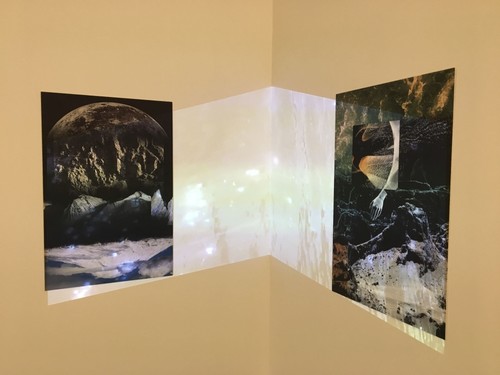 "Possibilities" and "Over the Clouds" (2015/2017) forms the digital collage diptych by Zeynep Birced utilizing color video projection and a two-minute sound loop.
The artist and curator Seyhan Musa explores these themes for the sequel to her exhibition trilogy at Orjin Sanat titled "Water" by similarly relating ancient wisdom, only a few centuries down the line to the initial front of Western enlightenment. She cited Aristotle's musings on the faculty of memory as akin to producing materialist impressions in wax, a metaphor pointing to the intellect's basic divorce from reality. Before artificial media, the senses in relation to objects were enough to prompt debate about the nature of perception by what is essentially a nervous filtration system. Now that such mirrors within mirrors are developed to sheer infinity, the gravity of unanswered questions tempts society through a black hole, plunging thoughtlessly despite the natural world or any authentic search for what is real.
Curating from the Well
"When we say 'Water' it's not actually only about water. I'm taking it as a metaphorical context for its conceptual worth. It's mainly based on the water memory theory. It's directly related to memory and how that's built, but also how it's received in the context of an art exhibition," said Musa, while sitting after hours in the clean, spacious corporate gallery that she has transformed into a place for new global youth expressionism. "And 'Water' takes that as its form, its qualities, the fact that it is fluid, flowing. It could be clear. It could be dirty. There's something poetic about water memory theory, thinking about the element as an emotional landscape. I'm trying to underline the choice of medium. I believe that video, or photography, or video shows can then be understood more."
Musa is an intuitive, philosophical curator, also an exhibiting artist at her current show, "Water," held in the uptown sprawl far from her funky Space Debris in the core port neighborhood of Karaköy, where she has hosted art exhibitions, live performances and sound experiments for the last four years between New York and Istanbul. As is true for all opposites, remembering is defined by forgetting. The unprecedented capacity that every individual has to remember, to record any and every instant of audiovisual experience with the personal gadgetry of consumer trends has come to a completely new historic convergence. The processes, individual and collective, through which memories are stored and revealed have fundamentally altered. The immemorial traditions of art and storytelling have become lost to the all-consuming tides of isolating and ego-inflating digitization.
In mid-January, she launched the first part of her exhibition trilogy, "Noise" as a Digital Festival with haydiroket inspired by the MIT Press book, "Noise, Water, Meat: A History of Voice, Sound, and Aurality in the Arts" by Douglas Kahn. In the process, she has since revolutionized the underground art gallery at Orjin Maslak, which formerly conformed with the building's underlying aesthetic of modernist commercialism. It is now a place of higher contemplations born of the emerging generation of artists who are as aloof from the lines of worldly rationalism as they are free of the dizzying illusions of urbanism that are subconsciously led in mass opposition to sustainable, creative life.
"Water" is a response to that prevailing milieu, an exercise in nonlinear thought drawn from the sources of being and creation that the artist frequents, both physically and spiritually. Its progression, from the intangibles of her initial curations for the Digital Festival "Noise" featuring tech-art hyper-submersed through everything from GIFs to tablets, and television monitors, "Water" is a more sensual exhibition, some might say more real, although still semi-solid and flowing, mainly through the mediums of photography and video. The final installment, a forthcoming exhibition to be titled, "Meat" will be of painting and sculpture.




Seyhan Musa curated Sırma Doruk's mixed media installation "Past is Present" (2018) with an artist's eye as she aligned its color scheme to a unified aesthetic.
As the Sufi poet, Mevlana Rumi wrote in his Mesnevi: "Know, the moon is in the sky, not in the creek's reflection!" Musa leapt from classical Greece to the contemporary global village bounded by the technologies of collective memory. Her inspiration is drawn from the deep well of Platonic ideals, as one of the earliest theories that all intellectual knowledge is based in material forms. For example, water is not only important for its physicality, but also for the ideas and metaphors that it represents.
"People think they don't understand contemporary art, but for the last show all that they had to do was look, or for this one as well, but they think there is something else that they need to read into it. I try to show these different mediums, to ask why we choose them," said Musa, an earnest pioneer and creative entrepreneur, leading and persevering in the independent, nonprofit sector of the arts in Turkey. "Here, photography and video talks about that remembrance, because when we actually recall a memory we're recalling it from where it's stored in our brain, and the last time it was saved. Once you actually recall it again, you're building it from the last time you remembered. So it actually constantly changes."
Turning on Waterworks
The five-minute video work, "Tear of the Clouds" (2013/2015) by the Montreal-based Melis Bürsin is a centerpiece to the exhibition, projected on its largest wall facing the passersby who descend from the high tower of offices, and through the bowels of the food court above to glance, even for a moment, into a world where the shape of things merges into the universal, and timeless principles from which they emerge, and to where they remain. She is represented by Musa's downtown venue Space Debris, and her exhibited video is something of a mixed-form abstraction of a visual document reenacting in a nonlinear narrative her three-day journey to the sacred place where the Hudson River begins, deep within the kaleidoscopic hills of the Adirondacks that sound with the indigenous music of upstate New York a far cry from the city.
In many ways parallel to Bürsin, the Kentucky-born photographer Christian Hansen traveled to the Idyll Dandy Arts rural community land project where gender-fluid artists form new relationships to each other and the art practices they have honed within themselves. He pictures them as they are together, as in a natural state, unclothed and wading lazily over a churning forest creek. From there, roaming eyes would land on a lightly translucent color video projection of the Seine, to hear the sound of the street, a busking jazz musician harmonizing with the rippling river in the form of a mixed-media collage diptych installation by Zeynep Birced titled, "Possibilities" and "Over the Clouds" (2015/2017). Its dualistic motifs recur throughout the exhibition, as in the photographs of Louisa Marie Summer, the paper designs of Ayça Telegren and the collaborative double exposures of Katie Nadworny and Alison Luntz titled "DreamSpace 1 & 2" (2017), mystically unifying the cityscapes of Istanbul and New York City.
And curator Musa herself created to such an effect with her "Melankolik Chaotic Raptures" (2012-2015). Its two minutes and 50 seconds of color video and sound from where she grew up in the buildings of Erenköy before they were demolished, to the tenements of South Williamsburg, Brooklyn, where she lived and breathed as a performing artist. Her work is as haunting as it is moving, as the frame itself nearly faints as one drowning, breathless in a civilization swept in the flood of its terminal outpouring, hitting bottom and gasping for air.
The voice of Musa is heard, softly against the handheld sequence of intimate videography, a diary of her life in moments of solitude as she has moved across continents, her message as in a bottle drifting on the high seas. She whispers, as to herself: "At times I feel like this. I feel a deep melancholy. It makes me feel uneasy inside. I try to close my eyes and focus on my breathing, hoping that it would get back to normal. I start impinging my hands touching cold marble or cement, feeling the breeze, looking at the view, the gray waters [...] When we cry after something is lost we know that what we have lost has become nothing. So now I'm sitting here thinking. Have I turned into nothing?"