The 43rd Beyaz Contemporary and Modern Art Museum will be holding an auction on March 25 offering Turkish contemporary and modern art, including pieces by Neşet Günal, Fahrelnisa Zeid, Burhan Doğançay and Fikret Mualla along with young, contemporary Turkish artists. The auction has 239 extraordinary pieces on offer by 125 artists from various significant collections.
Record sales are expected at the auction, and one of the most awaited pieces is Neşet Günal's "Abla ve Kardeşleri" (Older Sister and Siblings). This masterpiece of Günal, who has 120 canvas paintings, is expected to be sold for between TL 550,000 and TL 850,000 ($141,240 to $218,280). The most significant of Günal's pieces to be auctioned since 2010, it is expected to fetch a new record price. Another piece is "Rast Gele" (Random) by another contemporary artist, Cevat Dereli.



Neşet Günal's "Abla ve Kardeşleri" ("Older Sister and Siblings").
Four magnificent paintings by Fahrelnissa Zeid, the first Turkish artist to have a retrospective exhibition at the Tate Modern last year and a leading figure in Turkish contemporary art, will also be up for auction. "Dina," depicting Dina Vierny, who along with the leading artists in Paris in the 1960s, organized exhibitions for Zeid and who also established a museum in her name is one of the most important portraits from Zeid's time in Paris. The portrait is expected to be sold for between TL 450,000 and TL 650,000. Three other of Zeid's portraits are some of the most distinguished creations from her time in Jordan. "Çerkes Gelin" (Circassian Bride) is expected to sell for between TL 500,000 and TL 800,000. A portrait of Meg Abu Hamdan, "Lady in Red," is expected to sell for between TL 400,000 and TL 600,000 and "Zainab," in which Zeid painted the daughter of a pupil of hers is expected to sell for between TL 250,000 and TL 350,000.
Ten pieces, including two canvases by abstract contemporary artist Burhan Doğançay, will also be up for auction. The 1979 painting, "Light My Fire," one of the largest canvases included in the "Kurdela Series" (Ribbon Series), is expected to go for TL 450,000 to TL 750,000, and "Bending Flap on Brick Wall," an early piece from 1970s, is expected to sell for between TL 170,000 and TL 250,000.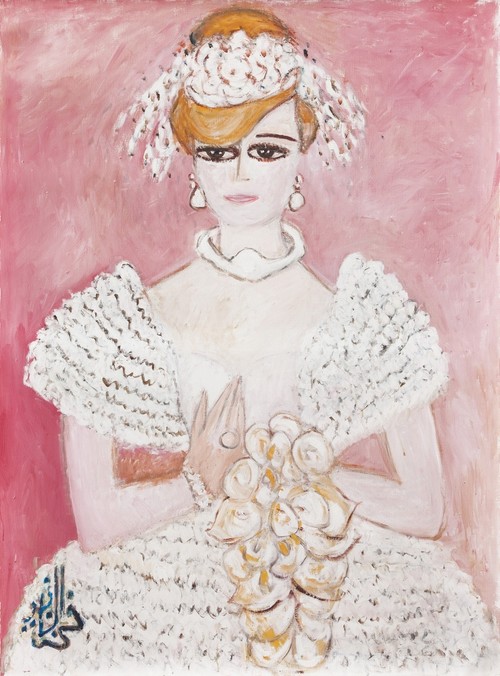 "Sacre-Coeur, Paris" by Fikret Mualla.
Another Turkish abstract artist, Erol Akyavaş's two canvases, which are included in his books, are also up for auction. Among the pieces by Akyavaş are "Lacivert ve Violet Soyut" (Navy and the Violet Abstract), painted in 1987, and "Zaman Her Şeyi Siler" (Time Erases Everything), from 1981. They are expected to be sold for between TL 200,000 and TL 300,000.
Along with "Abla ve Kardeşleri," the most important piece by Neşet Günal sold since 2010, Cevat Dereli's "Random" is also expected to set new records.
The auction also includes paintings by Nejad Melih Devrim, Mubin Orhon, Selim Turan, Hakkı Anlı and Abidin Dino, deemed as the French Ecole of Turkish contemporary and modern art and who lived in Paris from the 1950s to the 1970s, was a contemporary with some of the most important representatives of European painting of the time.
A large collection of 15 paintings of different sizes by Fikret Mualla, who was not only famous for his extravagant, turbulent and bohemian lifestyle, but also became a legend for his art, will also be sold. Mualla left Turkey in 1938 to live in Paris and passed away in 1967. His paintings are some of the most attractive and interesting pieces at the auction.
In addition, the auction includes pieces by other contemporary and modern Turkish artists such as Adnan Çoker, Ömer Uluç, Ferruh Başağa, Güngör Taner, Mustafa Ata, Zekai Ormancı, Devrim Erbil, Mehmet Güleryüz, Komet, Ergin İnan, Cihat Burak, Burhan Uygur, Şükriye Dikmen, Orhan Peker, Nedim Günsur, Nuri İyem, Bedri Rahmi Eyüboğlu, Eren Eyüboğlu, Mustafa Pilevneli, İhsan Cemal Karaburçak, Nedim Günsür, Turan Erol, Adnan Varınca, Timur Kerim İncedayı, Ali Çelebi, Nuri Abaç, Koray Ariş, Osman Dinç, Canan Tolon, Kemal Önsoy, Selma Gürbüz, Azade Köker, Ramazan Bayrakoğlu, Kezban Arca Batıbeki, Ahmet Güneştekin, Balkan Naci İslimyeli, Bubi, Ahmet Oran, Kemal Seyhan, Elvan Alpay, Ansen, Ali Elmacı, Serkan Adın and Ardan Özmenoğlu as well as international contemporary artists such Sarah Morris, Gudmundur Erro, Frank Nietsche, Salar Ahmadian, Paul Morrison and Simon Claridge.
The auctioned paintings will be displayed at Beyaz Space, Beyaz Auction's art venue in Nişantaşı, from March 15 to March 24. The auction will be managed by Aziz Karadeniz and will take place on Sunday, March 25 at 2 p.m. at Swissotel, Istanbul.