Everything started 19 years ago. Audition announcements were placed in newspapers and 90 talented dancers were selected from 750 applicants. Work started immediately for the project the Sultans of the Dance. The chosen group rehearsed between eight to 16 hours a day, costumes were prepared and music was composed. Dancers took the stage with Anatolian rhythms and expanded their performances abroad after just a few shows in Turkey.Produced by Mustafa Erdoğan, the Sultans of the Dance continued under the name of Fire of Anatolia. The dance company presents a synthesis of hundreds of folk dances and music from different regions, taking their source from Anatolia's ancient mythology and cultural history. Now accepted as one of the world's best dance companies, they hope to introduce the world to the fire that arises from the ancient Anatolian mosaic of love, cultural history and peace. Daily Sabah interviewed general art director Erdoğan about this productive and talented group and their remarkable performances.
Daily Sabah: Can you briefly tell the story of Fire of Anatolia for our readers?
Erdoğan: I conducted work for folk dancing at Bilkent University in 1997. This work was the first step toward the Sultans of the Dance. Between 1997 and 2000, I was dealing with the steps of folk dances as well as collected and choreographed works. I believe that private organizations can continue by only institutionalizing. As my interest in folk dance increased, I founded the Sultans of Dance, the first and biggest dance company in Turkey, in 1999 to provide the best training from a center. We have continued our work as Fire of Anatolia.
D.S.: Fire of Anatolia was founded in 1999 and has been performing since 2001. You started the world tour in 2002 and visited many countries. How did foreign audiences react to the performances?
We got reactions parallel to Turkish audiences from the people in China or the U.S. Of course, there are some cultural differences, and they can be felt at the shows. For example, Chinese people intensely focus on the performances, while Europeans and Americans tend to be more relaxed. They generally show their reactions during the intermissions or at the end of the performances. Besides, European spectators applaud with their feet by stomping.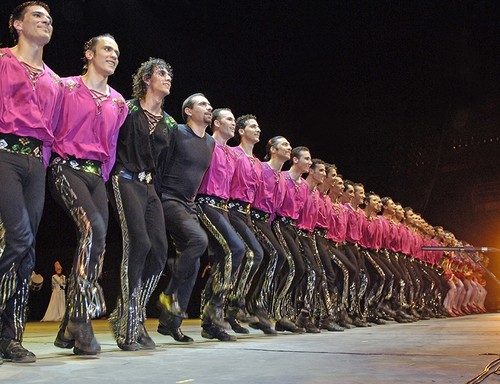 D.S.: Considering its cultural significance, what were Turkish people's reactions to the dance group?
Turkish people watch us as a national honor. We are like a national team. They are proud of our performances and tell their friends about us. Turkish fans in Europe like to invite their European friends to our performances. However, I can say the quality of the performances is reflected in the audience's enthusiastic applause, and this makes us really happy.
D.S.: You are a large dance company of 200 dancers. What holds the group together and helps them perform in such beautiful harmony?
We do not see our profession as a job. It is a lifestyle, and this lifestyle extends beyond our rehearsals. It is possible to live like a dancer. We need to add living like Fire of Anatolia dancer to this concept because we represent not only a performance but also a mission. We are artists who represent Turkey abroad. This is why we need to have a lifestyle worthy of Turkish culture. The thing that binds us together is this belief. Our mission is to be aware, make no compromises and work hard for it. Our dancers know that the success of the performances is determined by the success of our worst dancer. Therefore, 90 or 150 people behave like a whole, and if one does a rare mistake, they have dragged down their friends. Our inner process and emotional connection has to be very strong. We are like a body, and we even use the same hotels, buses, trains or planes during our tours.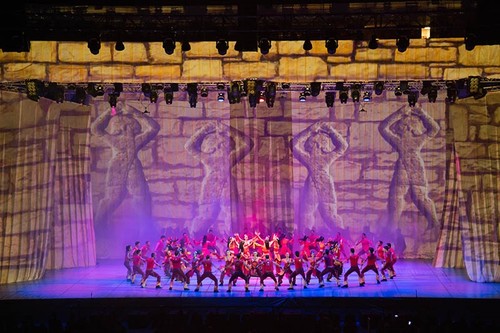 D.S.: How do you prepare your performances?
We are generally inspired by Anatolian legends, folklore and myths. We traditionally prepare our repertoire by referencing those. "Troy," "Fire of Anatolia" and "Gates of the East" are the main ones. However, we also prepare some performances by telling current stories in the future. For example, our "Istanbul Dreams" performance tells both the history of Istanbul and also its present condition. Therefore, what we tell can change according to the project. By preparing performances according to our cultural codes, we have been able to draw the attention of the world.
D.S.: How does Fire of Anatolia choose its dancers, and what kind of training does it provide?
We chose our dancers by placing ads in newspapers early on. We still continue to recruit dancers periodically since we want keep group fresh. Besides, we need new dancers as we can go on tours in four different places at the same time. However, we have a big advantage now. We have eight schools in Turkey. The children trained at our schools are chosen for our dance company. Referred to as Sparks, 16 young dancers perform with the adult group. They have accompanied us on tour, continue to do so. We expect that around 16 to 20 children will also come along this year. We start training the youngsters starting at the age of 4.


D.S.: The Ministry of Culture and Tourism declared 2018 the Year of Troy to celebrate the 20th anniversary of Troy Ancient City's addition to UNESCO's World Heritage List. You met spectators in Ankara and Istanbul in the previous months in this context. Can you talk a little about "Troy," its schedule and preparations?
We prepared "Troy" over a span of four and a half years. This is a piece that we have practiced during Fire of Anatolia tours. We practiced it exclusively, setting aside all of our other work. During our shows, we also rehearse for new performances. We prepared "Troy" as a world adventure. For instance, we practiced it for four or five hours before performing at the Egyptian pyramids. Officers said you were practicing a different performance, and you presented a different one that night. We got the same reactions in China and Europe, as well. The process took four and a half years, but there was a theoretical aspect to it. Associate professor Rüstem Aslan and Nezih Başgelen, a consultant for Fire of Anatolia, provided the theoretical information. Not only did we learn about dance and music practices, but also about the character analysis of this work. For example, we organized tours to become more familiar with Achilles and Hector.
D.S.: Fire of Anatolia held 5,000 performances in Istanbul in January. How does it feel to perform for the 5,000th time and to be welcomed by such enthusiastic spectators?
It was amazing. We have been trying to arouse these kinds of emotions from the beginning. The spectators' interest has not waned since we first appeared on stage in 2001. We performed two times in Ankara and three times in Istanbul and reached a total of 36,000 spectators this year. That is an incredible number. We would like to thank the 36,000 spectators 36,000 times.
D.S.: What are Fire of Anatolia's future dreams, aims and projects?
Our schools are especially important to us. We will increase the number of schools and their capacity. We have around 2,000 students now. We want to increase this number to 4,000 or 5,000. The quality of the training and performances are clear by the end of the term. We are a performance group and focus on the stage. We have performed with nearly 400 dancers in Ankara and with 300 in Istanbul. Some of them were course attendees, not professional dancers. They had just started and performed on stage. There can be no other perfect tale for a child. She or he appears before 12,000 spectators thanks to the course. This is an unforgettable experience for them. Our aim is to enhance our group, open a school abroad and complete our performances "The Silk Road" and "Eden," where we will present the tragedy of refugees in Turkey and perform with them.