As winter gives way to the rains of early spring the gray sky still seems endless. Skyscrapers are like glass giants, rising from the valley horizon peopled with the huddled and trudging who see the day through, one at a time. Individuals are dwarfed under behemoth industry that possesses the air and the earth. Roads are slick and wet, sharply ascending against columns of government-built factory projects, where mechanics toil over the combustion pistons, turbines, nozzles and blades, as they grind gears and lubricate the engines that drive the city into its amassing commotion.
From the columns of steel that split the clouds, to the nuts and bolts of a junked car, the inner reaches of Maslak are as real and immediate as Istanbul gets for its locals, and by chance, for the occasional wayward wanderer curious enough to trace its pathless clutter of unplanned and misconceived urbanization through to the rooftop alleyways of bare and crude warehouse exteriors above ground-level auto garages. Inside its inexpensive studio spaces, a quiet movement is growing to the effect of freedom for even the most accomplished and worldly of Turkish artists to create unburdened by financial ties and the glaring spotlight of globalized gentrification and its discontents.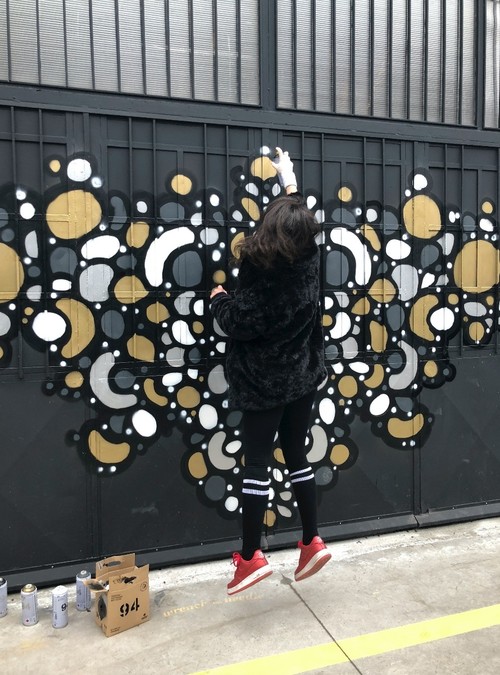 Pırıl Güleşci Arıkonmaz is the fun-loving, free-spirited popup curator at her 25-year gallery anniversary in the artist studio hive of Maslak Oto Sanayi.
To celebrate 25 years at her gallery, which she ever so charmingly named after her initials, Pg, the spirited and young-souled gallerist Pırıl Güleşçi Arıkonmaz recently set up shop behind one of the many nondescript facades at the Maslak Auto Industrial Zone, a metal doorway painted over with the same matte black as its outside entrance wall. At number 169, it is accessible by walking up a fragmented parking ramp on either side of Street 6. Its ambiance has an offbeat draw akin to the literary imaginations of J.G Ballard, or Phillip K. Dick, with its post-futurist attitudes at home in the existential nausea and uninterrupted now, where contemporary thinkers and artists transcend history and realize the timeless importance of human invention at its source, deep within in the interiors of the creative world, where all that is made is first unmade, and all that is unborn is felt. The rest of society blinks and misses it.
A Most Stylish Welcome
To most, it was a common Thursday afternoon in early March when a dreary rain pattered over tin roofs and vehicle windows, soaking somber stray cats and hardening the look in every workmen's eye. With a simple knock beside a tricolored butterfly design in pointillist graffiti, seconds passed in the watery silence of the falling sky. All at once, another world opened. If the storybook fantasy of J.M. Barrie had a place on earth, then Pırıl would be its Wendy. And like the fairy tale fictions of Peter Pan's affection, she is most realistic, knowing that one day the silver anniversary that she is currently enjoying with her gallery will pass.
As she admits, she may get bored of the whole business before then. Although she publicizes the initiative as the Pg Popup Gallery she explains that it is not really a popup exactly, instead categorizing it as more of an experimental hybrid of fashion, design and art taken from her bewilderingly byzantine array of collections and acquisitions that she has brought together into a room and a compact upstairs attic loft for her private fête that began with the idea for a book, and since bloomed into an experimental fanfare of a space.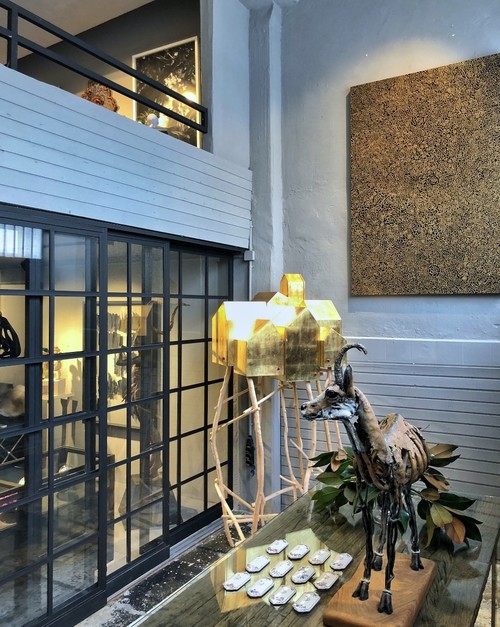 A recent acquisition at the Pg 25 space in Maslak Oto Sanayi is by Italian artist Umberto Dattola who will be at the Asian Pavilion for Milan Design Week.
By the looks of her, the past two and half decades have passed with more thrills than chills as she entertains to tradition, surrounded by elegant company: an architect, a jeweler, a sculptor, a painter, a critic, and all nameless varieties of eclectic characters and innovators, freethinkers and globetrotters who grace her very enviable and complimenting presence. Pırıl is a diamond who embraces the rough and polishes it to a glimmer. She has all of the classic bravura of a mad lover of life, one not softened by luxury, only stimulated by it to the point of intoxication under the exhale of the muses. Her curatorial enthusiasm for what is unique, valuable and truly beautiful flirts with the trends and sends them howling in new directions.
A woman named Berna smiled beside her, proud as sunlight, as she beamed remembering the 24-year-old Pırıl crashing the scene in the stylish highs of Bebek in 1993, when and where she first opened her gallery. Pearled and cheerful as a longtime family friend, Berna reminisced with eyes almost moistening, her heart visibly soft with admiration and joy at seeing the young lady she knew grow to such a refined woman of cultivated prestige. Her opening years were bright, as she cleverly held recurring shows by some of the most famous names in contemporary Turkish art, whose reputations have since been emblazoned into the national pantheon of cultural innovation: Şenol Yorozlu, Tayfun Erdoğmuş, Kezban Arca Batıbeki and Günnur Özsoy, whose sculptures are hung liberally to accent plush, designer furniture over luxuriously comforting fur rugs in her DIY anniversary space. It is a point that she emphasizes with the weight of her experience, that it is necessary for young, new galleries to show works by artists of note.
A Gathering of Artists
A select gathering joined around Berna and Pırıl for impromptu discussions as they held space in honor of Pg Art and its gaining influence as a platform for artists to both reach high-stakes collectors, and more, to enjoy what all artists dream, aspiring to that certain liberation that comes with the coveted representation of a gallery with the power and resources to support truly outlandish work, such as that which broadens public perspectives well beyond the status quo of monetized definition. That is where Pırıl shines, with her gift for seeing and showing art that balances ever so carefully along the lines of artistic innovation and up marketability as she braves such risks.
The artist Ekin Saçlıoğlu arrived from her studio only a short walk away. She had been spending her time in preparation for a new show at Gallery Nev in Ankara. In the corner next to the sofa were her sculptural works, given to Pırıl for her anniversary space. For about a decade, Ekin was represented by Art x-ist in Istanbul before becoming independent. Her art practice raises eyebrows over the briefest of conversations, as she assumes a cool appearance that would never lead one to guess that she shapes fossils into metallic miniatures that gleam with evolutionary fantasy. She did not introduce herself to everyone, calmly seating herself at the central table as people slowly did the same for late afternoon repose, immersed in a peculiar state of mind, in the inclusive aesthetic taste that Pg has sustained with her special brand of color and humor over the years.
And then the globally-renowned sculptor of stone monuments Kemal Tufan entered like the crashing of cymbals, as Pırıl lit up to echo the praise of a man whose stars have become a constellation to her and to the world. Represented by Pg for some twenty years, fellow sculptor Ayla Turan accompanied him into a rush of collective festivity. She then moved about the room with spontaneous euphoria, enlightening her listeners with her intuitions on works that are practical and salable, yet utterly original.
With contagious excitement, she presented glistening barware by Felekşan Onar, electric drawings by Mehmet Kuran, textile abstractions by Liz Collins, the cyclical paintings of Emre Namyeter (currently showing at Pg Gallery till March 30) and a tailor-made piece by Biricik Suden. If that was not enough, she has added recent personal acquisitions, including the conceptual woodwork of Umberto Dattola, whose art has prompted her participation in the upcoming Milan Design Week.
She could not resist, and it is this irresistibility that she attracts and sends out to the world from one relatively obscure corner of Istanbul, surrounded by her closest circle, welcoming impressionable newcomers. Tufan, a man responsible for mammoth mineral displays from Korea to Egypt to Chile disappeared across the alley through his studio door, as another, younger sculptor, Kagan Toros, emerged from another heavy door a few steps away, his skeletal works backlit as he sauntered into the ageless Neverland of Pg at 25.