The fourth edition of the Qumra Master Classes took place in Doha between March 9 and 14. Filmmakers from Qatar, the region and further afield got together to share ideas and to discuss their work withmasters including Bennet Miller, Sandy Powell, Gianfranco Rosi, Tilda Swinton, Apichatpong Weerasethakul and Andrey Zvyagintsev. This meant that for a few days, the residents of Souq Waqif, where many of the guests stayed and some of the working lunches were programmed, were haunted by a lithe spirit in the shape of Tilda Swinton appearing and disappearing behind arches and columns. Each time I caught a glimpse of her in the souq surroundings, I felt I was on the set of "Only Lovers Left Alive," and she looked as immortal as her character Eve.
Qumra includes screenings of the masters' films, master classes, and one-on-one sessions for directors with masters and people from the film industry. The press was also given access to an archive of films that have been funded by the Doha Film Institute and workshopped at Qumra in previous years.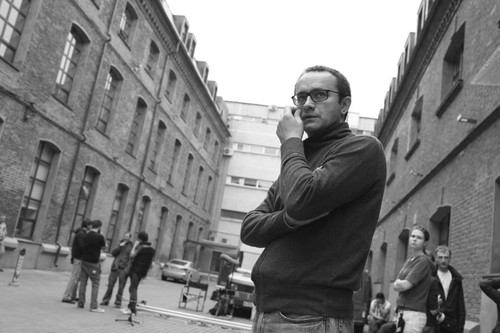 Russian director Andrey Zvyagintsev was one of the film professionals that participated in the master class.
The first "master screening" was Bong Joon-ho's "Okja" starring Tilda Swinton, about the adventures of a super pig that is reared in South Korea. Okja, the pig that gives its name to the film, and his progeny are supposed to meet the meat demands of an ever-growing market. However both Mija, the Korean girl with whom Okja has grown up with, and the Animal Liberation Front have other plans for it. There are car chases, scenes that will put you off meat, digs at animal rights activists' follies and emotional reunions, with a brilliant soundtrack including some Balkan numbers.
The welcoming dinner in Souq Waqif did, however, include meat, with plenty of vegetarian options thrown in. The venue was a courtyard with red carpets and low chairs, and as I was munching on my kebabs I saw Tilda Swinton swoosh in, wearing a gorgeous dress, accompanied by her partner Sandro Kopp, looking into the plates, identifying the vegetarian options. My mind went blank and I missed the short window to speak to her before admirers gathered around her. I was equally happy to just bask in her glow from afar for the rest of the evening. I sat with a group of filmmakers and journalists and chatted about film festivals. I told them that I had just attended the Istanbul Independent Film Festival, and had seen this great South African film about a group of friends who experience a collective body swap. As I went on raving about it the gentleman with the South African accent in the group said, "Great, I produced it."
The next morning I woke up to a full schedule, breakfast and lunch with filmmakers, a master class with Gianfranco Rosi, and the archive of films waiting at the press office. I opened the window of my hotel room that gave out straight into the souq to get some fresh air to start the day, and lo and behold! Tilda was sitting right underneath my window enjoying breakfast with Qatari filmmakers and people from the Doha Film Institute (DFI). I thought of hollering at her "Good morning [...] is that gözleme you're having?" but then her presence just doesn't allow such indecorous behavior. I closed the window and went about my day, and learned later that the joint under my window was one (if not the) best traditional Qatari breakfast places in the souq, Shai Shamoos.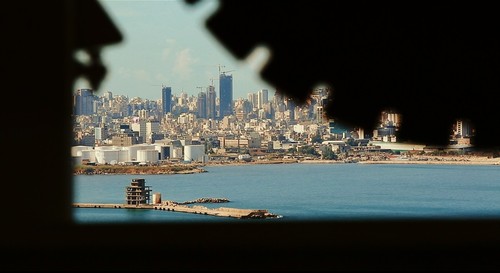 Ziad Kalthoum's "The Taste of Cement" is a documentary narrated by a Syrian worker who now builds high-rises in Beirut.
Back in the screening room, Lebanese films were very well represented in the DFI grantee selection. There were two shorts "Tshweesh" and "The President's Visit," and a full-length documentary "Taste of Cement." "Tshweesh" takes the audience to the rooftops of Beirut, bringing us a selection of the kinds of lives lived in the city. Humans, cats, plants inhabit this space, and you can tell that each of these Levantine buildings have as many stories as Alaa al-Aswany's "The Yacoubian Building" or Elif Shafak's "Flea Palace." "The President's Visit" is premised on the idea that the Lebanese president is visiting a soap factory to buy large quantities of soap because he wants to "clean the country." The thin line between reality and metaphor is crossed constantly in the film in a way that reminded me of the story of Ahmet Hamdi Tanpınar's "Time Regulation Institute," with the state intervening in the lives of the people. As expected, the impending visit leads to all kinds of farcical rivalries making this a sweet and sad film about small lives upturned because of grand projects.
When we say grand project in the Middle East these days, one of the things that comes to mind are construction sites - from Istanbul to Beirut. The fodder of these projects is cement, which, I believe, will soon become sentient and speak to us of the follies of men. Following cement, after following the money and the arms, promises to be a way of understanding the politics and economics of the Middle East. The story of the French Lafarge cement company that has managed to stay open throughout the conflict and provided Daesh and the People's Protection Units (YPG) with cement, while also giving them protection money is just one of the trajectories of cement that we see everywhere in the Middle East, from the destroyed houses in Aleppo to the YPG fortifications and tunnels in Afrin. It is this economy of cement that Ziad Kalthoum's "The Taste of Cement" taps into, a documentary narrated by a Syrian worker who now builds high-rises in Beirut. The worker's story with cement starts with when, trapped under the rubble after a bombing, he tastes the cement of his own house. Fleeing Syria, he ends up as a construction worker in Beirut, building high rises by day, living in a concrete bunker under the earth by night.
Watching that and then stepping back into the glaring sun in Souq Waqif is quite something. Doha is also full of these "grand projects," but the souq is a reminder of how humans used to live in more human environments. I say humans, but then returning to my hotel I catch sight of Tilda again. I have to say something to her. All I manage is "It's wonderful to see you" on repeat to which she replies "It's wonderful to be here." "Quick, say something about 'Okja,'" my brain tells me, "So, it was really interesting to see that they used Balkan music in the film," I manage. "Yes," she says. "Bong had told me there was a reason for that but I can't quite remember now," Kopp says, "And it was composed for the film, by a Korean musician." I say "Wow!" but inside become pretty proprietary. "Koreans make Balkan music as well as we do?" I say some more inane things. Then Tilda says something about the sun and I venture "This must feel a bit like Tangiers?'" trying to sound sophisticated. "It feels more like Tangiers than Scotland does, I can tell you that," she says and we say bye before I embarrass myself further.
Qumra continues with more master classes and screenings, and I manage to get an interview with Andrey Zvyagintsev, and do my best to contribute to the Russian-Turkish entente. The whole program leaves me with a stronger sense of an interconnected world, and wishing that Istanbul hosted something similar to Qumra.