Bernard Frize lives in Paris and Berlin, and his first show in Istanbul is a cause for celebration. Born in 1954, Frize is one of the most original artists of our time. His colors and compositions challenge orthodoxies and there is much delight in spending an afternoon in a gallery filled with the master's paintings. Curators at Dirimart have titled Frize's Istanbul exhibition "Togetherless," and during an exceptionally warm March day last week it felt the exhibition had arrived in the city just at the right time.
Frize studied at the School of Fine Arts in Montpellier and began his artistic career in the 1970s. Defined largely by his interest in geometric shapes and acrylic colors, his works remained constantly radical in the world of abstract art.
"I'm very much a product of my time, a very agitated and politicized time both in and outside of the art world," Frize said in an interview with Purple Magazine in 2016. A devoted Marxist, he had a difficult time in his youth linking his politics with abstract art. "I didn't want to just illustrate my political convictions in painting. Nor did I want to do apolitical parlor painting. I wanted to find a way to integrate into my art an approach to painting that was in phase with my political ideas. Otherwise, better to quit. I went back to painting when I found a way to formulate my political engagement. I channeled my engagement through nonpersonal, nonsubjective methods of painting."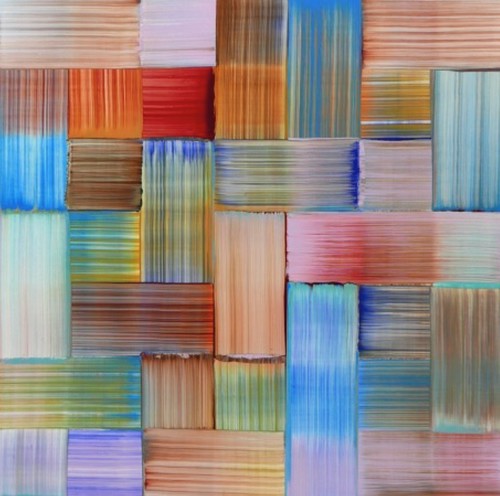 Bernard Frize, "Kumpi-sept," acrylic and resin on canvas, 2017.
This "nonpersonal, nonsubjective" methods of art may remind some of the literary aesthetics of Gustave Flaubert where the author becomes mostly an absence in the artwork. But Flaubert rendered his narratives through the point of view of meticulously designed subjectivities; in Frize's work no central consciousness exist.
Instead Frize has turned his canvases into sites of radical democracy. In "Melia-sept" (acrylic and resin on canvas, aluminum chassis), there is a fine ambiguity around the colorful lines that fill the canvas. It is difficult for the viewer to tell the foreground from the background, the center from the margin, the dominant from the passive. All colors stand in balance. This produces a sense of vitality and the effect on the viewer is curious: One gets lost in the colors and their democratic coexistence but then excavates a certain calm from them.
"Since the late 1970s, Frize has been investigating on the materiality of the medium to further develop his method," according to the exhibition catalogue. "Free of personal expression, any trace of subjectivity, he keeps generating predetermined geometrical motifs or patterns."
Frize finished his first painting in 1977, working on it only on Sundays over the course of a year. In his early years, he walked in the footsteps of minimalist artists. "I need reasons to make a painting, the reason has to drive me happily to the painting. Yet I am always unsatisfied and that's why I am doing the next one," he said in an interview. This fruitful dissatisfaction resulted in works like "Cabedi-sept," which features motifs that resemble human cells but also rhizomes, those stems that grow unexpectedly and sustainably underground, horizontally rather than vertically.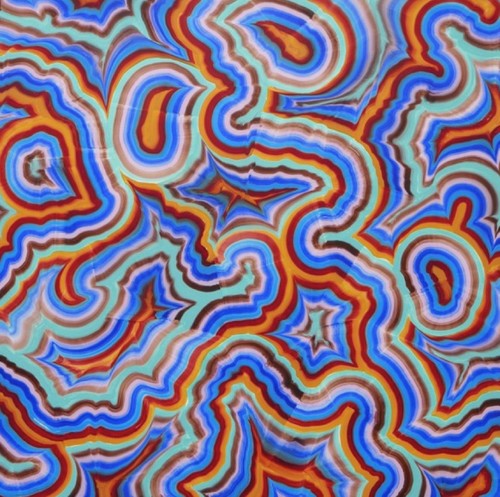 Bernard Frize, "Cabedi-sept," acrylic and resin on canvas, 2017.
"Frize occupies a unique position in abstract painting, due to austerity of his artistic ideas paired with a freedom of implementation," curators at Dirimart say. "He loves paradoxes. Color is another paradox for it does 'not particularly interest' him, despite its being a vital raw material for his work. By using color in a nonhierarchical, experimental, technical-mechanical manner, Frize lends his works a certain dynamic through contradictions. Concentrating on the process of production of the painting rather than the elements like color, composition, and symbols offers a nice challenge to the viewer: The challenge of seeing/hearing the 'pictorial score.'"
In 2011 Frize was awarded the Fred Thieler Prize and his works are in the collections of world's leading art institutions: Tate in London, Kunstmuseum Basel, Centre Georges Pompidou in Paris and Moderner Kunst Stiftung Ludwig in Vienna. In 2015 Frize won the Kathe Kollwitz Prize. In 1993 he had a solo exhibition at Kunsthalle Zurich. Seven years later he had a show at Kunstverein St. Gallen Kunstmuseum. An exhibition at Stedelijk Museum voor Actuele Kunst, Ghentfollowed this in 2002. Frize also had personal exhibitions at Musee d'Art Moderne de la Ville de Paris in 2003 and at Akademie der Künste in Berlin in 2015.
"What interests me about color is that it allows me to name this or that stroke and keep track of it. I change colors when I change lines. It's like a subway map. I use a lot of colors, a whole slew of them, actually, but in a way that avoids decisions about color," Frize said in the Purple Magazine interview. "I don't want to have to choose colors. But I want to paint with as many colors as possible, indifferently. This probably goes back to 1977 when to me everybody seemed to be doing monochromes, when everybody was choosing the color that would become his trademark: Blue for Yves Klein, black for Soulages, white for Ryman, etc. I told myself I didn't feel like choosing, and I didn't have to choose."
This idea of not using one muscular color instead working with as many colors as possible is liberating but it also poses a challenge to the viewer. In an age where our deep attention to things is constantly cut short by text messages and social media notifications or the latest breaking news, the radical democratization of colors on the canvas implies participation from viewers: Since hierarchies are not presented inherently to the artwork, she should consider whether they are necessary at all.
"Nothing is described," Frize says. "No composition. The structure is like the surface. No referent apart, perhaps, from being classifiable as painting, and no auto-reference."