The doors for the "Mekandan Taşanlar" (Location and Beyond) exhibition are now open at the historical Küçük Mustafa Pasha Hamam (Turkish Bath) as part of the Yeditepe Biennial, an event organized under the auspices of the presidency in cooperation with Fatih Municipality, the Classical Turkish Arts Foundation (KTSV) and the global communication partnership of Anadolu Agency (AA).
Speaking at the opening ceremony, Fatih Mayor Mustafa Demir said the restoration of Küçük Mustafa Pasha Hamam, built during the rule of Mehmed II, who was also known as Mehmed the Conqueror, was not publicly funded but individually sponsored.
While pointing out that restorations of historical places are generally conducted by public institutions, Demir thanked those who individually contributed to the hamam project.
CREATING DIFFERENCES IN PERCEPTION
Serhat Kula, curator of this year's biennial themed "Ehl-i Hiref" (Artisans/craftsmen), said they focused on the historic features of the hamam through 3-D pieces in the exhibition.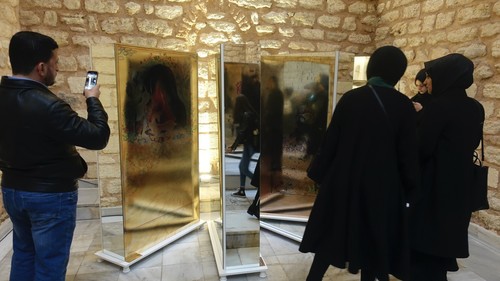 "Revzen Bir Parçanın Bütünü" (Window, a Whole of a Part) is inspired by a window mosaic of a revzen, which is a patterned window at the Topkap› Palace's Harem.
Noting the second part of the exhibition will be located in the vaults under Nuruosmaniye Mosque, Kula continued, "The first part of the exhibition is in a hamam. Therefore, the place has big domes and rooms. The mathematical design of the rooms is perfect. We wanted to fill this place with art. This is why we wanted to create a difference in perception with simple touches."
Artist Murat Gür, who contributed his work "Revzen Bir Parçanın Bütünü" (Window, a Whole of a Part) to the exhibition, said his piece was inspired by a mosaic revzen, a patterned window in Topkapı Palace's Harem (Women's Quarters).
Noting they enlarged the image of the window and the divided it into smaller sections, Gür said, "My imagination took apparent things and tried to see beyond them. We sometimes just observe and often times if things are two-dimensional, we simply pass them over. They are easily forgotten. Photos are two-dimensional and shared continuously. I wanted to figure out how to turn two-dimensional things into 3-D to increase their impact. Therefore, I layered the illustrated material." Artist Dağıstan Çetinkaya is also in the exhibition with his 102 work collection "Çizgiden Öte" (Beyond Line) and expressed that 20 works of his pieces were created in Küçük Mustafa Pasha Hamam.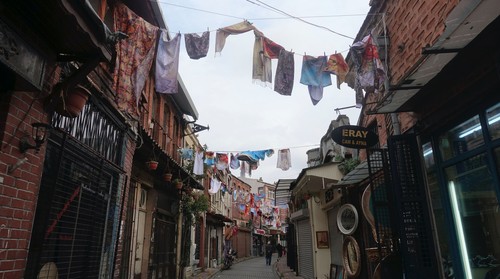 Artist Hatice Ünal wants to emphasize the multicultural life of Istanbul with her marbling-patterned clothes in "The Spirit of Street."
"We made 3-D lines using different materials and have presented our sketches in 3-D form since this exhibition is a biennial," Çetinkaya added.
Clothes from paper marbling on Leblebiciler Street
Artist Hatice Ünal's exhibit "The Spirit of Street" is comprised of clothes made from the same technique used in paper marbling and is currently open on Leblebiciler Street in the Fatih district. She said she used both modern and classic techniques in her art.
Emphasizing the multicultural life of Istanbul through her creations, Ünal said, "We felt the harmony of the thousands of colors used in paper marbling was similar to the multicultural structure and spirit of Istanbul."
While discussing the process of making the colorful clothes, including items like skirts, socks and aprons, through a process similar to paper marbling, Ünal said, "Other street craftsmen embraced the end result. We are happy to have had the experience." The exhibition featuring installation and 3-D works will be open until May 15.