The second part of the "Mekandan Taşanlar" (Location and Beyond) exhibition and a group exhibition of tiles is now open for the Yeditepe Biennial under the auspices of the presidency in cooperation with Fatih Municipality, the Classical Turkish Arts Foundation (KTSV) and the global communication partnership of Anadolu Agency (AA).
Serhat Kula, curator of the biennial organized with the theme "Ehl-i Hiref" (Artisans/Craftsmen) this year, said they chose mostly installations for this exhibition, the first ever hosted at the mosque, to compliment the structure's unique features. Mentioning that the cellar of Nuruosmaniye Mosque was used as a water depot for years, Kula continued: "We worked hard to turn this place, which went unused for almost 100 years, into an exhibition area and did not change the cisterns to preserve their atmosphere. We want visitors to feel the historical weight of the space."
Kula went on to list the various techniques, like calligraphy, marbling, tile and illuminated manuscript, included in the exhibition and said some pieces were also interactive so visitors could have more personal viewing experiences.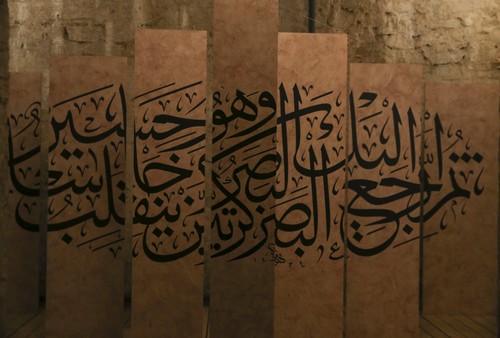 "The historical patterns and structure of the place perfectly contrast the tiles. Therefore, we can say that we collected modern tile pieces and other tile examples, such as İznik tiles or Kütahya tiles, that reflect Seljuk and Ottoman cultures," the curator said.
REFLECTING PLANETS WITH MARBLING
"Barut Ebrusu" (Gunpowder Marbling) founder Hikmet Barutçugil's work "Gezegenler" (Planets) is also in the exhibition. Barutçugil said he wanted to create authentic pieces for the biennial by using marbling and decided to paint globes, which he describes as planets, by marbling colors. Mentioning that marbling is a reflection of images in space, he said: "Actually, marbling art is a richness of patterns that shows eternities between macro and micro cosmoses. I tried to reflect images of planets in these macro cosmos. These are symbolic planets. They look good in this space."
BREAKING AWAY FROM CLASSIC ART
Artist Muhammed Türk, who is exhibiting eight pieces in his collection "Sırrı Kadim" (Archaic Mystery), expressed that he used acrylic paints on canvas in his art. "It is a technique not often seen in classic art. We can say that they are a modern comment based on classics. I totally tried to create this. I wanted to break away from classic arts with different compositions."
Mentioning that the biennial was opened by President Recep Tayyip Erdoğan, Fatih Mayor Mustafa Demir said: "The presidency encouraged and honored us by taking the biennial under their wing. The biennial reached a wider audience with their support."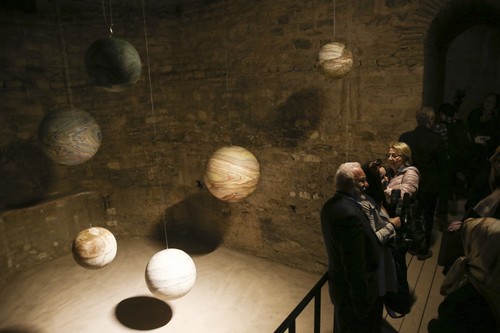 Noting that they have been working on the biennial for two years, Demir added: "The biennial was prepared by our friends from Fatih Municipality and the KTSV who worked day and night to make it happen. The fact that the art is not only gorgeous but the exhibit locations are also what set this biennial apart from its predecessors. The art is on display in 28 different places. When we look at these pieces, their traditional and modern aspects all compliment classic art. In addition, 3-D works are also on display. That is, we have some traditional lines in contemporary art."
Highlighting that a biennial of traditional Turkish art has been organized for the first time with the Yeditepe Biennial, Demir remarked that nearly 3,000 works of 600 artists will be exhibited as part of the biennial.
Within the context of the "Mekandan Taşanlar" section, marbled kites by artist Yılmaz Eneş are available at the Grand Bazaar on Kalpakçılar Street, as well.
The group tile exhibition and "Mekandan Taşanlar" can be visited in Nuruosmaniye's cellar until May 15.