The Bureau of Unspecified Services (B.U.S.) exhibition which looks at instances of works that come out of a certain set of relations and function within it was opened at SALT Galata. While these examples originate from a form of interior or domesticity in one area, they further operate in the field of art as either an externalization or a translation, suggesting an inevitable porosity between fields. The exhibition considers how works of art perform in diverse spheres and assume various roles and attributions when traveling across disciplines. What brings the pieces together within the B.U.S is not an overarching theme but ways of working that request equal attention to every aspect and relationship involved in their making and presentation.
Borrowing its title from David Foster Wallace's novel Infinite Jest (1996), B.U.S. draws attention to the production aspect of art in activating concepts and materials, connecting various activities, locations and constituents that contribute to its production, circulation and reception. The services carried out by works of art, if any, remain unspecified, even when they fulfill the competing demands from art including market monetization, academic accreditation, calls for political efficacy and usefulness. Yet, each instance of visibility enables the revealing of some aspects that question the intertwining of art and daily life. The participating artists are not only concerned with what is made but perhaps more importantly with how, by whom, under what circumstances and through which processes it was made. Thus, B.U.S. acknowledges that contemporary art is, at large, the field of aesthetic inquiry, and aligns itself with living aesthetics calling for a heightened consideration of all areas of human life.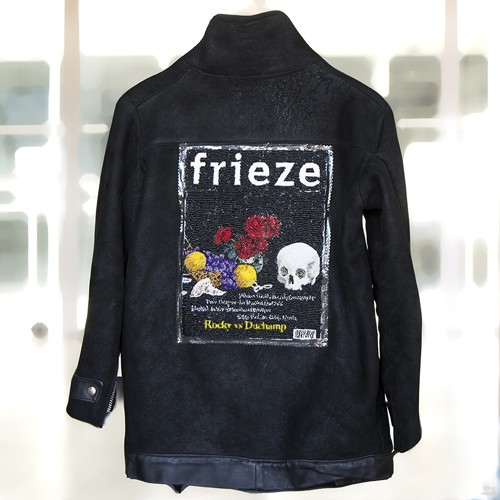 Danna Vajda's "untitledstatementcollection."

Yuriko Saito suggests what is appreciable about a Japanese tea ceremony is not limited to the obvious items, but that it is designed to "facilitate the utmost aesthetic experience" involving the "placement of each implement against the background of the geometric shape of tatami mats" and "the stepping stones in the garden." This ceremony is rooted in the Zen tradition, which embraces every aspect of the practitioner's life including washing the face, cleaning, cooking and eating, and considers them equal to studying the scripture. Similarly, the concept of adab, which is described by Hamid Dabashi as "Persian literary humanism," relates to a wide range of human activity including speech, generosity, the rules of battlefield, friendship, marriage, gardening, diet, drinking, changing the bedclothes, playing music as well as ways of living and ways of dying. Likewise, in his study of Confucianism, Liu Yuedi argues that the "aesthetic must be the profound standard for the quality of human life, and the development of the environment and the world. In this light, the task is not to recuperate (or retool) art politically, but rather to activate life aesthetically.
Following the methodologies inspired by these aesthetic traditions, David Bernstein's project "Obsessys" (2017-2018) arranges objects that look like tools which request both the artist and the viewers to imagine possible uses for. It examines the relations between aesthetic functions and fictions of space in design, art and architecture. Rosa Sijben's "Pocket Work" (2014/2018) is available for person-to-person viewing at SALT Galata's front desk. Fiona Connor presents an adaptation of her "Color Census" (2016), translating the interior palette of several inns in Istanbul's Karaköy district into an indexical color chart. While Chris Evans creates hob paintings at the kitchens of a number of SALT users, John Ziqiang Wu groups paintings and drawings that question conventions of taste and critique in a collaborative effort with his students from Claremont, California. The ŠKART collective, on the other hand, has worked with a group of housewives to revive an almost forgotten practice of embroidery with a slight change of messaging.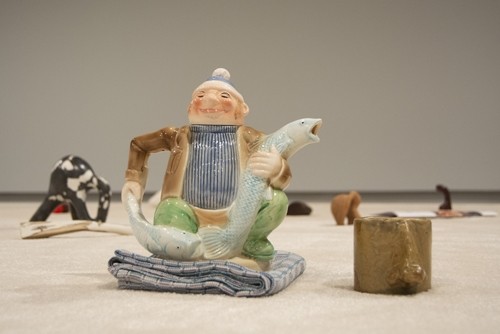 David Bernstein's "Obsessys" arranges objects that encourage spectators to imagine their possible uses.
Danna Vajda responds to the platforms of information circulation in contemporary art, such as magazines and press-releases. She turns the remains that she collected with a mastership as if she saves an old work from disappearing into pieces of a handmade wardrobe. Aaron Flint Jamison's "YU Contemporary VS Dept. of Revenue Oregon & Mult. Co. Assessor" (2017) compiles all legal documents from a court case about a non-profit center, one of the cofounder is Jamison himself. In the book, or rather in the courtroom, Jamison and his colleagues explain the art activities of the institution, translating their art discourse into legal terms. On the other hand, Corridor Project Space invites three local non-profit founders to contribute to the menu of a dinner over which the spaces, their programs and the state of such art institutions are discussed.
All the works in B.U.S. operate on multiple yet equally essential levels and spheres of activity, including many constituents such as residents of a building complex, a family, a courtroom, members of a drawing class, viewers, curators. B.U.S. aims to examine the "question of the audience" and pave the way for some discussions: Under what conditions does the phenomenon of audience occur? When does a group become an integral component of a work? When do they turn into participants?
The first exhibition of SALT's "Conversations" series, "B.U.S." is programmed by Sohrab Mohebbi, curator of SculptureCenter, New York, and the exhibition can be visited until July 15.
ABOUT CONVERSATIONS
In 2018, SALT launches a series called "Conversations," inviting cultural practitioners to develop programs in a long-term collaboration with the institution. Conversations demands in-depth, on-site interactions, and care, rather than offering instantaneously consumable presentations. The series is rooted in nurturing meaningful relations as opposed to utilizing professional networks. It intends to cohere an environment of vigorous exchange that maintains invisible infrastructures against the current backdrop of economies of concepts, events, and audiences. Alongside the guest programmers, Conversations involves SALT and its constituents in their acts of investigation and learning around the conventions of exhibition making.
SPRING PROGRAMS AT SALT
B.U.S. at SALT Galata explores the various roles and attributions works of art assume when performing in diverse spheres and traveling across disciplines. The exhibition is concerned with how, by whom, under what circumstances and through which processes they are made.
The most comprehensive survey of Aydan Murtezaoğlu and Bülent Şangar, prominent figures in shaping Turkey's emerging contemporary art scene, will also be opened at SALT Beyoğlu. Their Continuity Error exhibit unfolds their independent and collaborative practices dating from the 1990s onwards.
Upon the completion of spatial renovations, SALT Beyoğlu also puts a range of spaces to use: Walk-in Cinema hosting performances and screenings, a serving Kitchen that facilitates food-related cultural studies, the Winter Garden and the Robinson Crusoe 389 bookstore. Spring programs in Istanbul will be accompanied by SALT Ankara talks and workshops presented in collaboration with various institutions.